Smart and sustainable cooking: we all want it, but it's not always easy. Entrance Eco stove. You have probably already seen it pass by somewhere, it made you greedy, but some questions also popped up. We can understand, so let's explain it for you: what exactly is an Eco stove?
stew
Stewing is a handy tactic with an incredibly tasty result. Still, sometimes doubt sets in: is the fire too high, too low, does the whole thing burn? And then we haven't even mentioned the energy consumption: many meat stews only become really tender after an hour or two or three. That means gas or electricity for hours on end while things are simmering: valuable for you and for the environment.
Eco-friendly cooking
An Eco stove looks like a kind of sleeping bag for pans. Round and with a drawstring to tie it shut. This way no heat can escape.
How it works: you cook or bake your food until it just needs to cook without any other action. The fire can go out and you place your pan in the Eco stove , close it and then you have to wait. Slow cooking without gas or electricity. The Eco stove itself is also environmentally conscious: by using sustainable linen, sheep's wool and cork.
Useful
Also handy: you have your hands free while the Eco Stove does its work. Leaving the house while something is on the fire is not always a good idea, which is solved with this one. Because it remains heated in its entirety instead of just at the bottom, the chance of sticking is also nil. Plus: since you keep it closed, there is no stirring and you prevent broken vegetables.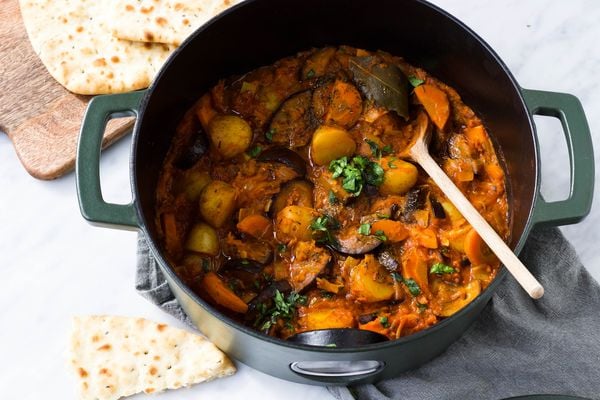 Take Nice detail: the design makes it perfect for a picnic, family visit or yes, a trip to the koek en zopie. Your dish will cook while you are on the road and will keep it piping hot until use.
Dishes
We now know what an Eco stove is, but not entirely unimportant: what can you do with it? So get started! In fact, anything that needs a long cooking time in a closed pan will do well in the Ecostove. Think of cooking potatoes , vegetables , or -our favorite- slow-cooking recipes and  stews . Try this recipe for rendang for example, or this vegan stew .
In the video below, the boys from Youtube channel SORTEDfood test the Wonderbag, also a kind of Eco stove. Their verdict? They are excited.