The fact that silky smooth tofu doesn't taste like anything is its strength; this tofu variant from Japan is all about texture: jiggle jiggle! Silk tofu should be very soft, taste creamy and just not fall apart. In traditional Japanese dishes, silk tofu is often eaten simple and pure, without too much fuss. But if you leave Asian cuisine, much more is possible: from vegan chocolate cake to mayonnaise. Silken tofu is the ideal shapeshifter .
What is it?
Back to the beginning for a moment. Whichever type of tofu you choose, they are all made from soybeans. But did you also know that tofu is curdled? That is why it is also called soy cheese in the Netherlands. A substance is added to the soy milk (for example calcium sulphate or magnesium chloride) which causes the soy milk to coagulate, a fancy word for solidifying. During this process the solid pieces, the 'curd', separate from the liquid they float in, the 'whey'.
Depending on the preparation and the degree of pressing, the curd is pressed together in a mold and a firm block of tofu is created. The longer you press the tofu, the more moisture you press out and the firmer the tofu becomes. Silk tofu is slightly different because a substance is added to the soy milk that causes the milk to stiffen when you steam it.
> All about the different types of tofu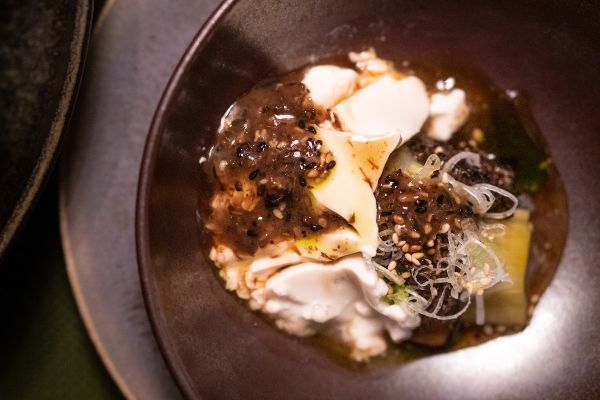 How do you cook with silk tofu?
Because silk tofu is super fragile, you want to proceed with care. Therefore, first let it drain carefully on a cutting board, possibly with some kitchen paper and place a weight on top. Then you can cut the tofu into cubes and eat it raw as a salad.
Or do as the Japanese do and make hiyayakko : leave the cold block of tofu whole and sprinkle with various toppings such as ponzu, chili crips, lemon zest, or yuzu kosho . Emma de Thouars makes it even more luxurious with toppings of millennial egg, soy sauce, black vinegar, spring onions, or a combination of all of these.
Warm silk tofu
Not a fan of cold tofu? Warm, silk tofu is delicious in soups and saucy dishes. Always add the tofu last and stir very carefully, otherwise the tofu will break. Traditionally, silk tofu has been used in miso soup and Asian stews such as mapo tofu and sunbudu jigae.
Stir-frying is of course also possible. Silk tofu is a popular substitute for scrambled eggs where you break the tofu into small pieces and fry it together with turmeric, garlic and kala namak (black salt). Kala namak tastes like sulfur, which makes the tofu really reminiscent of eggs. That is why you come across this dish on many menus as scrambled tofu .
For more of a challenge, you could make agedashi tofu , coat the tofu with potato starch and fry the cubes gently until they turn a beautiful golden color. 
3 x non-Asian preparations of silk tofu
1. Silken tofu panna cotta
The bland taste of silk tofu is the perfect canvas for creamy, dairy-free desserts. Recently at the editorial office we made silken tofu panna cotta with white chocolate and raspberries. After two failed experiments – the panna cotta turned into a sweet custard – this trick worked the third time:
Blend 200 grams of silk tofu and heat it for a few minutes together with 200 grams of coconut cream, 1/2 teaspoon of agar agar and 150 grams of white chocolate. Pour the mixture into small glasses and add some (frozen) raspberries. Let the panna cotta set in the fridge.
Donna Hay has a similar recipe for a chocolate tofu cheesecake .
2. Smoked Tofu Cream
Tofu cream is a super simple, surprising (vegan) mayonnaise for dipping roasted sweet potato. Put a packet of silk tofu in the blender and add the following ingredients: 1 tablespoon chipotle in adobo sauce, lime zest and juice, 1 garlic clove, 1 finely chopped spring onion and a little bit of sugar. Blend the sauce until smooth and lumpy. You can also vary and make a vegan aioli or a mayonnaise with more lemon and mustard, just what you like. 
3. Creamy soup
Give soup a protein boost by stirring in some cubes of silk tofu. You can leave them whole, especially delicious in miso soup, but at Culy we also like to use the immersion blender and puree the soup until smooth. This way you can make pumpkin soup, broccoli soup or even a classic tomato soup with basil creamy without dairy. 
> At restaurant Taiko in Amsterdam they make fresh silken tofu every day. Read more about it!