Ever since we flipped through Dorothy Porker's Nomnomnom, we can't get her szechuan pepper ice cream out of our heads. Because ice cream that is not very sweet, but also has a savory element, arouses our interest. And let that be something that we have been seeing more and more lately, a trend that we enthusiastically encourage from the sidelines.
Maybe it started with Top Craft Ice Cream : an Amsterdam ice cream brand that has unfortunately stopped. At the time, they convinced us en masse with their genius flavors such as Earl Gray with candied lemon zest or Maple Bacon Breakfast. You understand: our loss is great, now that their ice cream is no longer sold.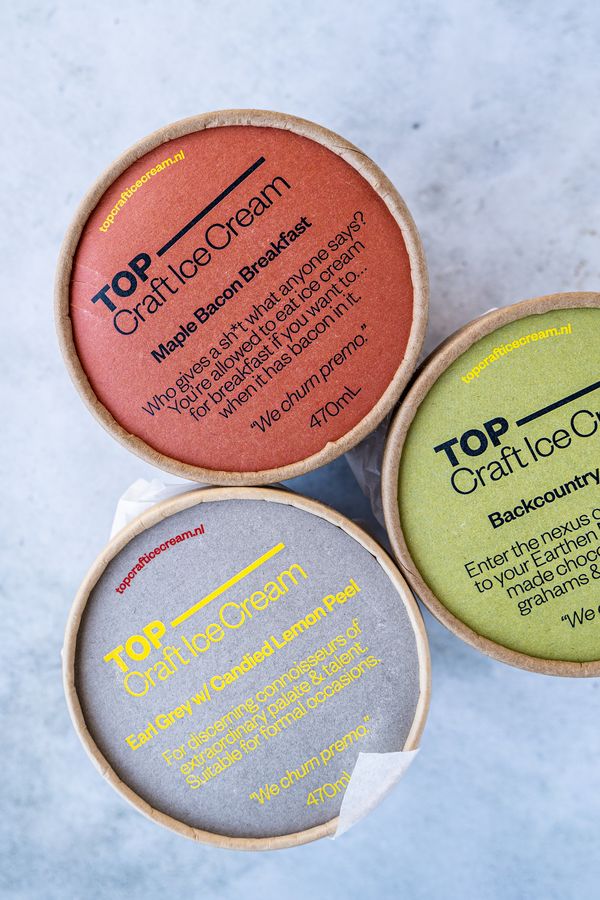 Sweet, savory, umami
Shortly afterwards, however, we stumbled upon a good alternative: Tudy's Kitchen . There we again found flavors like sage-brown butter-cookie dough and roasted balsamic-blueberry-goat cheese. And perhaps the best taste: chicken & waffles. The brain behind it is a powerful woman called Nekeia who believes that ice cream should not only be sweet, but also savory and umami.
A philosophy in which we can totally relate. Fun fact: she once randomly walked into delicacy store Sterk (Amsterdam) with one of her samples. The next day, the owners begged her for extra pots for the store (which are now – of course – selling like sweet-savory sandwiches).
Middle Eastern flavors
We are also quite happy with the Antwerp Milad Ice Cream . They also notice that their Middle Eastern ice cream flavors always contain a savory element: from tahini-stracciatella, saffron-rose-pistachio or rhubarb-raspberry- harissa (!).
And in addition to ice cream that you can buy, you will increasingly find a recipe for a special ice cream flavor in cookbooks. The ice cream with Szechuan pepper from Nomnomnom that we talked about earlier, but also the miso ice cream from the Asian Soul Food cookbook . Our own recipe for ice cream with black pepper and crispy pine nuts also fits in this list. But at Culy we are also very good at responding to the latest food trends, aren't we…?