Fried rice is one of those one-size-fits-all dishes that everyone agrees is absolutely delicious. No matter what time of day, for breakfast, lunch or second dinner (don't be ashamed of that): rice is what we want! And especially this crunchy variant with creamy egg yolks: golden fried rice.
Figuring out how to match the fried rice from the local Chinese restaurant at home is quite a task. If you want your rice to be just as good – no, better than the fried rice you order – then you should definitely try this cooking technique.
Golden fried rice has a fuller taste than 'normal' fried rice thanks to a special technique: the egg yolks are separated from the protein. 
What is Golden Fried Rice?
There's no gold in it, and no, no turmeric either. So what's in it? egg yolks. Golden fried rice (huángjīn chǎofàn – 黄金炒饭) gets its name from the fact that all rice grains are coated with a layer of egg yolk before the rice is fried.
This not only looks luxurious, but it also ensures that the dish has a rich egg aroma. Of course you have to love that. It's subtle but very flavorful.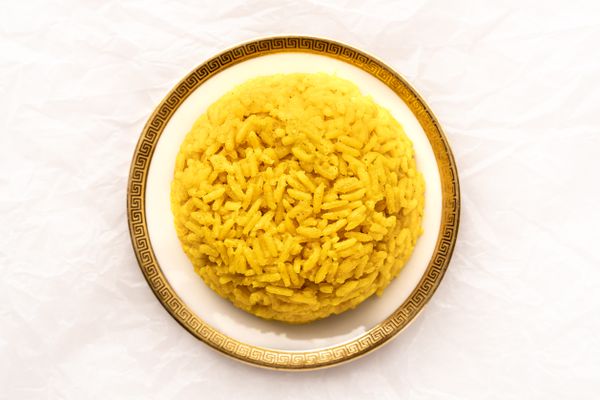 The basics
Before you start this recipe, there are a few points to keep in mind for the perfect fried rice. Also read Making fried rice (like nasi goreng): the do's and don'ts . We give you the three most important tips:
1. Bake small pieces of rice
Many recipes for golden fried rice are written on purpose for two people. That's how it is: our gas stoves or hobs at home never reach the right heat as those in a professional kitchen. Not even on the highest setting. One way to solve that is by baking less at a time. If you do want to make a large portion, do so in separate batches.
2. Use a wok
If you have it, now is the time to use it: the wok. This pearl conducts heat the best and therefore makes the distribution of the heat a breeze. Even if you add cold ingredients, the wok can return to temperature faster than a normal pan. It is only super important to burn your wok well first, this is also called 'seasoning'. s
easoning a wok involves adding oil to a hot wok, rolling it all over, and then 'shocking' (yes, like an egg) under cold water. You have to repeat this process three times before you can make fried rice in a wok, otherwise you run the risk of everything sticking. Drama!
3. Stay away from wetness
Whatever you do, keep the heat in. It provides a crunch and prevents a soggy whole. That also means that your rice should be dry (ideally a day old, so perfect for leftover rice) and that you want to stay away from ingredients with a high moisture content, such as Chinese cabbage and other green leafy vegetables. It is better to choose 'dry' vegetables such as corn, carrot, peas, broccoli and bell pepper.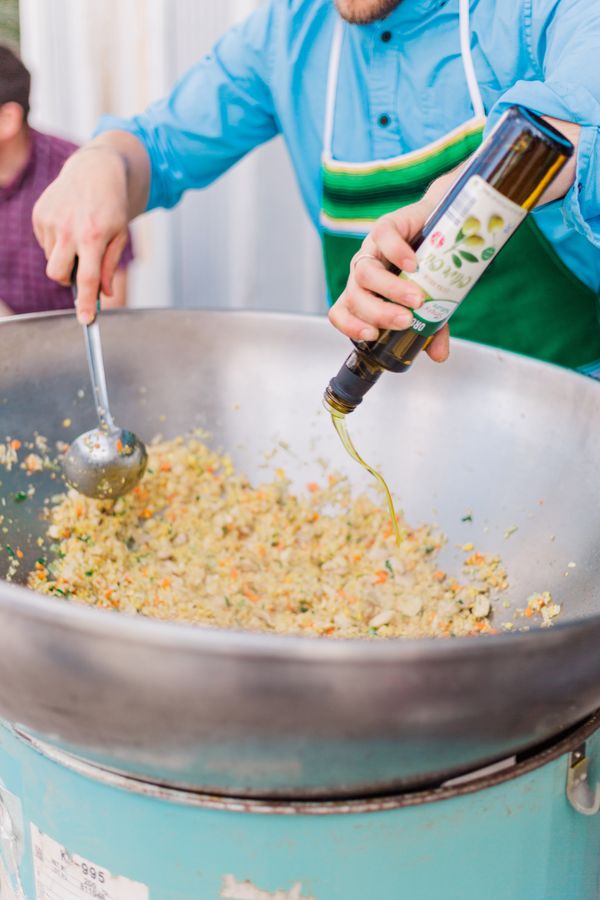 How to make golden fried rice
It's all about the rice. So we'll start with that. Chef Esther Choi , owner of Mŏkbar in New York , uses the ratio of 4 egg yolks to 2 cups of (uncooked) rice. You cook the rice according to the package, but you want to keep it as al dente as possible so that you don't end up with mushy fried rice. Once the rice is cooked and cooled -a crucial step- mix in 4 egg yolks. You want to cover each grain of rice with a layer of golden egg yolk.
Basically, after this step, you bake the rice as you would other fried rice recipes. Just don't forget to add the protein! Do this by frying the egg whites separately and then adding them to the wok, or by making a well in the wok to create a hot surface to cook the egg whites separately from the rice. In the video below you can see how chef Esther Choi does this.
The function of the egg yolk
As soon as you start baking the egg yolk-rice mixture, the egg yolk does two things. Firstly, the egg yolk gives a certain oiliness to the rice. More chemically, the egg yolk acts as an emulsifier. This is a substance that makes it possible to mix fat and water into one whole. An example of an emulsifier are sunflower oil, mustard, gelatin and milk, and allow you to make mayonnaise, for example, or other food where water and fat are mixed. Like, tatatataaa: fried rice!
In addition, the egg yolk ensures that the rice cooks even faster, so that the moisture of the rice remains trapped in the grains and does not stick to the pan. Plus the rice doesn't dry out.