The radiant centerpiece of any Christmas breakfast (or lunch, or brunch): the Christmas stollen. A luxurious currant bread filled with almond paste and topped with a silky soft layer of powdered sugar. That it is as tasty as it is indispensable, that's for sure. But where does it actually come from? The history of the Christmas stollen in a nutshell.
The origin
It turns out that the origin is debatable. Just with regard to the name. This would logically be derived from the German word Stolle (bun). There are also theories that stol is an old word for 'strut'. When baking the currant bread, a baking mold was sometimes used, which 'supports' the bread in the oven.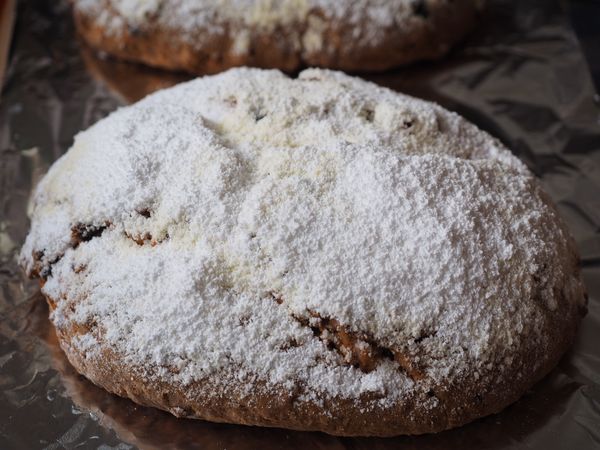 Consent for butter
Although Frisian Christmas bread has been around for centuries and the Frisians like to claim the Christmas stollen, it is really the Germans who introduced it. At the beginning of that century, stollen were made only from flour, water and yeast and eaten during Advent, the four-week Lent before Christmas. Luxurious ingredients such as butter were banned at that time, making the bread rather tasteless.
It took a while, but with great difficulty, bakers from Dresden only got permission after a few decades (apparently from the Pope) to still add the 'luxury' ingredients.
The  Weihnachtsstollen or Christstollen were born and for sale in markets, making bread available to a wider audience. There are several theories about how bread got to the Netherlands. Anyway, it took a while anyway, as this didn't happen until the 17th or 18th century.
The form
The story of the history of the Christmas stollen becomes even more interesting with the shape. The distinctive roll shape is said to resemble a female genitalia because the bread served as a fertility offering. To favor the Germanic Gods for fertile land and livestock in the spring, lavishly filled loaves were made and offered in the hope of a good harvest.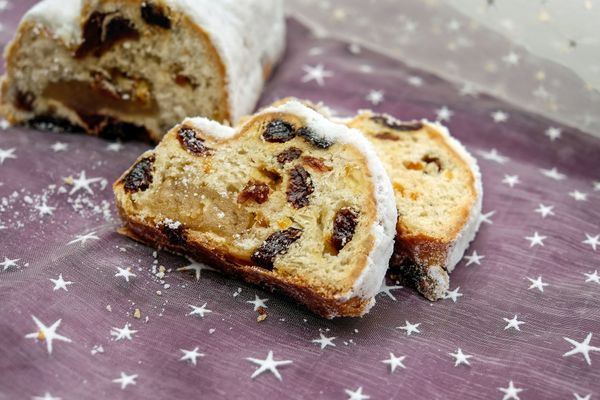 The recipe for Christmas stollen
Thank God the stollen no longer consists only of flour, water and yeast. Because raisins, powdered sugar and almond paste are really the key to a successful Christmas stollen. Ever made it yourself? That is unsurpassedly delicious.
> Go to the recipe: bake a homemade Christmas stollen
No time but a Christmas stollen phrase? We have been kind enough to test  the 5 tastiest Christmas stollen from the supermarkets for you. Incidentally, the term 'feeststol' was introduced for commercial reasons, because then it can also remain on the shelves between the holidays. And did you know that there is officially no powdered sugar on an Easter stollen (same recipe)?
Finally, watch this video by Janny and Robèrt to really get into the real Christmas spirit: