After Dry January, the taste buds are ready to enjoy a special drink every now and then. The Peruvians respond well to this: in addition to the Pisco Sour Week in September, they celebrate the first Saturday of February Pisco Sour Day. Katinka Lansink Dodero – author of the book Mi Casa Peru – tells you where this cocktail comes from and how to drink it like the Peruvians do.  
By Katinka Lansink Dodero | cevicheceviche
The big four
Many know pisco sour with its grappa-like taste topped with a nice sweet-bitter head. Alongside the Brazilian caipirinha, the Cuban mojito and the Mexican margarita, the Peruvian cocktail is one of the big four from Latin America.
All four cocktails are loved for their sweet and sour taste, which makes you feel like you're on a tropical beach.
Conceived by a 'gringo'?
The drink was first made in 1920 in the chic Morris bar in Lima. Victor Morris 'el Gringo', the American owner of the bar, invented the cocktail as a variation on the whiskey sour. He mixed pisco and lime together and voila… the pisco sour.
Later, the cocktail was refined by adding egg whites and Angostura bitters. This is still how pisco sour is drunk. There are now several popular variants in Peru, such as the 'chilcano de pisco' and 'maracuja sour', but pisco sour is the number one cocktail in Peru and therefore has two celebrations. Not a bad idea by el Gringo.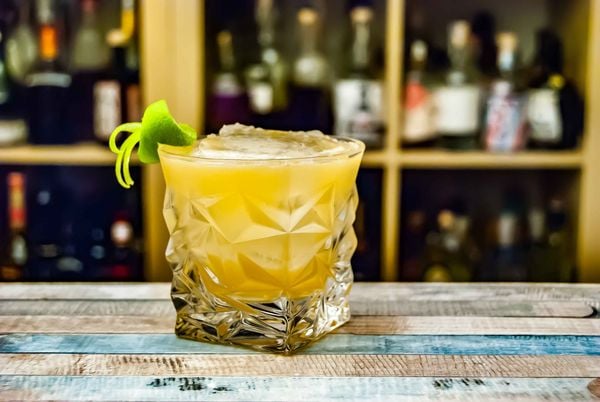 A double dose of cocktail
In good Catholic practice, after Sunday afternoon mass, cathedral-goers washed away their sins with pisco sour in a square near the cathedral. A festival avant-la-lettre. Queues were so long that the bartenders cleverly thought of serving the cocktail in double format: the Catédral was born.
It is still served, but as an aperitif or when going out.
A pisco sour for flirting
Pisco is also popularly known as a birdie, perhaps because it makes you fly… but how many pisco sours can you drink?
The Peruvian says the following: one to flirt, two to fall in love, three to fight and four to cry. But drinking a pisco sour and a half is a good measure of eloquence, good humor and good business.
When and what do you eat with it?
Toast is done with pisco sour, just like an aperitif. And food is always an extension of this. Popped corn kernels are served with the aperitif, the variant of our peanut on the bar. And what you see more and more is that a dish is served as finger food with a Pisco Sour, such as ceviche clásico , causa (a potato pie with fish or chicken and avocado topping) or pulpo al olivo : roasted pulpo with olive sauce.
Oh.. and being invited by a Peruvian to eat ceviche is an invitation that is always accompanied by a glass of pisco sour!
Salud!