Imagine: you are on a tropical beach, the sound of the sea is all you hear and someone brings a coupe with chilled pieces of mango, perfectly ripe and incredibly juicy. Have you tasted it yet? That's the taste of mango float; a layered dessert from the Philippines, honeyed from the Carabao mango. You can bring that holiday feeling into your home with less than five ingredients.
filipino trifle
With its different layers of cream, biscuits and fruit, you can put mango float in the same family tree as trifle and tiramisu. They are all relatively easy no-bake desserts that need to set in the fridge or freezer. So no oven is involved.
And let that come in handy on those hot summer days, when even a walk to the kitchen is too hot. Small side note; this of course does not apply to the avid cooks who make ladyfingers ( Savoiardi ) or biscuits themselves. Then the baking-without-oven unfortunately stops.
ice box cakes
A mango float lets you stiffen in the refrigerator or in the freezer. Because of the freezing method, the dessert is called Fillipino icebox cake in America. Icebox cakes became popular in the late 19th century when American housewives wanted to submit to the desserts a la mode.
Small problem: the dainty charlottes (you know them: long finger pastry with bow, classically filled with custard and fruit) were far too complex and ambitious. There had to be a simplified recipe for the home baker.
Fast and simple
It worked. In the words of The Washington Post , unlike charlottes, icebox cakes were "the essence of speed and simplicity." But there was a catch: around 1920 the food industry experienced a growth spurt and cookie brand Nabisco saw the icebox cake trend as a great opportunity to sell more cookies. The recipe was written on the back of a pack of Nabisco's Famous Wafers.
Like all easy recipes that leave you wanting more, it turned out to be a real hit. Rich vanilla cream soaked in chocolate chip cookies where the flavors melt into a deliciously creamy cake… and made so quickly! The 1940's zebra-striped Nabisco icebox cake is still hailed as the one and only classic icebox cake. Online food magazine The Kitchn wrote an ode to it.
Predecessor Crema de Fruta
Actually, the mango float has a similar history. The recipe is a simplification of the traditional Filipino dessert Crema de Fruta, or 'Tita', a kind of trifle (European influences) made with canned fruit cocktail or fresh seasonal fruit, sponge cake, custard and gelatin. The Crema de Fruta is built up in a glass baking dish that is then placed in the refrigerator to set.
The result is a cold, super creamy cake where all the flavors are well absorbed. Every Filipino has a childhood memory of Creme de Fruta. Anyway, if you make all those layers yourself, then you'll be sweet for a while.
Just mix, cool and serve!
Making mango float yourself, on the other hand, takes very little time. It's a matter of whipping cream, carefully folding condensed milk through it and then building many layers with the condensed cream mix, Graham Crackers (typical American biscuits that you can replace with digestives or wheat biscuits) and pieces of fresh mango.
The Philippine website Pepper has a simple video recipe for the irresistibly cool mango ice cream cake. Instead of such a large glass bowl, you can also serve mango floats in separate (cocktail) glasses. Makes it extra festive.
mango varieties
Which mango do you choose? According to chef Isa Fabro, the LA pastry chef and daughter of Filipino parents, this is very close. In her Mango Royale recipe she writes that the super rich Manila mangoes (from Philippine soil) are essential for a mango float. What you want is a mango with a deep honey flavor, creamy texture with hardly any fiber, and lots of aroma.
An Alphonso mango from India would therefore also be possible, as well as a Carabao mango that grows in the Philippines, just like the Manila mango. But how do you get all those special mangoes in a country without mango trees? In other words; where do you buy the best mangoes in the Netherlands? Food blogger Mooncake figured it out and swears by this Indian toko on Javastraat.
The best mangoes
Unfortunately, the tastiest mangoes are not for sale all year round because of the mango season. Good for nature, bad luck for us. And what about the supermarket? Sometimes you get a bite there. But in general it is difficult to trace the origin, let alone to find out which species your mango belongs to.
That's why a tip from us: first taste the mango pure. If it tastes dull, you can freshen it up with a squeeze of lime. But it's best to use only the tastiest, slightly overripe mangoes for mango float. If you don't, there's a chance that the deep mango flavor will remain in the freezer. And so it doesn't end up in your dessert.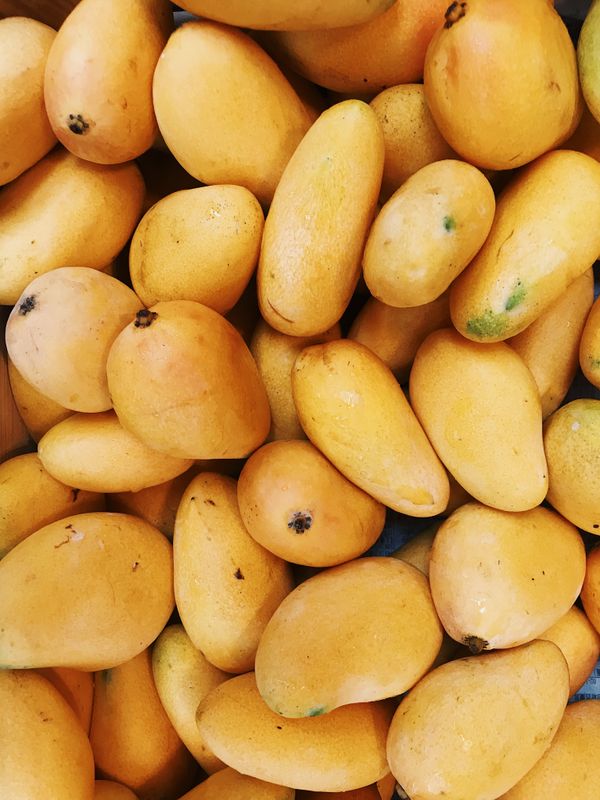 Next level mango floats with this tip
Mango float recipes are child's play. But an adult get-together: there could be more finesse. How do you do that? Make sure to beat the cream well before adding the condensed milk. We borrowed this trick from the method of making ice cream without an ice cream maker .
This prevents your mango float from being rock hard when it comes out of the freezer and you can still scoop it out with your spoon. And be warned, that doesn't stop at one scoop (rather 20, oops).