We cannot complain about the number of Asian products in our supermarkets, but ponzu is still often a difficult one. In fact, even at smaller toko's it is sometimes difficult to get hold of them. How about making your own ponzu? But yes of course!
We'll explain it to you.
What exactly is it again?
Ponzu is the Japanese name for a sauce made by simmering mirin (Japanese rice wine) together with rice vinegar, dried tuna flakes (bonito flakes) and seaweed over low heat. After all the flavors have been well blended, the mixture is sieved and flavored with Asian citrus fruits such as  yuzu , sudachi, daidai, kabosu or lemon.
The result is a fresh and sour seasoning that is often served with (partially) raw fish and meat dishes. In addition to having a strong flavor on its own, it is often mixed with soy sauce. This results in a dark ponzu, called  shoyu  or ponzu shoyu. The latter form is by far the most common, but make no mistake: ponzu also exists in a pure, yellow form without soy sauce .
Make your own ponzu
Ponzu shoyu – so the version mixed with soy sauce – can usually be found in (smaller) tokos (look for it at the soy sauce department, the bottle with the citrus fruits on it is a must), but pure ponzu is sometimes difficult to obtain. Can't find it but need it in a recipe? Don't worry, with a little creativity you can just mimic it yourself.
dark ponzu
You can find many recipes for homemade ponzu online, some easier than others. You can easily replicate the dark version of ponzu by mixing soy sauce with mirin and fresh citrus juice. Ideally, the latter is fresh yuzu, but since that too is difficult to obtain, lemon and lime are recommended. That way you can create your own ponzu with three supermarket ingredients (yes, mirin is just with the Japanese products in the Albert Heijn!).
Do you have some more time? Then use that time to pimp the basic version with bonito flakes and kombu (respectively shaved tuna flakes and dried seaweed, both available at the grocery store). A good recipe for the exact proportions can be found here , for example .
Ponzu without soy sauce
Does your recipe explicitly emphasize that you need light ponzu? Then omit the soy sauce and get started with rice vinegar, mirin, bonito flakes, kombu and citrus. Check this site for a good recipe.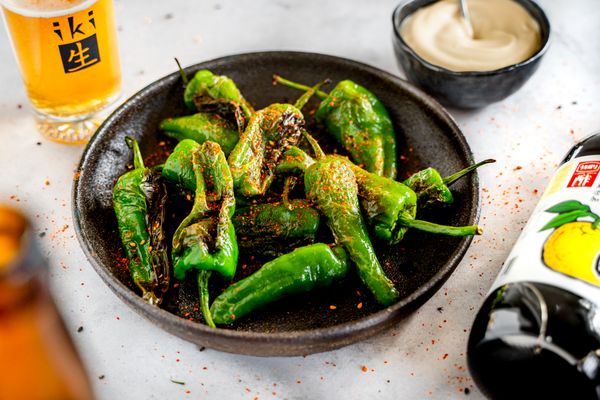 Tasty recipes with the sauce:
Edamame in 3 different (Japanese!) ways from Vegan JapanEasy

Culy Homemade: Padrón peppers with ponzmayo and shichimi togarashi

6 surprising toppings for oysters