Atable full of snacks or a real 7-course dinner: there is rarely a shortage of food during the holidays. In fact, you often buy a lot more than your stomach can actually handle. What do you do with the leftovers from Christmas dinner? Eat it, of course! Because that is not only tasty, but also very sustainable.
How? We give you tips for the leftovers from Christmas dinner.
Here's what you can do with the leftovers from Christmas dinner
Mashed potatoes
Leftover mashed potatoes prove like no other that the eyes are often bigger than the stomach. Wouldn't you have had to cook a full portion per person after all…
Fortunately, it doesn't just have to end up in the bin. For example, you can easily make potato cakes from leftover mashed potatoes – and that's fun too. Our favorite are aloo tikka , Indian potato cakes with lots of spices.
Potato croquettes  are also  a nice option. Especially for the kids! Make sure your mashed potatoes are cold and have enough flavor so that you can start right away. Roll croquettes from the puree and dip them first in a beaten egg and then in a plate of breadcrumbs. Fry them in hot oil for a few minutes.
A more chic variant of this are  pommes dauphine , the French potato puffs.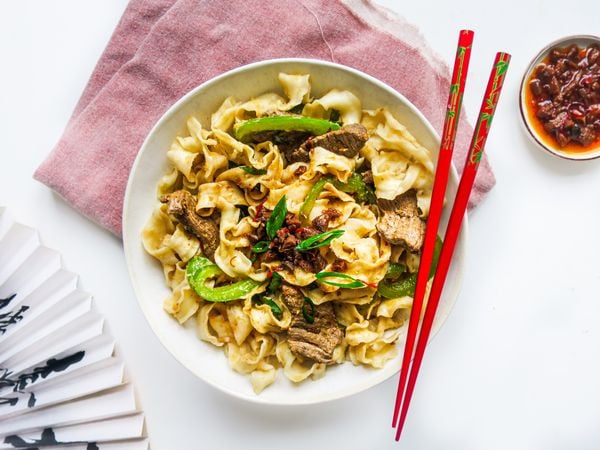 Steak (and other meats)
Do you go gourmet on Boxing Day? Then you can of course perfectly use your leftover porchetta , pork tenderloin or (deer) steak .
However, you can use up these leftovers from your Christmas dinner in other ways. For example, steak works perfectly in noodles and other stir-fries . How about Cantonese noodles with pieces of steak or quick noodles with broccoli and steak strips ? Super tasty and ready very quickly – great for those who have finished cooking after Christmas.
You could also use chicken in a classic English chicken pie . Full of flavour, creamy, with lots of vegetables and tender chicken: good comfort food for the cold Christmas holidays.
stewed pears
You can enjoy the leftovers of stewed pears from Christmas dinner the next morning: eat them with oatmeal crumble and yogurt , for example . They are also delicious with other hot breakfasts , such as a classic oatmeal porridge with lots of cinnamon.
You can also use stewed pears in a winter salad . For example, combine them with lamb's lettuce, hazelnuts and some caramelized apple. Or with halloumi and Parma ham, as in this recipe: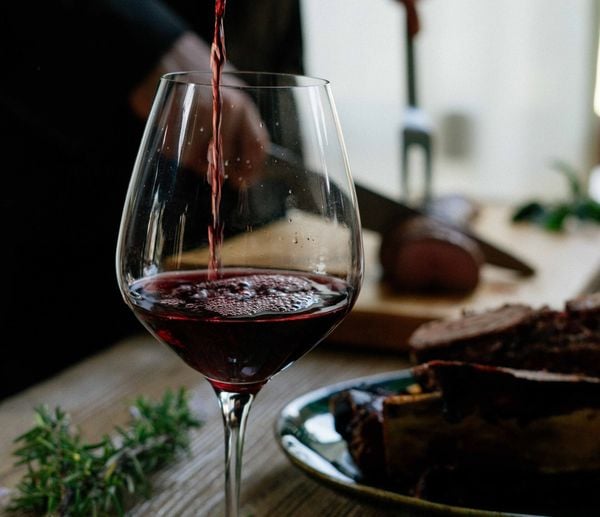 Half a bottle of wine
During the Christmas dinner, the wine glasses are often and generously poured. There is of course no such thing as 'leftover wine' – you simply drink it the next day with dinner. But you can also do other things with it!
White wine , for example, is a regular part of a  classic risotto . One of our favourites: this risotto with Jerusalem artichoke and crispy ham .
Red wine goes very well in  stews . Fry a chopped onion and garlic in some oil and add beef to it. Cook for a few minutes, then add a good splash of red wine, some beef stock, 3 bay leaves, fresh rosemary needles, and winter vegetables (such as parsnips, carrots, and mushrooms). Let it simmer until the vegetables are tender and serve with mashed potatoes. Don't forget to fish out the bay leaves!
gravy
Still plenty of homemade gravy left? You can easily reheat it the next day. Then you can of course serve it over meat or a good stew , but there are also more original ideas.
You may have heard of  poutine : a Canadian dish of fries with cheese curds (pieces of cheese curds, but fresh cheese also works) and a scoop of gravy. Sounds crazy, but now that you've got that gravy left over, you might as well give it a try.