Tomato soup is one of those dishes that: either is very boring or can be a very tasty meal. Fortunately, with these ideas you don't give that first situation a chance.
8 x tomato soup with a twist
1. Indian style
With coconut milk and Chhonk you can easily give tomato soup a tasty Indian twist. What did we say, Chhonk? Correct: that is an herbal oil that you make by heating spices in ghee or oil. Not sure what spices? Check out our recipe , we'll explain it to you.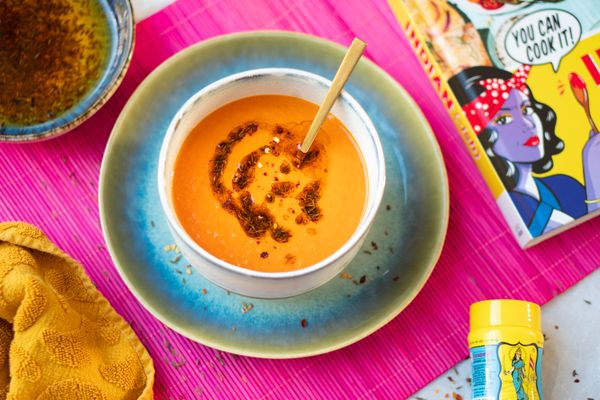 2. With Cheddar
Although she says she is not a fan of creamy soups, a tomato soup with Cheddar is something that Molly Baz knows how to charm. In her great cookbook , Cook This Book , she has a recipe for "Extremely Creamy Tomato Cheddar Soup." The whipped cream is mixed with the tomatoes, the Cheddar grates them on top as a topping. Do we want.
3. Tomato soup with tortellini
With tortellini you can transform your tomato soup into a complete meal. Perfect for lunch or as a light dinner.
> Recipe:  Tomato soup with tortellini
4. With (fennel) balls
Tomato soup with balls is a classic, but what if you also hide fennel in those balls? We found the inspiration for this idea from Samuel Levie and Joris Bijdendijk, who, after their successful canned snert, also have canned tomato cream soup with fennel balls . If you want to make your own version, knead some fennel seed through your minced meat and roll it into your own balls. Delicious.
5. The Mexican way
If you don't just use tomatoes, but also bell peppers, spring onions, coriander, feta and tortilla chips in your soup, you'll soon end up with something that resembles a Mexican-inspired tomato soup. Does that sound like something to you? Jamie Oliver describes in this video how it works.
6. Tomato soup with anchovy oil
Anchovy oil is a delicious addition to all kinds of dishes and that certainly applies to tomato soup. How do you make that oil? Simply heat 75 ml of olive oil with a can of anchovies and a few cloves of grated garlic in a pan and let it braise for 5 minutes. Addictive stuff it is, we'll warn you.
7. Seafood Tomato Soup
Tomatoes and seafood: it's simply a good marriage. Fortunately, the internet is full of these kinds of recipes, such as this version with scallops and shrimp for example.
8. Tomato soup with saffron
Do you have some saffron in your pantry? Try it next time with your tomato soup, possibly with an extra dash of cream. It goes very well with it, especially if you also add garlic, fennel seeds and dried thyme. We got the latter from BBC good food, whose recipe you can read here .