Few home cooks dive into it for the kitchen themselves. The addictively tasty baklava is a laborious dish because of the countless layers, but also so tempting that it is difficult to stay away from it. To make the temptation even worse, we would like to tell you everything you wanted to know about baklava and of course also where to get the best.
Where does it actually come from
In any case, you can find it at various locations: from a Greek restaurant to a Syrian patisserie. There are several theories about where the pastry originated, as with so many iconic dishes. However, in its present form it was first documented in Istanbul in the 15th century.
We will never know for sure the origin of the name. For example, Turkish , Mongolian and Arabic terms are in the running.
What makes baklava so delicious
So many countries, so many variations. And we don't mind that at all, since one is even tastier than the other. The common thread through each version? Layers of filo dough, separated by melted butter and oil with (sometimes occasionally) a layer of chopped nuts such as pistachio or walnut.
After it has been in the oven, it is poured over with sweet syrup, to which, for example , rose water , honey or orange blossom water has been added. And that syrup, you want to taste it in all its glory, of course. How do you do that? By turning it over and eating it. The syrup has fallen down by gravity, so when you turn it over, you don't lose any of the flavor.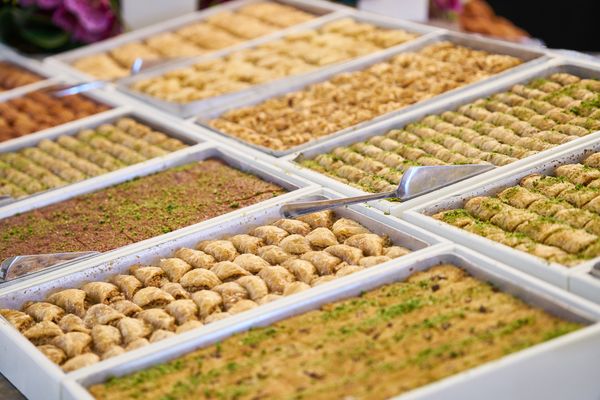 shape game
Baklava is made on a large plate and cut into the signature shapes. This allows it to be made in large quantities at once. They can be rectangles, but also triangles, diamond shapes or parallelograms.
Influences
The taste of baklava has evolved over the centuries due to its versatility within the Ottoman Empire. The Greeks are said to have introduced cinnamon and cloves, the Arabs added rose and orange blossom water and the Persians are the founders of the diamond-shaped baklava.
Get started yourself
Fancy giving it a try yourself? This recipe from British Bake Off's Paul Hollywood is sure to get a standing ovation. Or go for a savory version with this recipe .
Do you have a terrible baklava urge and no time to wait? Alsham Delights makes baklava according to a traditional Syrian recipe and  Şerifoğlu and Divan Pastanesi (both in Amsterdam) have different versions according to Turkish tradition.
Do you have a favorite place for baklava? Tip the editors: info@culy.nl.