The favorite hobby of the Culy editors is to wander around the Toko, looking for unknown products. The more mysterious, the better. And we always go for a nice packaging. Our Toko Finds inspired us to set up a new section. From now on we regularly share our favorite purchases from the Asian supermarket with you. This time: Korean rice cakes.
Korean rice cakes are small lumps of dough made from steamed rice flour. This is kneaded until it has an elastic and almost sticky texture. The pieces or slices that are cut from it are therefore the rice cake, or tteok in Korean.
korean gnocchi
Certain sources describe the taste of the rice cakes as the Korean answer to gnocchi. That, of course, refers to the chewy texture that the two carb bombs have in common. Moreover, the comfort food content is also quite high in both cases. Finally, both the rice cakes and gnocchi are champions of incorporating flavour.
Because although the rice cakes themselves taste rather mild (to put it pessimistically: boring), they behave like a sponge when you let them simmer in sauce for a while. And coming up with tasty sauces, the Koreans are the best at that.
An iconic dish: tteokbokki
An example of such a tasty Korean sauce can be found with the iconic dish tteokbokki , where the rice cakes play a leading role. Such a tteokbokki sauce is made from gochujang (that red Korean chili paste, in the tub), gochugaru (Korean chili powder), soy sauce, sugar and garlic. When combined, it produces divine stuff that is sweet, savory and umami.
And because of the gochujang and -garu it is not surprising that a lot of heat is involved. You understand: such a flavor bomb can really use the mildness of the Korean rice cakes – and vice versa. And that's exactly why the two make such a great marriage.
Often the dish is also topped with spring onions, sesame seeds and a boiled egg. We recently tested the recipe and saw ourselves sitting on the couch with such a bowl after only 20 minutes. Recommended, although you can also make other dishes (often soups, such as tteok guk ) with it.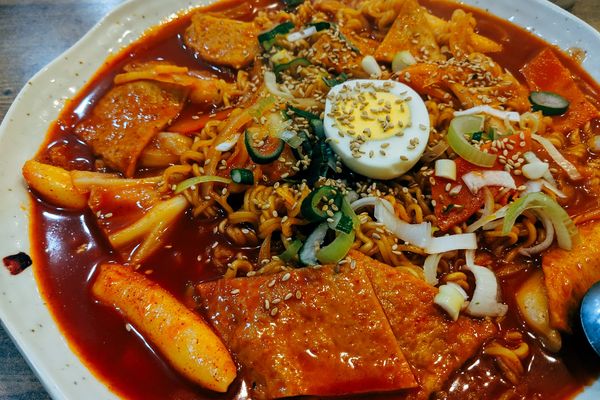 Fresh, chilled or frozen
In Korea the rice cakes are apparently made in front of you in supermarkets, unfortunately we don't have that luxury here. With a bit of luck you will find them fresh in the refrigerator in the larger Asian stores, although you have the best chance of finding them in the freezer compartment anyway.
Apparently, the frozen version is a bit less tasty than the fresh version in terms of texture. And although that sounds very plausible, we also think a pack of frozen rice cakes is a pretty genius addition to our freezer. If you want to use them, you basically only have to soak them in lukewarm water: shortly afterwards you can get started with them.
And that means we love to make room in our freezer for rice cakes – and that means a lot.