Is the culinary world a man's world? Not if it's up to the women who work hard every day in gastronomy. And there are many! Chefs, sommeliers, hostesses and bakers who excel in their profession and who happen to be women. In our opinion, they receive far too little attention. That is why Culy will put a number of heroines from the food world in the spotlight in the coming period. Such as Virginie van Bronckhorst-Kunz: co-owner of top restaurant Triptyque in Wateringen, which she runs together with her husband Niven Kunz.
Women in the food world
When you think of a chef, chances are you think of a white man with a large chef's knife in his hand, tattoos and possibly a dead animal over his shoulder. If you think of a sommelier, you probably also see a white man in a smart suit. And there are even more roles in the culinary world where we automatically think of men.
Time for a more diverse picture than that! Culy therefore shines a spotlight on the women in the food world. Who are they and what moves them to do what they do? Today on stage: Virginie van Bronckhorst-Kunz, one of the driving forces of restaurant Triptyque.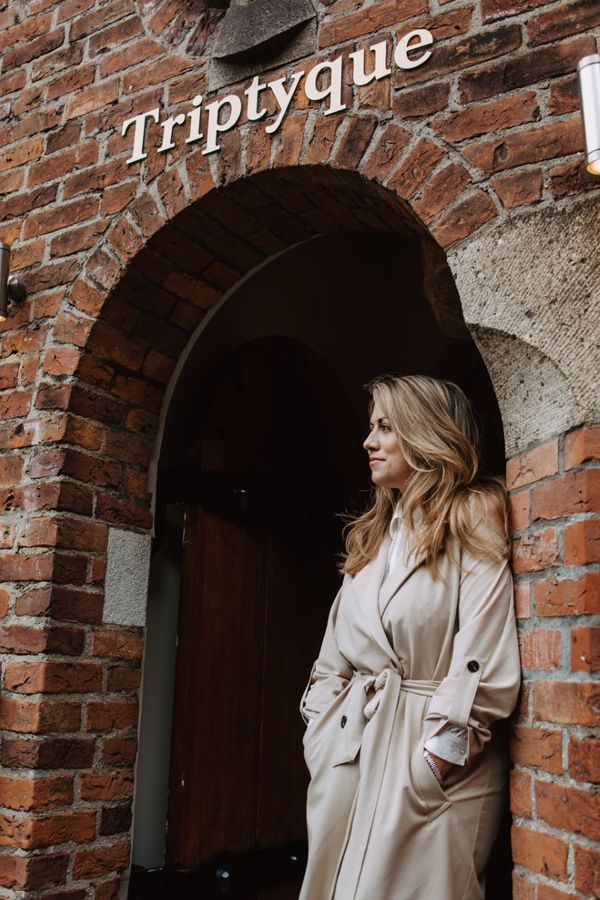 Who is Virginia?
Virginie is probably the only person from the world of top restaurants who can text you just before an interview appointment with the announcement: "Almost done, one more patient!".
In addition to her work as co-owner of restaurant Triptyque , she also works four days a week as a basic doctor in dermatology and she works a few times a month as a doctor at the GP post on weekends.
How on earth does she combine that? Virginie: "Often in the evenings. Then I do the e-mails, I keep an eye on the reservations, the reviews and I deal with products like drinks. But the main thing I can do is keep it up, because I just really enjoy both my jobs! It gives energy." She has also recently been working on the cookbook that was recently launched: Vegetable Menus .
In conversation with Virginie
We spoke to Virginie about her role in the culinary world. 
How would you describe your role in the restaurant?
I always introduce myself as a co-owner. Niven always describes it as "everything but the kitchen". I am more concerned with the bigger picture, a bit of management and a bit of marketing. 
I think it is quite unique that someone who runs a restaurant also works as a doctor four days a week. Your husband Niven calls you "Reteslim".
Learning from others is perhaps what I get most out of my profession as a doctor. You always learn from colleagues, you are always (re)searching, reading, thinking, looking for solutions… That is really something nice to be able to take with you in the hospitality industry. That combination is of course not very common; that you run a restaurant together and both actually have a job. 
How does that go together?
Certainly as a couple I think that we do have a unique combination, but that we also look at things differently, because we have other worlds around us. I think that gives you a different view, and also a more relaxed view of things. We have little stress. 
Niven called it so beautiful at your book launch: you have been the driving force behind your book, but I think also behind Triptyque, which is often still underestimated. "All I have to do is put a carrot on a plate," he said. How do you view that?
I think so too. We really do that together. Sure: he does the whole kitchen, I really can't take credit for that, that's his creativity, he does it all by himself. But there is more to a company than just putting things on the plate. In the present day, that's things like keeping up with social media, networking, marketing, keeping the team together, picking a good team. And also just the creative things other than just the dishes. I think we can spar very well. In that sense we are also equals.
What kind of creative things do you mean?
Very diverse, from the interior to our book . That's something that we all shape together. Or that we think about the future, for example: how can we surprise people even more? What will we do with the music, with the signs, what way do we want to go? What should the website look like and what is practical in it?
But also: how do we deal with our team, how do we answer the emails? I am more focused on management and marketing. Niven loves to think about the products, dishes and crockery. He is really very creative! We can still discuss the crockery haha, I really like some matt plates in earth tones, he likes white plates with a nice shine.
Is Niven easy to convince in this?
I certainly wouldn't call it that, no. I think we're evenly matched because we're having the discussions. We both give our arguments, at the end we come to a conclusion about who is right. It's nice that we make each other think. I don't get involved in the kitchen at all, but if I like it, I'll say so. Sometimes he has very good counter-arguments and I think: oh yes, he has a point. It's really a collaboration with us, it's nice to start a discussion together, to daydream about how we can always make the restaurant better and more fun.
What do you like best about your role in the restaurant?
That I can hang above the whole because I do not have the role of hostess or cook. I prefer that the whole picture is right all the time. That you completely blow people away with an e-mail, for example. I enjoy it the most when I can think of cool things, which is why we often go out for dinner abroad. We also spar with each other there.
I think the best thing is that creativity, that you can come up with something and do something for yourself. You can make it however you want. Whether that is a dish or the restaurant itself, how you make the wine list look like, or how you receive guests. There is creativity in very small things. 
Seems like a lot of hard work to me.
It is true that you are on seven days a week. I really like that, but I can also imagine that – if you hadn't expected that – you think to yourself: mmmh… I don't think this is great.  
Where does that drive come from for you?
I just really enjoy working. Being busy, being able to achieve something. We see improvement, we are doing well, people are happy. You achieve something with your hard work. There is something in return other than financial compensation. In the hospitality industry it is real that you achieve something, that everything becomes even more creative and refined, that the guests react nicely.
In healthcare, that is of course in a different way for me, that you can really help people, that you keep learning new things. I really enjoy learning to develop yourself. You only do that when you are busy. If you sit still, you won't get there.  
You really run the restaurant together, but often only your husband's name is mentioned…
Very often. I still have a job next to it, so I find it quite annoying if Niven is the only one pushed forward all the time. It's not right either, because we don't do it together, but as a team. We are nowhere without that team.
You do not know who the second man is in many catering businesses, you have no idea. Perhaps there is a high throughput there, but that is not the case with us. We have been working with a permanent team for five years, which we are really proud of. Leroy Pechler and Jean Paul van Tilburg as a very good service team, Eveline Rotteveel as office manager. They work hard every day to get the best out of themselves and Triptyque.
Since we opened Triptyque, I've been pushing for that: from day one it's Virginie and Niven, and not like "oh yes, his wife is doing something too". And I still have to fight for that. I understand it on the one hand, because Niven's name has been established for much longer, but I can also be very disappointed at some moments.
Why does that bother you so much?
Because there is so much work in it and especially love for our work for which I do not receive any appreciation or recognition. He started his previous business, restaurant Niven, on his own and I got to know him about six months later. I wasn't into that restaurant from day one, which has grown over the years. With Triptyque we made a fresh start and we can do it again and really do it together. It just takes way too much time not to get credit for it . Nine times out of ten you don't know anything about the women who run a catering business.
A good example of a couple for whom this is clearly visible is with Jonnie and Thérèse van De Librije. They are there together and are clearly equals.
Do you experience the culinary world as a stronghold for men? Or is there a lot of feminism to be seen?
Overall , I think it's still a man's world at the moment, especially in the fine dining sector. Which is perhaps not surprising with the terrible hours that are often made in the catering industry. On average, I think that women are more likely to seek more work/life balance, for example with a family or with family and friends. Working part-time is of course a great solution to find a good work/life balance, for both men and women. But it is also something you don't see a lot in the hospitality industry, specifically in the fine dining sector.
At Triptyque, Niven and I have therefore consciously chosen to be open "only" for 4 days. We like to give our team, but also ourselves, this space and tranquility. That way we also have time for each other, our family and friends. That is very dear to us and we really enjoy it. I believe that this way everyone stays fresh, enjoys her or his work and that this benefits the creative process.
While the image is often: in the top restaurants, tough men work who sacrifice everything for their work.
The hard-working chef is often the center of attention. On the one hand that is great fun, great to see that drive and completely understandable that this is precisely what is being highlighted, because the chef is the creative brain behind the great food that the guest comes for. But at the same time, it is also possible to look more often at why a business is even more successful and who contributes to this success. I also think it's good to highlight that you don't have to sacrifice everything to achieve what you want.
It is often seen as "tough" to work yourself to pieces, but the trick is to organize your work in such a way that you can enjoy yourself, can keep doing what you like for a long time and also stay fit and healthy. If this gets more attention, it will also become more attractive to work in the hospitality industry for the young generation and for the current generation to continue working.
I also think that it is more attractive to work in the hospitality industry if you get recognition for the work you do and the time you invest in it. And I'm not just talking about the salary. It is just so important to recognize each other as a team, to be mentioned by name in an interview or by a guest. I think everyone likes to gain appreciation for their work in this way. It is good to realize that every team member is indispensable, has learned and worked hard for the position where they are now. It's especially important to recognize that it's real teamwork in a business like ours and so many other things.
It's about being seen.
Niven is a fine man in that, he sees that too and gives me the space to take my piece. He simply says, "I did not write the book". People laugh at that, but it's true. A question I often get in interviews is: " But do you sometimes cook?" I always cook at home. People are often surprised about that, but I can cook quite well, if I do say so myself. It's all about assumptions. I understand it too, of course it has crept in over the years. But it's nice to correct it every now and then.
If there's one thing I don't like, it's just to be seen as "the wife of" . Often it is portrayed as a complete identity, "she is Niven Kunz's wife" and then it stops. I am of course incredibly proud and happy that I can be Niven's wife and he my husband. But I'm a big proponent of having and maintaining an identity of my own. That actually doesn't have much to do with feminism, but more with standing up for what you do and who you are. Whether you are man or woman. 
What would you like to say to the women who aspire to the same position as yours?
My answer to that is always: stay with yourself. There is so much social media, so much news, so many incentives in this day and age. You should especially look at your own situation, at your own abilities, at what makes you happy, what you are good at. Don't be blinded by what someone else has done on Instagram with maybe 60 filters. Those kinds of pictures don't really affect me personally, but I'm aware that some other people can be bothered by them. I prefer to follow the Nasa Hubble telescope for example, that makes me very happy.
Furthermore, I mainly follow people I know, artists in music or special restaurants. Then I sometimes think: oh, that looks really good, they do it well. It's not like I go to Niven afterwards and say: look, we have to do this too. I fully believe in his creativity and in what he does. It's just great fun to see what others are doing and how they are successful at what they do. Use it as inspiration, but always stay with yourself and have faith in your own abilities.
I believe that it doesn't matter how many doors are initially closed for you. If you are good at what you do, are a nice person, have perseverance and have a little healthy confidence in yourself, the right door will eventually open.
How do you do that: don't let social media or other influences drive you crazy?
I have a plan in my head for myself, so it doesn't make me restless. I have a clear idea of ​​what I want, how I want it and what I think is right. Of course you can gradually learn to do that, but I find that process of experiencing it for yourself the best. Then you also become good at something: when you experience for yourself why something works or does not work. If you follow people blindly, you don't really know that. I think it is very important to stay with yourself, also for your own happiness.  
More women in the food world:
Hanneke Schouten from Bouchon du Centre

Chef Titi Waber from Blauw in Amsterdam

Sommelier Saskia Smeenk from Restaurant Felix