Asandwich is always a good idea. But a toasted sandwich 2.0 all the way: especially when it concerns a Croque Madame or Croque Monsieur. We almost always eat it with ham and cheese, but there are so many other unforgettable options. So get started quickly, with these ideas for both the Croque Madame and the Croque Monsieur.
First master the basics: the difference between the Madame and the Monsieur? You read it here . Also check out the ultimate Croque Monsieur according to star chef Joris Bijdendijk.
Kimchi
What a sandwich can do, a Croque can do even better. The kimchi version is now part of many a repertoire. This version is therefore fine with béchamel or a fried egg on top.
Spinach
Spinach with egg and béchamel is always a good idea, especially in this category. Top it generously with Gruyere and give it a touch of je ne sais quoi with a little lemon zest.
Fish
This Croque Poisson tastes as chic as it sounds. Get top quality ingredients and you'll never want anything else. The smoked salmon and dill make the whole thing a melting success, so it's recommended when a lunch visit is on the doorstep. Want to add a little more decadence? You will succeed with this Croque Madame with lobster. Yes please.
mushrooms
Did you know that mushrooms are also incredibly tasty with béchamel? So replace your meat from the classic Croque Monsieur with shiitake or oyster mushrooms (baked in a good layer of garlic butter with fresh herbs) and you'll never want anything else.
caprese
The nineties classic that never bores: caprese . So also to your Monsieur or Madame. Tomato, mozzarella and pesto will always remain a match made in heaven . Add a fried egg to that and we can't wait for lunch.
Salami
Ham on your Madame is delicious, of course, but replace the ham for another (sustainable) piece of meat. Like this croque madame with salami . A good option by the way during a hangover, we can tell you.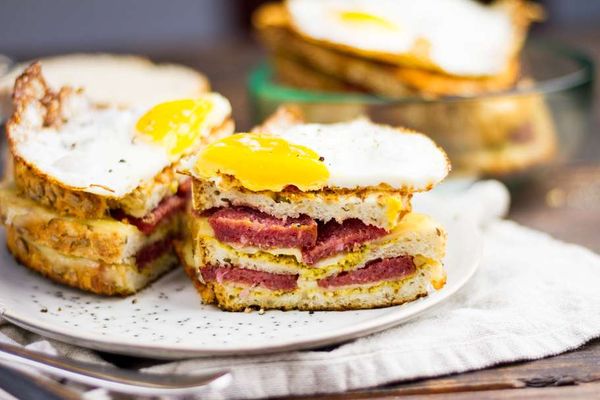 vegan
A Croque Monsieur is indispensable in everyone's life. But how do you approach that as a vegan? How about this well-filled version with aubergine ? Or book a return ticket to London of course and indulge yourself at this restaurant .
Bread
We would of course prefer to see it go into the pan and oven with thick slices of white bread, but if you don't have that in the house, then you can cheat once. For example with Turkish bread . Or take it a different tack by tossing your bagels into the pan with this recipe .
Did you actually only end up on this page because you have a terrible hangover? Take a look here for more resorts in the same category.