Thinking about what to eat every week can be quite a challenge. To ensure that you do not put the same dishes on the table every week, we are happy to inspire you with handy weekly menus. This week we're going for hot stewy dishes that are all about the heart of Levantine cuisine: chickpeas.
Bet there's still a can of chickpeas lurking in a forgotten kitchen cupboard somewhere? Chickpeas are more versatile than most legumes because you can bake them super crunchy or turn them silky into the dip of your dreams. Open a can and cook these insanely simple meals, all of which happen to be vegetarian.
Monday
Color your Monday with turmeric and chickpeas! This stew has been on our list to make for ages, and maybe on yours too: The Stew. This is a kind of curry based on coconut milk, chickpeas and a load of turmeric for a seductive golden yellow color, invented by cooking queen
Alison Roman . After someone came up with the hashtag #thestew for it, Instagram just about exploded with photos of people brewing their own #thestew. Says, enough, right?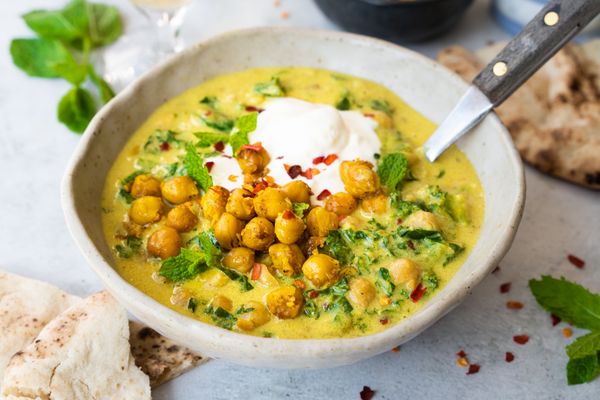 > To the recipe: Culy Homemade: 'The Stew' by Alison Roman (the chickpea curry that went viral)
Tuesday
Whoever says salads are boring has clearly never tasted this meal salad. With perfectly crunchy cauliflower florets, crunchy grilled chickpeas, tomato, egg, tahini and green harissa dressing, you can imagine yourself in salad heaven for a moment. Bonus: the chickpeas give you enough protein, ideal for after exercise, if you don't want to spend hours in the kitchen anyway.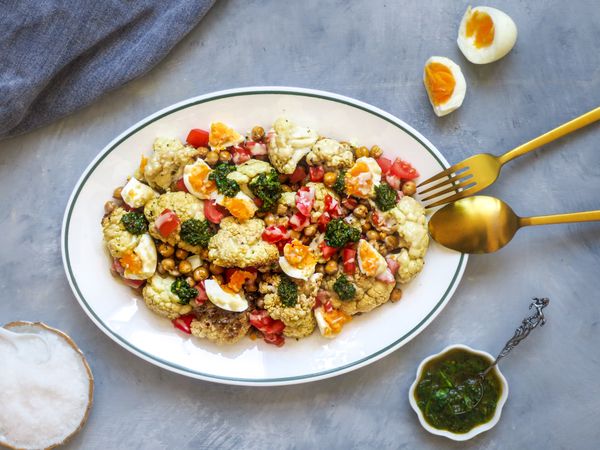 > To the recipe: Culy Homemade: salad with grilled cauliflower, chickpeas, egg & green harissa
Wednesday
Burgers break the week so nicely. That's why this vegan pumpkin chickpea burger should not be missing from the list. Take your time because to be honest, the preparation requires some patience. Maybe a good time to invite some friends, after all, many hands make light work and you can immediately make more vegetarian burgers. While you're at it… This way you immediately avoid the well-known solo bite-swallow scenario on the couch (we've been there).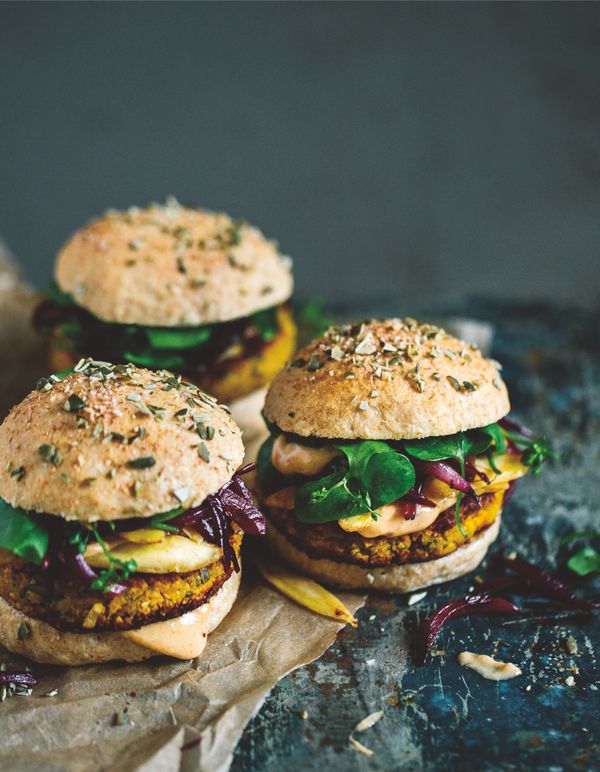 > To the recipe: Pumpkin chickpea burgers
Thursday
Oops, did you forget to get groceries? No problem, because we love those recipes that you can make with practically anything from your pantry. Take this pasta e fagioli: pasta with beans and seasonings. A real dish from the cucina povera, the Italian poor man's kitchen. Delicious in all its simplicity.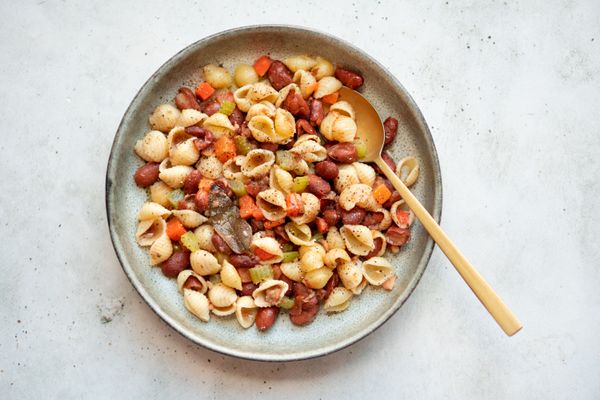 > To the recipe: Culy Homemade: pasta e fagioli (Italian beans with pasta)
Friday
friday friday right? This is a healthier variant, where the falafel is not fried but is cooked between the waffle iron. Whoever came up with that is a genius. This recipe will take you up to 30 minutes and comes with a delicious fresh beet salad. What more could you want on a Friday night?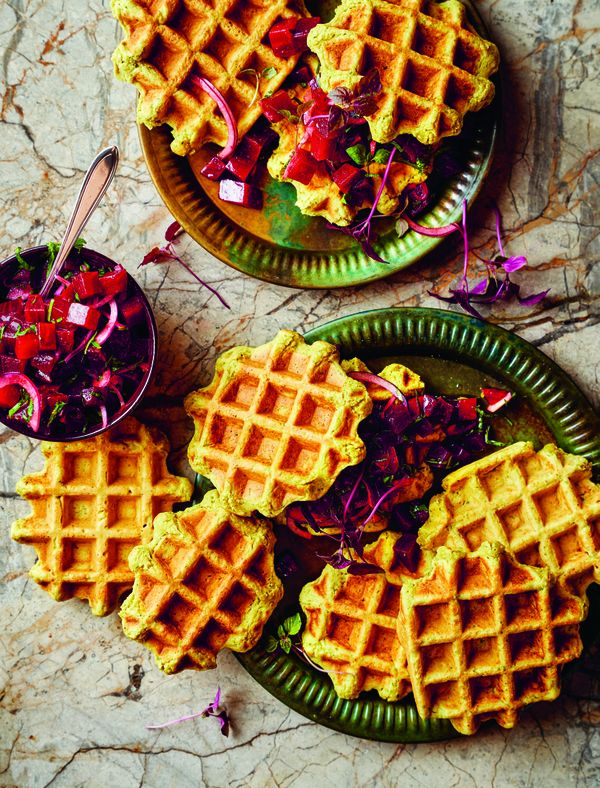 > To the recipe: Falafel waffle with beetroot salad from 'Fast Arabic'
Saturday
Make it as a filling lunch or serve this chickpea spread sandwich with a salad or soup for a light(er) meal. There is a good chance that you eat out on Saturday, so it doesn't have to be so hot and extensive.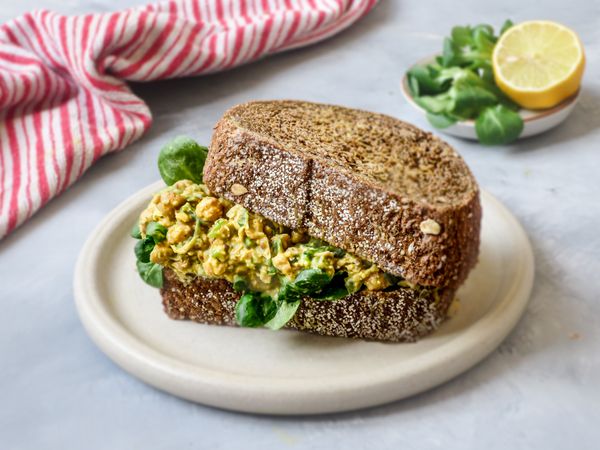 > To the recipe: Culy Homemade: fresh sandwich with lemon chickpea spread
Sunday
On Sundays you can simmer and stew, that also makes the house smell so good. Don't be too stingy with the cinnamon and cumin because this eggplant dish can use that. Replace the paprika for smoked paprika to make the aubergine taste extra meaty. If you feel like unpacking and turning it into a very Lebanese feast, put these dishes on the table . They fit like yin and yang with this aubergine dish.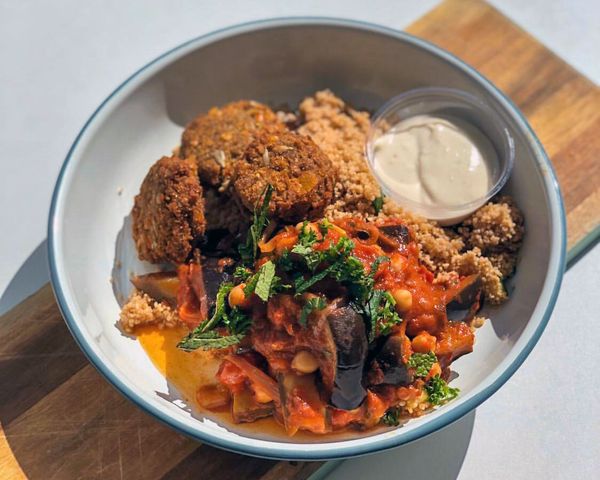 > To the recipe: Spicy aubergine dish with chickpeas and smoked paprika