Few dishes are more convenient for a weeknight than flammkuchen. The oven does all the work, it always works and you can vary endlessly with the toppings you choose – not to mention that it's great bank food. No idea how to invest it again tonight?
We provide you with the necessary inspiration.
7 x the best ideas for flammkuchen
1. Mortadella, ricotta, pistachio
You may recognize the combination of mortadella, ricotta and pistachio from your Neapolitan pizza . Or from this piadina , that Italian flatbread. So just assume that it is a brilliant trio and that you can also use it with your flammkuchen with peace of mind. A little lemon zest on top finishes it off.
2. Mushrooms, pecorino, truffle
One takes a little sour cream, one bakes strips of oyster mushroom with garlic in olive oil and one shaves thin slices of a block of pecorino. Tadaaa: that's all you need to cover your flammkuchen before it goes into the oven. Add some truffle (tapenade), fresh parsley and/or chili oil afterwards and you have a godsend.
3. Flammkuchen with egg, Prosciutto and green herbs
Flammkuchen for breakfast? It's possible with this version with egg, Prosciutto and green herbs. But of course you can also serve it with brunch or drinks. Because who doesn't love a fried egg and salty, crispy ham?
> Recipe: flammkuchen with egg, Prosciutto and green herbs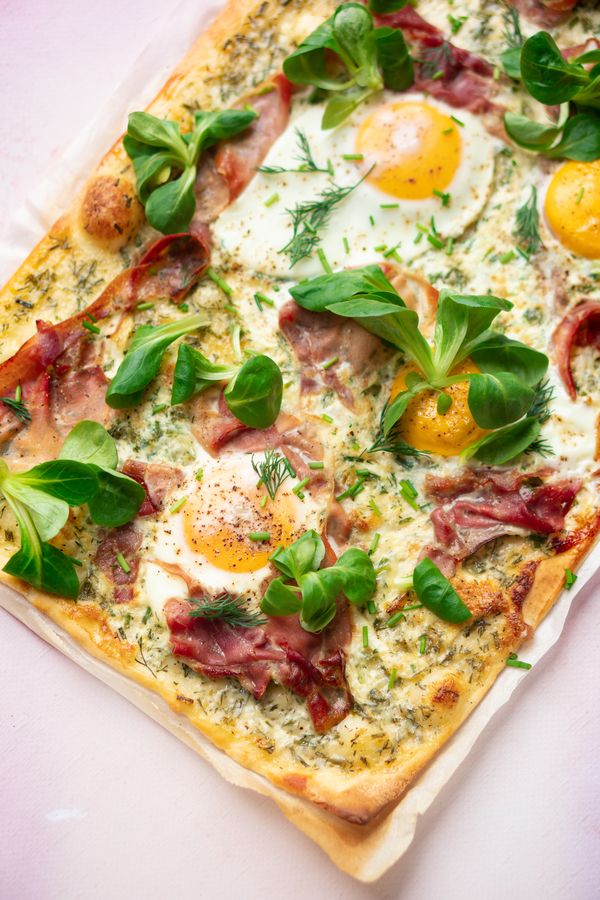 4. Zucchini, spicy minced meat and sour cream
We came up with this version for flammkuchen with zucchini, spicy minced meat and sour cream with a view to summer, but in fact we can eat it all year round. The olives that go in it wink at the South.
> Recipe: summery flammkuchen with zucchini & spicy minced meat
5. Salmon, seaweed and wasabi mayo
Salmon, seaweed and wasabi: that's a great combination on paper, but also in practice – and on flammkuchen dough – it's a party. We like this best with fresh, raw salmon. Don't you like that? Smoked salmon is also an option here.
> Recipe: flammkuchen with salmon, seaweed salad and wasabi mayo
6. Chicory, bacon and cheese
The Flemish Jeroen Meus devised a flammkuchen with chicory, bacon and Belgian cheese for Daily cost . What else can we add to that? Not much more, except it's genius.
7. Jerusalem artichoke, hazelnut, burrata
Sergio Herman has a recipe for a pizza with the above combination in his book New Italian. You already hear it: we are convinced that this combination also works very well on flammkuchen.
Saute thin slices of Jerusalem artichoke in advance together with some garlic in olive oil and use this as a base for the flammkuchen. Slide into the oven and top with roasted hazelnuts, burrata and some finely ground parmesan cheese afterwards.