Thinking about what to eat every week can be quite a challenge. To ensure that you don't put the same dishes on the table every week, we like to inspire you with handy weekly menus. It is clear that love goes through the stomach. So we pull everything out of the (stock) cupboard with Valentine's Day. Pink, red, carbohydrates and eating spaghetti together: yes please. That's why: 7 x a delicious recipe for Valentine's Day.
Because whether you are alone on the day of love, with two or ten: there will be good food anyway.
Need more inspiration? View all weekly menus!
Monday
A combination that you probably haven't eaten before for Valentine's Day, all the more reason to make it. This steak with pink (!) tahini has everything to celebrate the day of love in a big way. Long live the beet juice that gives the sauce its dazzling color.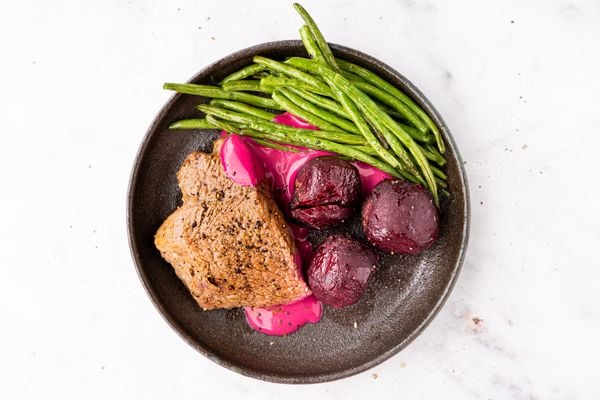 > To the recipe: Culy Homemade: steak with pink tahini, beetroot and haricot verts
Tuesday
There are people who make a cake for Valentine's Day, but we really prefer a risotto. And especially in a color like this. Add roasted cherry tomatoes and the extremely creamy Burrata and we can say that there is nothing more Valentine-appropriate than a plate of this.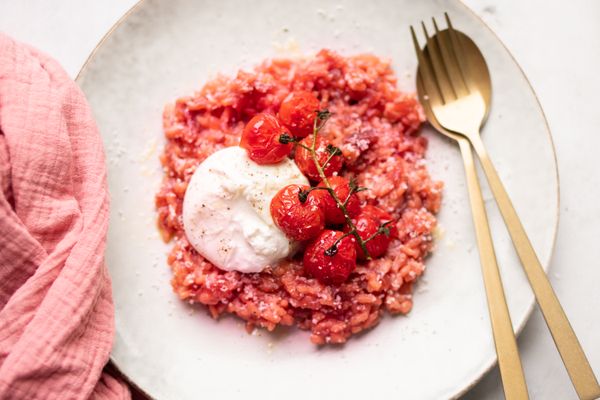 > To the recipe: Culy Homemade: beetroot risotto with Burrata and roasted cherry tomatoes
Wednesday
Tired of nerves, so would you rather be well prepared? You can make this pink ajo blanco a day in advance. The bright pink color and minimalist look  of this super tasty soup are guaranteed to impress. Combine it with this pink focaccia and your Valentine's dinner will be one for the books.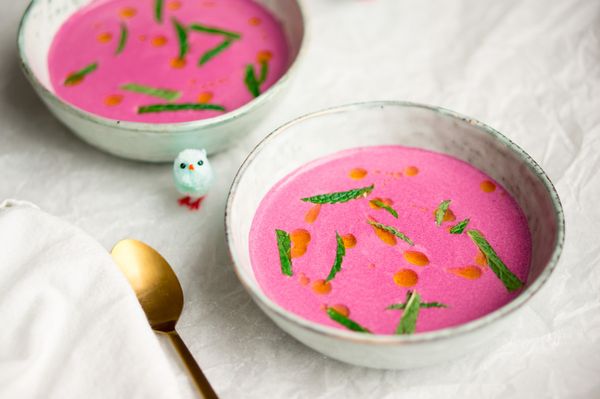 > To the recipe: Culy Homemade: pink ajo blanco
Thursday
On to a Valentine-appropriate recipe that is nice and light, but also full of flavor and color. Sweet, fruity, creamy and fool proof . Add a mountain of vitamins and you know: this Valentine's recipe is worth repeating.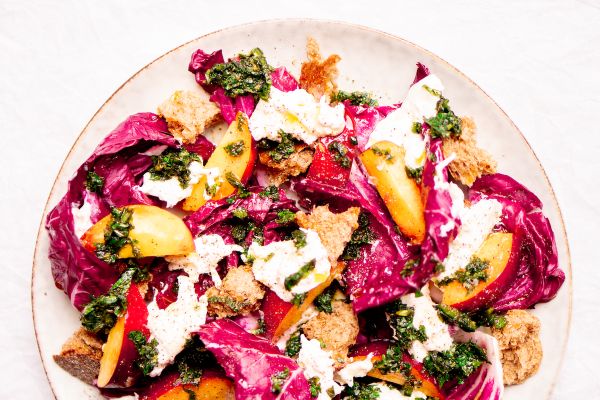 > To the recipe: Culy Homemade: simple meal salad with nectarines, Burrata and mint
Friday
Fancy a movie night with a matching dinner? Then go for pizza 2.0: this version in the shape of a heart. Because if love goes through the stomach, then at least let it be in a form befitting the occasion. Cheesy (on several levels), we know, but hey, this is the day when it's allowed.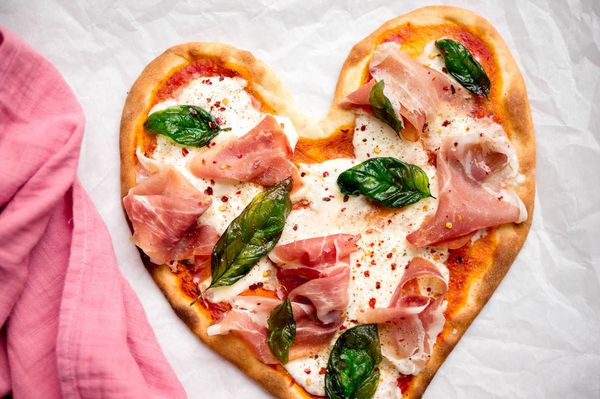 > To the recipe: Culy Homemade: pizza with Burrata, prosciutto and fried basil
Saturday
Ideally, on Valentine's Day, we serve a delicious meal that doesn't require hours of toil. Because: less preparation, more time for your visit. We have selected the perfect case of little effort, great result for you. Bright pink, wonderfully fresh and on the table within five minutes: the recipe for Valentine's Day.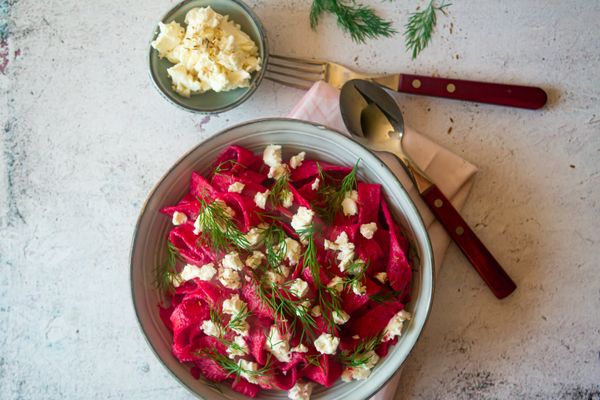 > To the recipe: Culy Homemade: quick pasta with creamy beets, feta and dill 
Sunday
Looking for an experience  à la Lady and the Vagebond ? You could of course opt for a classic spaghetti bolognese in this case , but why not go pink in style? This pink spaghetti is the perfect recipe for a worthy Valentine's experience.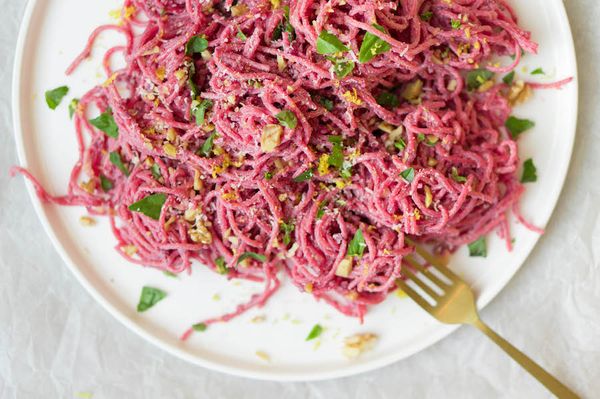 > To the recipe: Culy Homemade: fresh pink spaghetti
Fancy a sweet ending? You can with this simple Valentine's Day dessert or try this Persian Love Cake . Surely love goes through the stomach!