Wonton wrappers sometimes have the sad fate of ending up in a forgotten corner of your freezer. A shame, of course, because nothing tastes as good as homemade wonton soup . And you can also use those sheets for many more purposes.
6 x things you can do with wonton wrappers
1. Fill them with something sweet
Wonton wrappers are often mentioned in the same breath as savory fillings such as shrimp, minced pork or mushrooms. Nevertheless, the taste of the sheets is quite neutral, so you can use them just as well as a wrapper for sweet ingredients.
We already showed you this in a very old Culy recipe: we filled wonton wrappers with banana and chocolate . In this recipe they fill the skins with mango and pineapple: undoubtedly also very tasty.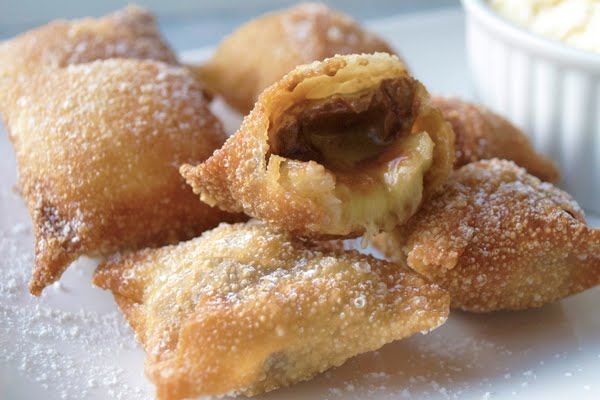 2. Use them as a taco
Can you see in the photo below how well wontons do as a stand-in for tacos? That's right: if the taco shells are sold out, you might as well bake wonton wrappers until you can fill them with whatever you like.
How do you do that? By greasing wonton wrappers with some oil and draping them over the rack of your oven (two bars per taco). It is important that you create a little space in the tacos for the filling, then it becomes a kind of 'tray'. It works perfectly on an oven rack! Make sure the wonton wrappers are thawed beforehand.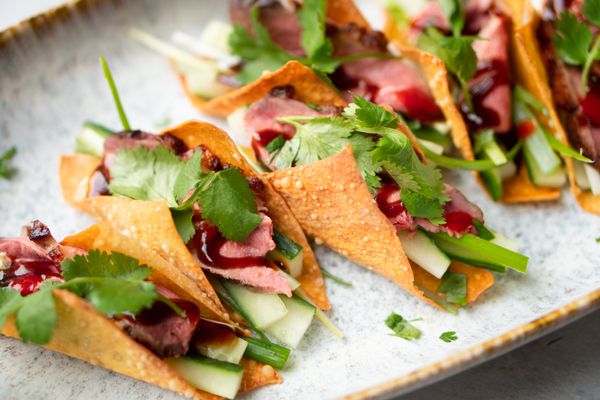 3. Make cups of it
Does that mean wonton wrappers only fold into triangular tacos? Not at all. This recipe also shows you how to drape wonton wrappers into muffin tins, transforming them into crispy cups.
Again, you can determine the filling yourself. From Thai chicken salad to a Mexican-inspired taco filling to a traditional Mexican ' al pastor ': a little fusion is welcome!
4. Make cigars out of it
In the Vegetable Booklet, Samuel Levie  &  Nadia Zerouali make cigars from filo dough, filled with blue cheese and beetroot. A great idea, of course, but try it with wonton wrappers, which are also very tasty here.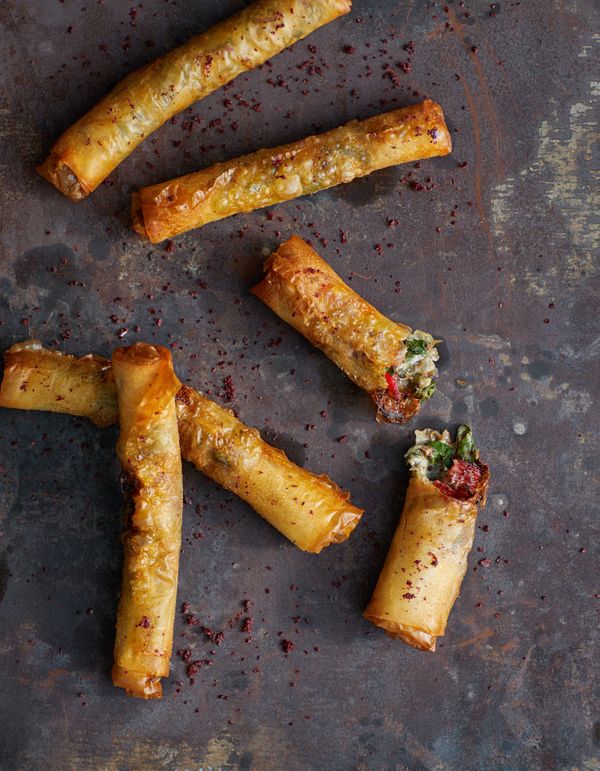 5. Fold Them Like Samosas
Samosas are those delicious Indian stuffed snacks. Traditionally , they are made from homemade dough based on flour, olive oil and water, although you can also use filo dough (like we did here ).
Or wonton wrappers, of course – you saw those coming. Just fold and fry in the same way as the version with filo dough is the message, it can be that simple.
6. Make mini pizzas out of it
And finally: you can make great mini pizzas from wonton wrappers. Do you have any idea how much these kinds of bites will appeal to your next drinks party?
We do. By placing two wonton sheets on top of each other like a star, the ideal mini pizza base is created. In this recipe , it is topped with mozzarella and spicy sausage slices, but come up with your own version.