Atasty ragù is satisfying, flavorful and rich – not to mention simple, like Italian cuisine itself. Different meats are simmered in a red sauce and when it has simmered long enough, the ragù is eaten along with pasta (which is, of course, cooked al dente). But what kind of meat? And what kind of sauce? And is Bolognese the same as ragù?
A plate of pasta with bolognese sauce has to be the most iconic dish in Italy (and in the Netherlands: pasta bolo). There is even an emoji that refers to this classic red sauce, but that picture is wrong. Because you don't eat real bolognese sauce with spaghetti but with a wider tagliatelle or papardelle. Moreover, you don't call it a sauce but a ragù.
Now it gets confusing, because a ragù is not a bolognese, but a bolognese is a ragù. What's up with that?
Ragù alla bolognese
Ragù is not a bolognese. It's true that both sauces are Italian sweethearts , and both contain meat, but we also have to recognize their differences.
Let's zoom in on ragù. Ragù is an Italian stew that is characterized by a soft, comfortable taste. It is not the tomatoes that play the main role, but the meat (beef, veal, lamb, pork, fish or poultry) to which a very small amount of tomato sauce has been added.
In addition to the meat, the sauce is rich in finely chopped vegetables – carrot, onion and celery – and has pancetta in it. This composition is also called sofrito . For the stew, add wine, stock, and usually a little whipped cream or milk.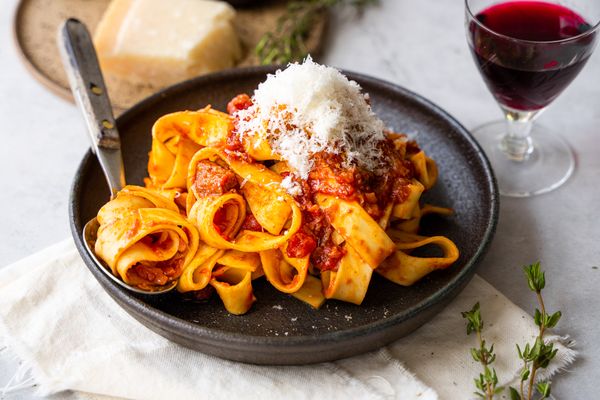 > to the recipe: Culy Homemade: pasta con ragu all'Anatra (pasta with duck ragu)
Ragù by Marcella Hazan
Any cook can prepare a ragù by following these basics from tomato sauce guru Marcella Hazan :
The meat should not be too lean: it should be fat and marbled to the top, because only then you will get a nice sweet ragù. And of course we want that! The most desirable piece of beef is the neck steak, so meat from the neck of a beef.

Add salt immediately after adding the meat to the pan to release the juices for the sauce. And cook the meat really slowly, otherwise it will turn into rubber.

Stew the meat in milk before adding the tomatoes and wine to prevent the meat from becoming tough from the acidic ingredients. The milk is a kind of protective layer.

Use a pan with a thick bottom that will retain the heat. In Bologna, they prefer pottery, but enamelled cast iron (such as a Creuset) or a pan with layers of steel at the bottom will also work fine.

Cook the sauce very slowly, on a simmer, for a very long time. At least three hours, more is better.
Rag or Bolognese?
Ragù alla bolognese is a variation of ragù and also the most popular version. In short: ragù is a collective name for a stew based on meat, vegetables & sofrito and bolognese falls into that category.
A bolognese is a ragù that originated in the Italian city of Bologna in the 15th century. The recipe contains white wine and fewer tomatoes – in fact: only tomato paste – than in most ragù. It also contains sofrito, pancetta, onions, meat stock and cream or milk. Like many Italian preparations, bolognese has several variations, especially when it comes to the meat. Pork, chicken, veal or rabbit and even goose are all candidates.
And the herbs and spices? Simple  does it : stick to a bay leaf.
And the pasta?
For the pasta you want a thicker string that can hold the meat sauce (so no tomato sauce) well. Fresh tagliatelle or pappardelle are fine options. Marcella Hazan agrees : " There is no more perfect union in all gastronomy than the marriage of Bolognese ragu with homemade Bolognese tagliatelle."
Would you like a dried pasta? Then choose a rigatoni with ridges, which can bind the sauce to itself better than many a lover…