Thinking about what to eat every week can be quite a challenge. To ensure that you do not put the same dishes on the table every week, we are happy to inspire you with handy weekly menus. This week we're scooping up a portion of nostalgia: 7 x Dutch pot.
So grab your pestle and scour the market in search of crunchy leafy vegetables. Turnip greens, wild garlic, endive: it's the season for green!
Need more inspiration? View all weekly menus!
Monday
My mother taught me that a dash of vinegar should always be added to the endive stew, such a nice acidity that pulls everything together. And fieuw: master chef Robert Kranenborg agrees with her. He goes a step further and makes a vinaigrette to spice up the somewhat bland potatoes. Super smart and very tasty.
This stew is perfect for meatless Mondays because it doesn't involve bacon. Instead, Kranenborg serves root vegetables with it, but feel free to eat another cracker with it.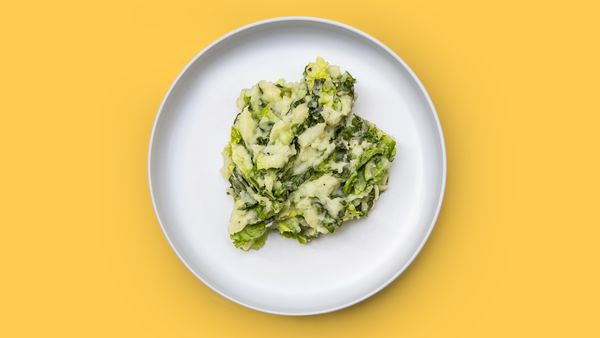 > To the recipe: Vegetarian endive stew from master chef Robert Kranenborg
Tuesday
Is this also a Dutch pot? We think so. Indonesian cuisine is so closely intertwined with Dutch food culture that a kale curry fits perfectly in this list. By the way, we are not allowed to say curry from Vanja: 'Gulai could be translated as 'curry', although that word is used all the time to indicate a saucy Asian dish. You eat this gulai, or curry, in Indonesia with cassava leaf and that looks a bit like kale. I also use the stem of the kale, it has a nice bite.'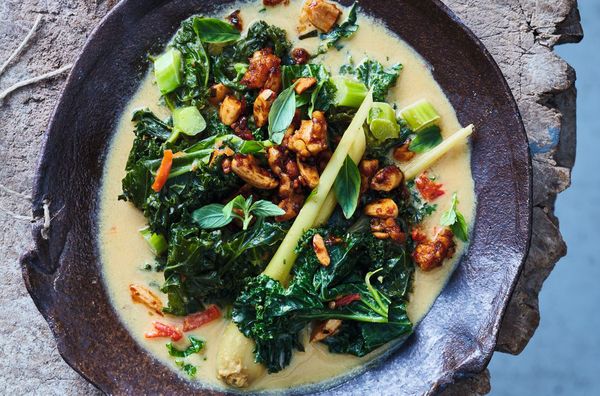 > To the recipe: Gulai kale with crispy tempeh crumble
Wednesday
To break the week: Limburg sour meat with fries, or baked potatoes for a healthier version. Limburg sour meat, or Zoervleisj, is a thoroughly wintery dish. But with fresh leafy vegetables and a nice pickle it also tastes fantastic in early spring! You could even eat it on a bao . Or is that too fusion?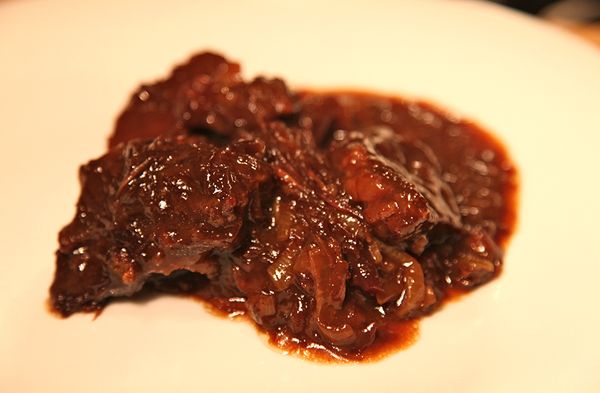 > To the recipe: Limburg sour meat
Thursday
Soft Italian dough pads with rolled kale, which tastes nice and savory thanks to the Parmesan cheese. A nice fusion of two delicious cuisines! Did you know that buffalo mozzarella is also made in Groningen?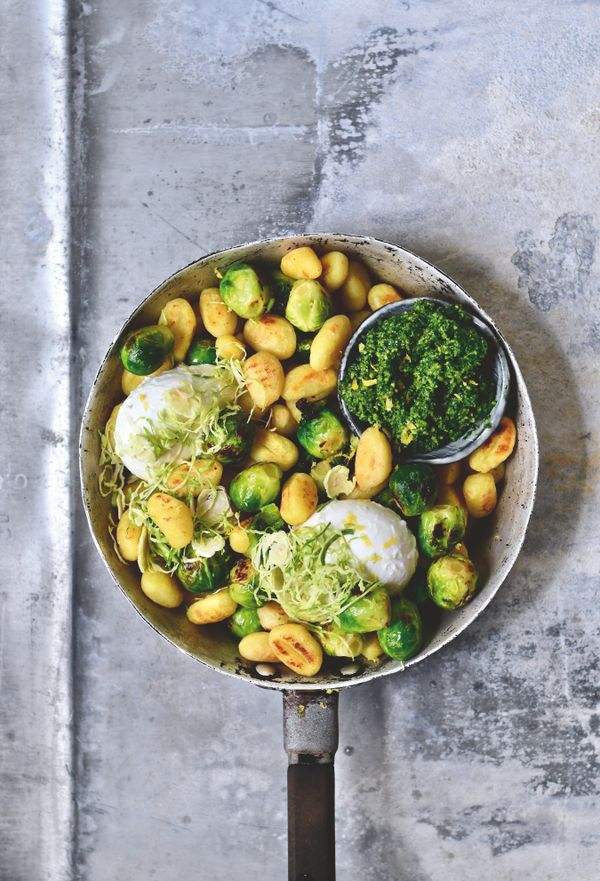 > To the recipe: Baked Brussels sprouts & gnocchi with kale pesto
Friday
Addictive tasty potato-cabbage biscuits, flavored meatballs and a simple cream sauce of parsley: what was wrong with an AGV again? That's right, nothing at all. Do you want an extra tasty ball? Then make these meatballs from Johannes van Dam .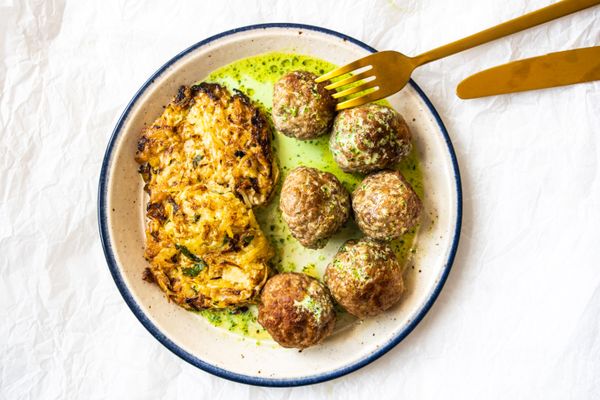 > To the recipe: Easy potato-cabbage cookies with meatballs and parsley cream
Saturday
Easy and fast is what we want on Saturday. With this recipe we give our own twist to a classic herring sandwich. In fact, we immediately turn it into a deluxe herring sandwich. The result is a generous sandwich with smoked mayo, apple, radish, potato slices, herring, spring onions and fried onions. Sooooo delicious.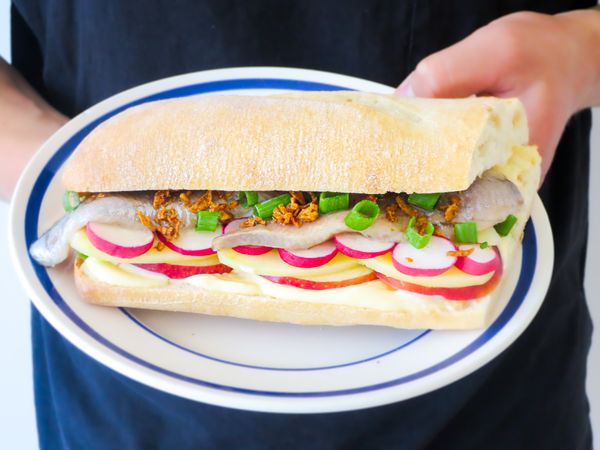 > To the recipe: Culy Homemade: herring deluxe sandwich with smoked mayo and potato
Sunday
Oh difficult: do we end the week with stew with sweet potato and chorizo , or these new potatoes with homemade spinach à la crème from Nigel Slater?
Nigel about this recipe: "Another recipe for roasted potatoes, with bright green spinach à la crème. Roasting new potatoes gives them a soft texture, like gnocchi balls. If you cut them deeply, like a toast rack, they will also get nice and crispy." In fact they are just hasselbacks . This recipe is also delicious with purslane or turnip greens.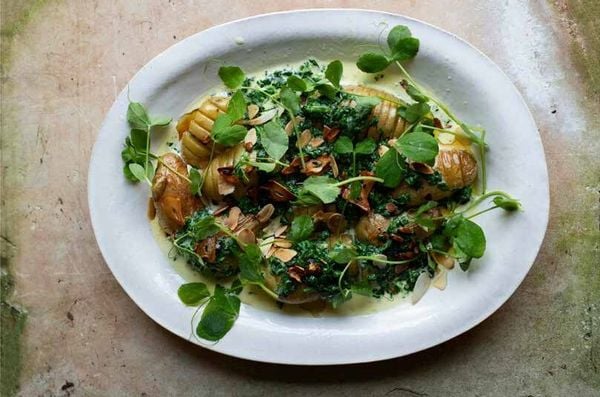 > To the recipe: Roasted new potatoes & spinach à la crème from Nigel Slater