The magic of a good restaurant is that things appear on your plate that you could never imagine or make at home. That is why we are not surprised that top chefs such as René Redzepi and Marco Pierre White now like to cook with the meatiest piece of meat substitute on the market. M eat Redefine Meat.
With countless meat substitutes and meat successors such as bratwurst, hamburgers, minced meat and chicken, sometimes even tastier than the original, the desire for meat is getting a little less and less. The range of alternatives is growing steadily and the end is far from in sight. But until now, there has been one product that chefs and culinary connoisseurs could not find a substitute for: a perfectly thick seared steak!
Vegetable meat from the 3D printer
Now that is about to change thanks to new technology. The Israeli company Redefine Meat 'prints' meat with 3D printers to make the texture of plant-based meat as close as possible to that of real meat. By combining that technology with plant-based ingredients (the recipe is secret) such as soy, chickpeas, coconut oil and natural colorings and flavours, Redefine Meat has brought an almost identical meat experience to the market, without all the negative effects of intensive livestock farming.
It has even been so successful that star chefs worldwide have included Redefine Meat in their dishes. Even René Redzepi seems to cook with this new meat substitute, as does the French star chef Daniel Galmiche . Marco Pierre White describes it as "The most clever thing I've seen in my 45 years of being in a kitchen."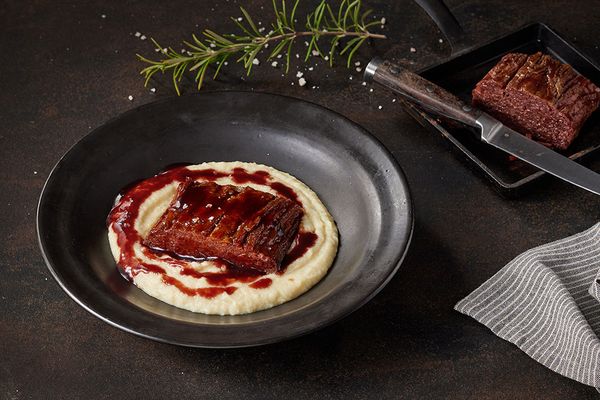 Especially for meat eaters
What makes Redefine Meat unique is that it consists of one piece, really like a steak, with the same meaty structure and texture. This makes the product especially suitable for meat eaters who would like to take a more animal-friendly path.
Edwin Bark is the senior vice president at New-MeatTM producer Redefine Meat and talks about the development of the product in an interview with Entree Magazine . Bark: "After years of research, we now have products that look like steaks and have the same taste and mouthfeel. If you bake them, just as you would with animal meat, they get a nicely colored and crispy crust. With 3D technology we can make a real steak with vegetable muscle tissue, blood and fat."
In addition to vegan minced meat, burgers, sausage and kebab, there are now also vegetable lamb rump steak, beef bavette, steak minute and beef skewer. According to Bark, this has reached the holy grail in the market for alternatives to meat: "We work a lot with chefs and butchers to get feedback and they are often surprised at the resemblance to real meat. At Ron Blaauw , our beef bavette was the first on the menu, next to his signature dish, a taco with Redefine minced meat. Ultimately, we want to roll out widely in the food service channel and also be available at steakhouses, hotels and caterers, among others."
Pricey steak
The question is how the restaurant prices of Redefine Meat will develop, because such a piece of vegetable steak is not cheap. At the moment a kilo costs 30 euros. Real meat costs 8 euros per kilo, but that is more intensive for the environment. Cattle kept for meat production simply emit more CO2 than is currently required to produce a piece of Redefine Meat.
And when the chefs are gone, you will understand that we in the editorial team are also very curious about this 'new meat'.