Dosas are those spectacularly large South Indian cripsy pancakes that you always look up to when the waiter puts them on your neighbors table. You can eat the tastiest in Tamil Nadu (southeast India), where they are baked in front of you on the street. Can't get any fresher than that!
Tamil Nadu is also where Chef Vijay Kumar's roots lie. He took his childhood recipes with him to New York and now cooks unapologetic South Indian food at New York's Semma restaurant. Unashamedly good, because according to critics you can eat the best dosas in town here.
In the video below from Eater, Chef Nyesha Arrington teaches Chef Vijay Kumar how to make a gunpowder dosa, just like they serve at restaurant Semma.
What is a dose?
It is almost impossible to describe in words what – and especially how incredibly tasty – a dosa is. We do it anyway, but actually we are doing the dosa way too short.
A dosa is a type of thin (or thick, if you prefer) pancake made from a batter of soaked, ground, and fermented lentils and white rice. Yes, it sounds less appetizing than it actually is. But it has been eaten for years – also for breakfast – and for a good reason: it is sweet, sour, savory, and deliciously crunchy.
Fermented batter
The batter is thus fermented; that takes at least one night, and sometimes even days. Vijay lasts at least 12-18 hours, although in India it is often only six hours due to the warm climate. Then the fermented batter is baked on a hot plate, just like pancakes.
Classic dosas are often filled with aloo masala,  or potatoes, and spices such as asafoetida (hing), turmeric, curry leaves, chili, and cumin. You eat them by tearing off a piece with one hand, then scooping some potatoes on it, and dipping the whole thing in a chutney or sambar : a soupy stew based on lentils and tomato.
How do you make dosas?
The only two ingredients you need are rice and urad dal (the lentils). It is important to first clean it well under running water. Then you soak the lentils and rice in water, where the ratio is 1:2, or one part lentils to one part rice.
After soaking, coarsely puree the rice and lentils in a blender and season the batter with salt. According to Vijay, you don't want a fine paste, but a grainy texture. You let the batter ferment so that it gets a sourdough-like taste.
Baking dosas
Now comes the most important part (because according to Vijay 'everyone can make batter'): bake the baking, on a crepe baking tray or other plate that can get very hot. A cast iron pizza pan is another option. If the plate is too hot, you can add some water. Grease the plate with vegetable oil to prevent the dosas from sticking.
Scoop a spoonful of the batter onto the plate and 'rub' the batter with the back of a ladle into a large circle. Drizzle with a little ghee. Halfway through the baking process of the dosa you can add spices or your filling, aloo masala for example. Vijay has made his own 'gunpowder' masala, it consists of a mixture of three different types of ground lentils, chillies and typical South Indian curry leaves. You'll see when it's ready at the edges of the dosa.
Loosen the dosa with a spatula. Now you can fold the dosa and roll it up. Vijay serves the dosa as a triangle, folded like a kite.
What do you eat dosa with?
The question should really be, what do you eat at dosa, because dosa itself is the star of the meal. As mentioned before, a dosa is always served with chutneys and different types of fillings.
The most traditional filling is aloo masala. Vijay shows in the video how to make that with pre-cooked potatoes that are seasoned with a 'tempering'. In Indian, this technique of fruiting spices in oil has a different name in each region. For example, tadka and chaunk (or chhonk ) are different names for the same technique.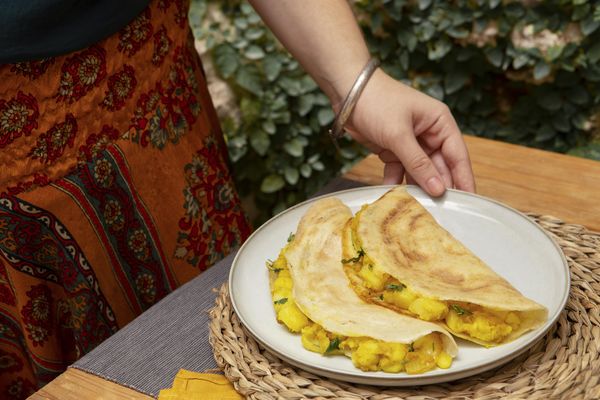 No dosas without chutneys
Chutneys top it off! And in South India there is one chutney that everyone makes, but in its own way: coconut chutney. Vijay adds the following ingredients to a blender and puree until smooth: grated fresh coconut, green chili, fresh ginger, garlic, coriander, raw chana dal and salt.
The chutney is also finished with a tadka, or a spice oil with mustard seeds, chili and curry leaves that intensify all the aromas in the chutney. The difference with and without the  tadka  is like night and day.
Can you easily make dosas yourself?
In this article we give you the recipe to make your own dosa at home . And that's easier than you think. You only need a bit of patience because the batter has to ferment overnight.
---
Source: Culy by culy.nl
*The article has been translated based on the content of Culy by culy.nl If there is any problem regarding the content, copyright, please leave a report below the article. We will try to process it as quickly as possible to protect the rights of the author.
Thank you very much!
*We just want readers to access information more quickly and easily with other multilingual content, instead of only having information available in a certain language.
---