Whether you make overnight oats or cook a pan of oatmeal in the morning: what are tasty combinations? As the days lengthen, we long for new breakfast routines and with that for exciting toppings for your trusted bowl of oatmeal. Culy made a list full of oatmeal inspiration.
The right topping can turn a sleepy bowl of oatmeal into a cheerful breakfast with splashing flavors in seconds. And you prevent oat fatigue: you know, the feeling that makes its appearance after you have been spooning the same bowl for weeks. With these ideas, that's not the case and you turn every morning into a spectacle!
Tried and tested breakfast toppers
Chances are you already know the toppings below, because they are available for the taking in every supermarket. Not surprising, because they are tried and tested breakfast toppers. We are talking about flaxseeds, cocoa nibs, hemp seeds, goji berries, nuts, seeds and nut butters. As well as tropical additions such as grated coconut and dried mango pieces.
Now you can sprinkle these ingredients directly over your oatmeal, but you can also – and wow, we haven't written this in a long time – pimp them up.
You can marinate goji berries in fresh sour fruit juice so that the berries become softer. Thanks to the acidity, it also balances the oatmeal.

Cocoa nibs are quite bitter. If you overcompensate for that by pouring a lot of maple syrup over your oatmeal, then this might be an idea for you: 

caramelize the cocoa nibs

 !

In America you can buy 

ready-made 

grainless granola 

 at Trader Joe's . That stuff is crazy: super crunchy,  

chewy

 , and there's no oatmeal in it, just almond, coconut, sunflower and pumpkin seeds! Good, because it feels a bit redundant to sprinkle oatmeal on your oatmeal, even if it is granola. Now we don't have any Trader Joe's in the Netherlands (yet), so there's only one thing to do: do it yourself. 

This recipe from Minimalist Baker is a good start

 , but give it your own twist.
Why fruit is not necessarily the best topping
According to the ancient Ayurvedic health theory, it is best to eat fruit separately from other ingredients. That has everything to do with the time of digestion, some foods simply have a much faster digestion process than others.
An example: when you eat oatmeal with fruit, your body starts with the most digestible (oatmeal) so that the fruit remains too long, ferments and causes a bloated stomach and gas. You can read more about the Ayurvedic view of combining ingredients here .
Fortunately, not everyone suffers from bloating and you can try these delicious fruit combinations with confidence:
(Caramelized) banana with cinnamon

Fresh figs

Fresh and sour apple

Fresh mango with a squeeze of lime, combine with coconut chips or grater

Raspberries, blueberries and possibly blackberries

Stewed rhubarb (you can also chop the rhubarb and cook with the oatmeal)

Warm (stewed) pear, delicious with a healthy marzipan or 

frangipane

 of rolled dates and almonds with some extra almond extract

Mandarin or orange

Stone fruits such as peaches, plums, apricots and nectarines. Also delicious as oatmeal crumble!

Strawberries with rhubarb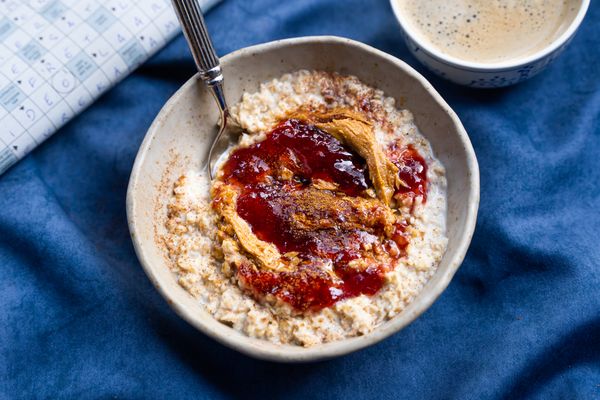 Vegetables (for the oatmeal)
Since we blended kale and spinach into our smoothies, vegetables are increasingly allowed in other breakfast dishes. The most important choice is whether you go for a sweet or savory breakfast. Although you can use vegetables as a topping, it is often better to cook them with the oatmeal. For overnight oats, you can puree the vegetables and stir through the oats.
For sweet oatmeal with vegetables:
Carrots for a carrot cake-like breakfast. Add raisins, gingerbread-like spices and apple.

Parsnip, which combines well with apple and pear

Caramelized cubes of fennel with fennel seed and orange zest

Cauliflower rice

 with cinnamon, banana and almond butter

Boiled or roasted sweet potato or pumpkin with cinnamon and maple syrup
For savory oatmeal with vegetables:
Leafy greens such as spinach with garlic, ginger, sesame oil and miso

Tomato with sage or basil, you actually make a kind of pappa al pomodoro

Avocado and salsa

Fried egg with kimchi

Leftover roasted vegetables with olive oil

Pesto, broccoli and roasted nuts

Spinach and grated cheese

Fried bimi, soy sauce, spring onion and chili oil
The ultimate oatmeal topping is crispy
You just have to love that mushy texture and even then you sometimes long for a firm bite. Nice cccruncheen with those teeth!
Nuts, seeds and kernels

(grainless) granola

Crispy apple cubes

roasted coconut

A few pieces of dark chocolate (because if a pain au chocolat counts as breakfast…)

Bacon and maple syrup for the savory sweet tooth

Baked onions

(sweet) Dukkah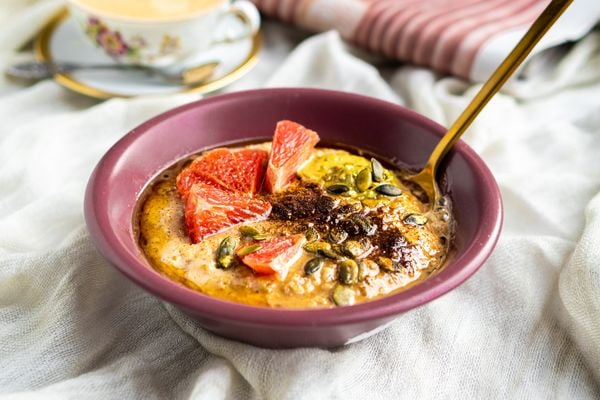 Fat
Oatmeal with water is gross (pardon my French) but oatmeal really needs a little fat. If you already make the oats creamy with (oat) milk, you need less fat. If you don't, a lick of nut butter or peanut butter is divine. A little bit of butter, ghee, or olive oil will also give your oatmeal a new dimension.
Spices
Spices give life more color. Here are our best combinations:
Turmeric + cinnamon + cardamom (maybe nutmeg)

Chai masala: star anise + cinnamon + cardamom + (fresh) ginger (optionally with cloves)

Coriander seed + lemon zest

Saffron + cardamom + rose water + orange zest

Fennel seed + anise seed

gingerbread spices

Vanilla extract
Healthy sweet
Every morning is a party with these toppings:
(miso-) Date caramel (pure 2 soaked dates with 1/2 tsp miso for this)

 Fruit coulis: puree fruit with a little bit of maple syrup, honey or agave

A few spoons of (vegetable) vanilla yogurt

Dark chocolate drops or grated chocolate

100% fruit jam – tip: the Culemborg jam maker 

Sjamaan

 makes jams with herbs and spices. This produces exciting combinations such as raspberry & rosemary, fig & nutmeg, peach & vanilla and apricot with ras el hanout.

Cocoa powder and peanut butter

Raisins and maple syrup
Around the world in oatmeal toppings
In the Youtube video below, Beryl Shereshewsky shows how oatmeal is eaten in the rest of the world. We have put them together for you:
Australia: grated apple, diced peach and frozen berries

Bolivia: fresh cheese (such as feta or cottage cheese), strawberries and a little bit of sugar

Canada: maple syrup, lingonberry jam

India: yogurt, grated coconut, pineapple

Israel: arugula, mint, parmesan, black pepper and lemon juice

North Macedonia: butter and white cheese

Philippines: milo (chocolate flavored malt powder), milk powder, instant coffee (it is based on 

champorado

 )

Singapore: pickled mustard cabbage, sesame oil, spring onion, pork floss, 

onsen tamago

 (poached egg in the shell)

USA: chocolate syrup and marshmallows

Finland: smoked salmon, butter and pickles