Spoon,  drizzle and drizzle sauce like a real Japanese. Sauce is the maker or breaker of every meal, the link between ingredients. So do you want to take your cooking skills to the next level? Then you want to master these Japanese sauces.
Simple Japanese food is even easier if you've made a few sauces ahead of time, so you always have a tasty seasoning handy when you feel like a Japanese meal. Don't worry: even if you cook everything  from scratch  , these sauces are a breeze to make.
The best Japanese sauces in a row
The base
According to British chef and miso sommelier (wow) Akemi Yokoyama , there are actually two pillars of taste in Japanese cuisine. One is kōji, the fungus used to ferment base sauces and seasonings such as soy sauce, miso and sake.
The other is dashi, the light broth of seaweed and (usually) dried fish. Dashi is rightly the foundation of Japanese food and gives the underlying umami that makes the food so personal. Japanese food without dashi is almost unimaginable. Many of these two pillars of taste are reflected in the sauces.
dashi
The stock is made from kombu and bonito flakes (dried tuna), which gives dashi a wonderfully salty taste and gives baking dishes umami.
Sugar is sometimes used to flavor the stock, but sake, soy sauce, soy paste and finely chopped vegetables are also welcome guests. Sometimes shiitakes or dried anchovies are added for a more pronounced taste.
You probably already knew that nori is first toasted and then rolled into sushi – but you can use the same technique to bring more depth to a vegan dashi. All you do is roast the kombu over the fire of your stove. Use pliers for this, otherwise you will burn your fingers. It's incredibly easy and the result is a mouth-filling rich taste, almost sweet in fact.
Other ways to flavor a vegan dashi is by adding (dried) mushrooms or other types of seaweed, such as nori and wakame, to the stock.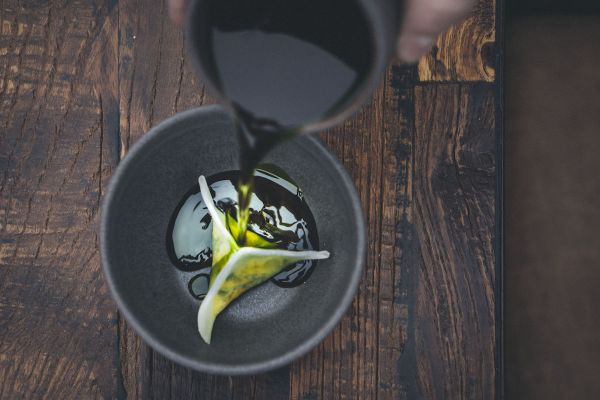 tsuyu
Tsuyu is essentially a boiled-down dashi. It is used as a dip with noodles or tempura, but also as a base for a soup. You can buy ready-made tsuyu at the toko, only then there is standard katsuobushi in it, or bonito tuna . A good recipe for homemade tsuyu can be found here .
Dengaku miso (sweet miso)
This sauce is a kind of screwdriver set – one with interchangeable attachments – because you can use it in all directions. Delicious with vegan dishes such as grilled aubergine (from the famous miso aubergines ), tofu, dumplings and stewed vegetables. You can use the sauce as is, or bake it a little longer so that the sauce caramelizes. Even better, use dengaku miso in the oven.
The recipe couldn't be simpler, you just stir all the ingredients together and it's ready to use. This recipe is from Vegan Japan Easy : stir 300 grams of miso (great to mix red and white) together with 6 tablespoons of mirin, 50 grams of sugar, 3 tablespoons of water or sake and 1.5 teaspoons of vinegar (optional).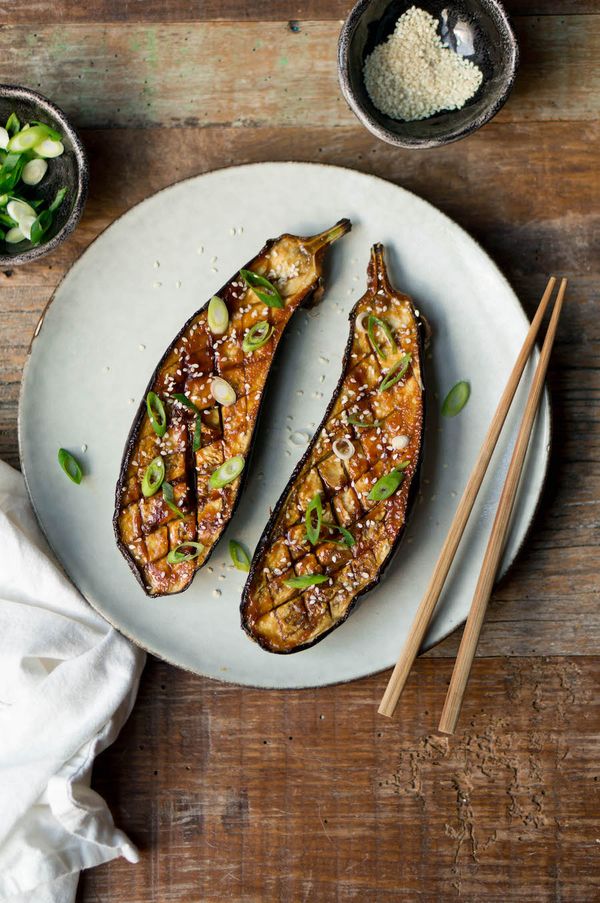 ponzu
Ponzu is a fragrant citrus sauce made by simmering mirin (Japanese rice wine) along with rice vinegar, dried tuna flakes (bonito flakes) and seaweed over low heat. After all the flavors have been well blended, the mixture is sieved and flavored with Asian citrus fruits such as yuzu , sudachi, daidai, kabosu or lemon.
The result is a fresh and sour seasoning that is often served with (partially) raw fish and meat dishes. In addition to having a strong flavor on its own, it is often mixed with soy sauce. This results in a dark ponzu, called  shoyu  or  ponzu shoyu. The latter form is by far the most common, but make no mistake: ponzu also exists in a  pure, yellow form without soy sauce .
Teriyaki or sweet soy sauce
Teriyaki sauce (perhaps one of the most famous Japanese sauces) can be bought ready-made, but making your own is super simple and so tasty.
Mix 3 tablespoons soy sauce, 3 tablespoons mirin, 3 tablespoons sake, and 1 tablespoon sugar in a large bowl and stir well. Heat this mix in a pan over medium heat so that the sugar dissolves. Check after a few minutes whether the sauce has the desired taste. That was easy right? You can thicken the sauce with a little cornflour if you want.
tonkatsu
Tonkatsu sauce is a sweet and sour brown sauce, often shortened to "katsu sauce," or even just "sauce" in Japan. It tastes a bit like the British HP sauce , but with a fruitier Worcestershire-like flavour, more sweetness and more umami.
You can buy it in some supermarkets – the most common brand is Bulldog – but it's also pretty easy to make yourself with some tomato paste, allspice, mustard powder, garam masala, marmite, brown sugar, apple cider vinegar, ketchup, HP and tamarind paste.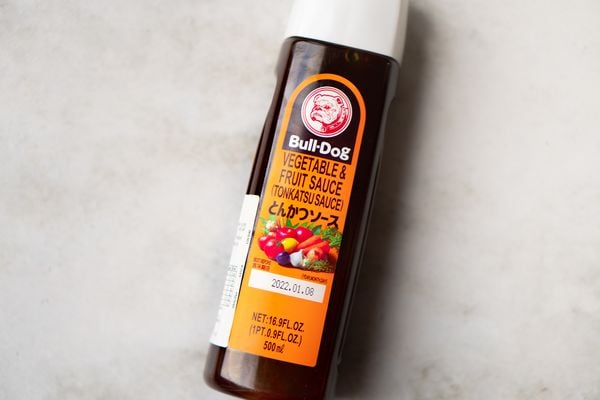 Unagi is the word for a specific species of conger eel. Vegans rest assured: the sauce is served with the eel, so there is no fish in the sauce itself.
Seasoned vinegar
Prepared rice vinegar can be found in all kinds of Japanese dishes, especially sushi, salads and pickles are seasoned with it. The variations are in the amounts of salt and sugar used and the spices. You can make a classic version by cooking some kombu.
sesame dressing
Japanese love sesame. A popular sauce is sesame dressing . There are dozens of recipes for it, but basically you use sesame paste (tahini), roasted sesame seeds, soy milk and sesame oil and season it with sugar, vinegar and soy sauce. Super delicious over roasted vegetables or in a noodle salad.
And don't forget this Japanese mayonnaise !