Hopefully we don't need to explain further that churros are an addition to everyone's life. The crunchy fried stalks are addictively delicious. Although you most likely associate them directly with sugar, or at least as a sweet snack, we have a plot twist in store for you. Did you know that savory churros are just as fantastically tasty?
Savory churros
The Spanish snack can now be found everywhere: from the fair to the menu at restaurant De Plantage . Not very surprising, since it is such a snack that it is difficult not to like it.
How do we eat it? With sugar as in this classic recipe , that's for sure. And with cinnamon, or accompanied by a warm chocolate sauce. Hold your horses , because from now on we will add an extra option: go crazy, omit the sugar and go for the savory churros.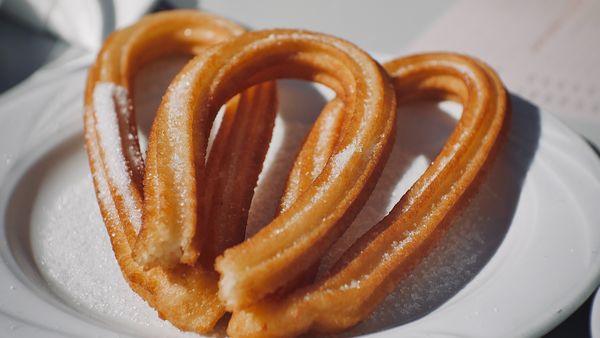 Cheese and chips: always a good idea. So add one or two tablespoons of grated Gruyère, old cheese or Parmesan to your batter. Your churros experience will never be the same.
Another success: take your snack to the next level by adding spices. Think of dried chili (fresh is also possible), curry, fresh thyme or chives, or a little ras el hanout . Feel free to combine different ingredients: Gruyère and thyme go just as well as fries and mayo, and spring onions go hand in hand with Chinese five-spice powder.
Dip for churro
Very important to complete the dish -and the experience-: the dip. After all, a dip complements the snack, as witnessed by these chips and dips combinations . Keep it simple with some grated cheese included in the batter, or go wild with this homemade labneh: the finishing touch to your chili ras el hanout churros.
Also tasty: put a bowl of this chili crisp next to your Chinese chives-five spice powder churros. Or add some spring onions, red pepper, lime zest and salt to your batter and dip it in this Vietnamese sauce .
Potato
Really take a different tack by approaching the batter for your churros differently. For example, we saw a version of Rachel Khoo  with potato flour and paprika dip: one that they won't say no to anyway.
And, are you over yet?