Anew month, a new range of vegetables. Seasonal vegetables are a great way to unite your heart for cooking and nature in the kitchen. With a lot of culinary love we have created a calendar with seasonal vegetables. This time: the seasonal vegetables of May.
Benefits of cooking with seasonal vegetables
Cooking with seasonal vegetables is always a good idea. First, seasonal vegetables are simply  tastier  than vegetables that are not grown in season. That's because the vegetables are grown in optimal conditions and because they have to travel a lot less to our plate.
Second, seasonal vegetables are a  sustainable choice. For example, if you want to grow strawberries in winter, you will have to imitate tropical conditions that cost a lot of (unnecessary) heat energy.
Finally, seasonal vegetables are a lot  cheaper because of the limited energy needed to grow them.
Seasonal vegetables in May
Endive
Granted, endive may not have the sexiest image, but secretly nothing beats a good old stew with endive. We can recommend this one with  black pudding, bacon and apple  , just like this one with  cod and mustard sauce . Not much of a stew lover? No worries, you can do a lot more with endive. Try one of these delicious  endive recipes .
asparagus
As in April, the asparagus is also in season in May. To prepare the tastiest asparagus, it is best to cook them this way . They are also delicious in a fresh  ente quiche with green peas and leeks  (an idea for Easter brunch?), or covered with  burrata and dukkah . So plenty of choice! And you get these  3 homemade sauces for white asparagus  for free.
Cauliflower
You can really do a lot with cauliflower. Asian, for example in curries (such as this spicy cauliflower curry with chickpeas ), in Italian cuisine they process them in pasta with cauliflower and walnuts  and those who prefer the Dutch way can go for this  cauliflower puree with fried mushrooms and parsnips . Handy:  you can cook the most delicious cauliflower in no time  . You're welcome!
peas
Newcomer to the list this month is the pea. That's good, because you can cook super tasty with peas. Try the pearl couscous with peas from the Couscous bar or the spring quiche with asparagus, green peas and leeks (all three in season this month!). More of a pasta lover? This spicy bacon and peas pasta is to die for .
green celery
When you think of green celery, you may immediately think of hearty main dishes. Did you think you can also make fresh  apple-celery-mint ice creams ? Before you know it, the temperature rises to exotic values ​​again, and you'll be glad you have these ice creams in your freezer.
 Celery also comes into its own in this  quinoa salad with pomegranate and hazelnut . And did you know that you  can grow your own celery  on the windowsill? It doesn't get any better than that.
crop lettuce
This super healthy vegetable comes into its own this month. Delicious as a surface for this spicy couscous salad with sausages, avocado and feta or to wrap these Vietnamese pancakes . Do you want to grill lettuce on the barbecue? Which can! Check out our do's and don'ts for salads on the grill .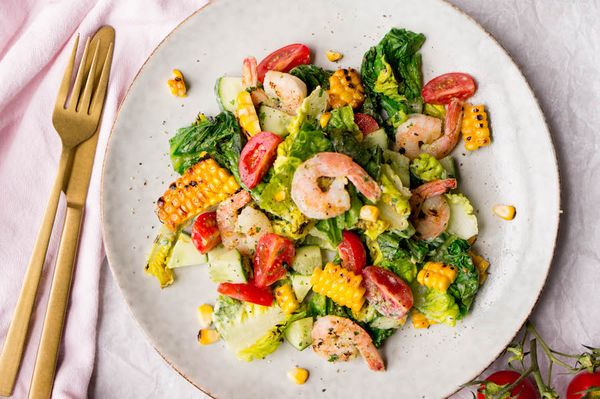 mushrooms
There are so many options with tasty mushrooms that it is difficult to choose what you are craving. Think of this  mushroom soup with bread , this  vegetarian pie with sweet potato and mushrooms , this  stew with pork belly and bacon cubes  or this  bulgur with corn, mushrooms and country fowl .
leeks
We have known for some time that leeks do not have to be old-fashioned. You can boil  or  blanch leeks (recommended!), whatever you want. Delicious in this invigorating leek soup of fennel, apple and walnuts  or in this  creamy spaghetti with leek and mushrooms .
turnip greens
This super healthy vegetable is delicious in stews , with  couscous  or puree. In addition, they are also delicious raw in a salad (in small cubes) or as a vegetarian carpaccio with a fresh dressing. Turnip greens are also perfect for  preserving .
Radish
Eat them raw as a snack or go wild with  these surprising warm preparations of radishes . Radishes are top vegetables that taste great in fresh salads (such as this  lamb's lettuce with goat cheese and radish ), in  Japanese sushi bowls  or on a  baked (sweet) potato . Yummyrrrr!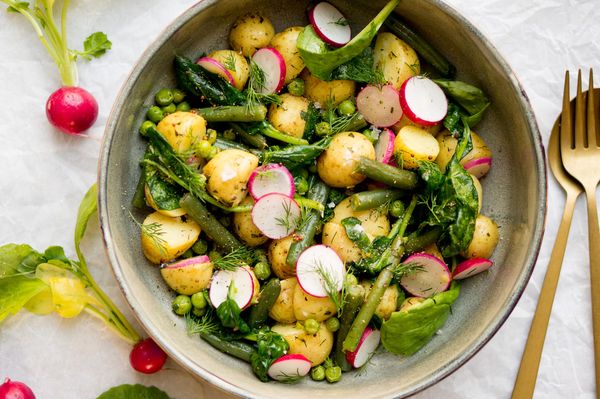 Spinach
We can no longer do without this Popeye vegetable at Culy. Recently we used spinach in this  green shakshuka  and in this  casserole with sweet potato, spinach and minced meat.  Did you know that you can also make  Japanese chips  with it? And for the Indian lovers, this  saag paneer is  a real  must-try.  We can go on like this for a while, but do experiment yourself with this healthy leafy vegetable.
Pointed cabbage
Oh yes, we are glad that in May we have an excuse to prepare this divine baked pointed cabbage with beurre noisette ! Need more inspiration? These are three ways to get the most out of pointed cabbage . An ordinary vegetable, but with a little creativity you immediately achieve chef-worthy results.
Onions
Did you know that you can make a delicious side dish by  roasting onions on the barbecue ? (No, it's never too early to dust off your grill). And that sweet onion jam  is really very tasty and seems to work against heartbreak? If we couldn't already surprise you with this, try this  amazing cheese-onion bread , because this taste explosion will make everyone fall off their chair.
carrots
Carrots classic and boring? Not at all. Surprise your guests with this colorful dish with carrots, vadouvan and pearl barley or with this Indian dhal with colorful carrots and tofu . Need another appetizer? Try this quick carrot soup with mint and dukkah . Extra handy: this is the best way to prepare carrots.
Et voilà: your cooking inspiration for the month of May is completely right again! Need a reminder? Then print out this seasonal calendar and hang it up in your kitchen. You're welcome .