Is the culinary world a man's world? Not if it's up to the women who work hard every day in gastronomy. And there are many! Chefs, sommeliers, hostesses and bakers who excel in their profession and who happen to be women. Like Haya Molcho. She was born in Tel Aviv and lives in Vienna. Haya runs ten restaurants worldwide and at the same time maintains a large, warm family as if it were nothing. Culy talked to her.
Who is Haya Molcho?
The greatest chance to know Haya is from her restaurant on Amsterdam's Stadionplein: NENI . It opened in 2019 and convinced Amsterdammers of the rich flavors of contemporary Israeli cuisine. But Haya's empire goes beyond that. NENI has nine other branches of the same lively restaurant worldwide, all managed by Haya.
She receives support from, among others, her children (whose names Nuriel, Elior, Nadiv and Ilan are united in the acronym NENI), but also from a warm and diverse team that offers opportunities to young, promising chefs. You understand: we are curious about the driving force behind such a successful formula.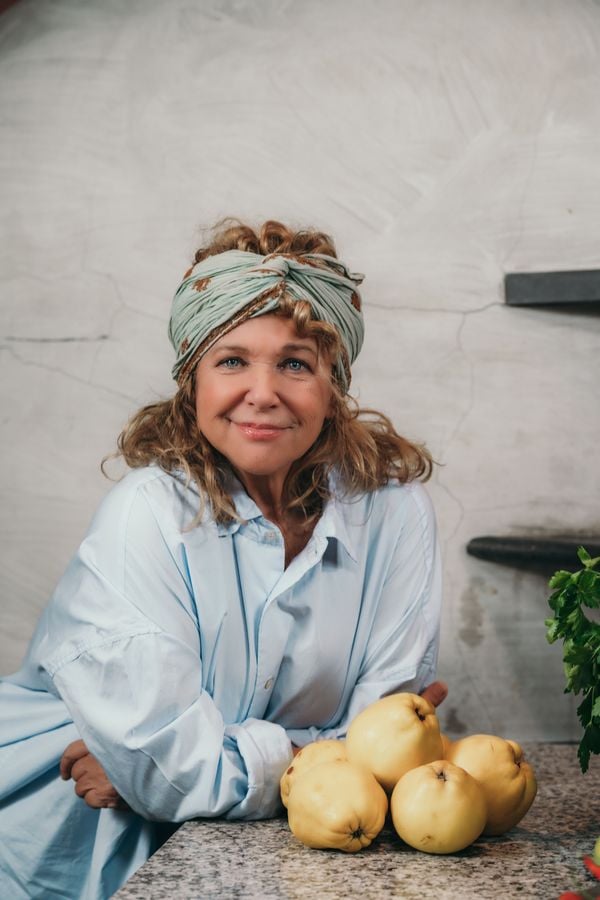 In conversation with Haya Molcho
First and foremost: who is the woman behind the restaurants?
First of all, I am the mother of four beautiful sons and the wife of a very nice man. I've been sharing life with that for 42 years: an incredibly precious thing if you ask me. Partners develop themselves and change over the years. The art then consists in not losing each other along the way. My husband and I succeeded in this. The keyword? respect. When you love someone, that respect comes automatically and you wish him every success: that is love.
For NENI, my life was characterized by a rich family life in the Viennese countryside. Everyone was always welcome at our home, our hall was almost always full of shoes from friends of my sons. I cooked for them with great love, there was always room for love and conviviality. We've always had that rich family life, and we still do.
Then we are of course very curious: what does your daily life look like now, with such a large family and ten restaurants all over the world?
Long days! Fortunately, what I do is my great passion, so I never have to count down the hours. Anyway, I spend a lot of time in the kitchen, including developing recipes, together with my team. As a family we still live in Vienna but for the restaurants we travel the world. In doing so, I get a lot of support from a fantastic team, including a young female chef from New Zealand, my right-hand man. The rest of the staff is also great: we really select them for good, sincere intentions. Ninety percent of the time, that means saying no.
By the way, we are currently in the process of reopening our restaurant in Vienna, in a beautiful location on the Danube. I can count on a Sardinian chef for that. I like to do things like this: working with young talent and sparring about food and recipes.
The cuisine at NENI falls under the heading of 'contemporary Israeli cuisine'. Can you tell us more about that?
After the Second World War, many different nationalities came to Israel. This has led to an eclectic kitchen, a very open-minded event. From all those culinary influences come an infinite number of combinations, so interesting!
You will therefore never hear me talk about traditional Middle Eastern cuisine: it is really about a modern, contemporary mix. For example, our sourdough bread has roots in San Francisco, just like we have pastrami and brisket from the US. And don't be surprised if you see Japanese-influenced dishes at NENI, these kinds of cross-pollinations are super common.
But the common thread in all that food is really: keep it simple and enjoy it. Take a beetroot: you can roast it, cook it, make it into soup… In our kitchen we prefer this kind of honest preparation methods to complex lilacs. We want to honor pure products and not alienate them.
These days we are so spoiled with food that we sometimes forget how good a perfect tomato tastes. Or a super crunchy cucumber: simple and good. That is also what I want to pursue in life: simplicity and goodness.
What is it like to be an entrepreneurial woman in a male-dominated world?
Not always easy. When our first restaurant opened, I was the first woman in that area. It almost felt like a mafia I had to fight against, with a strict anti-women policy. Fortunately, all that has changed, today they appreciate our family and don't look at me like that anymore. That has grown organically, especially by showing what I have to offer. You can't force something like that.
I notice that trend everywhere: women are getting more and more respect these days, because they simply prove that they are capable of creating impressive things. I also think it is very important to emphasize that there are no differences between men and women. For me it's simple: if you're good, you're good. All you need is strength and passion.
What is the hardest thing about your job?
Taking time for myself, sometimes I lose myself in all that work. That is why I go to India for a period every year to take a rest and immerse myself in Ayurveda. It's something I've had to learn over the years. And can I give you a golden tip? Listen to your family and friends. The people who love you often see much earlier that you are going beyond your limits.
What future plans do you have?
At NENI we don't do five-year plans, we never had. Organic growth is what we strive for, always. There are currently plans on the table for my own farm and I dream of my own bakery, although my son advises against it (laughs).
But I also want to act more as a figurehead for young women and convince them from my own experience that you can still start entrepreneurship at the age of forty. The NENI products in the supermarkets are also a nice project: we are currently in talks with Albert Heijn to sell our hummus and tahina here.
Do you have heroes?
No, or at least not one person. I think a lot of people are heroes. But if I have to pick one, it's my husband. His philosophical approach to life is so inspiring. He remains so curious about life, continuously developing himself. Even in a top position, he chose to take three months off each year and spend that time with his kids.
What would you say to women who want to pursue a similar career?
To do! Take that leap of faith. You may encounter setbacks, but remember that doesn't say anything about how great you are as a person. If you want to be angry, be angry. When you are sad, go through the sadness and share it with your loved ones. Take your time for emotions and don't run away from difficulties. But try not to worry too much, because women have quite a hand in that.
And finally, don't feel too much pressure to be someone. Just being your authentic self is more than enough.
---
Source: Culy by culy.nl
*The article has been translated based on the content of Culy by culy.nl If there is any problem regarding the content, copyright, please leave a report below the article. We will try to process it as quickly as possible to protect the rights of the author.
Thank you very much!
*We just want readers to access information more quickly and easily with other multilingual content, instead of only having information available in a certain language.
---