Is the culinary world a man's world? Not if it's up to the women who work hard every day in gastronomy. And there are many! Chefs, sommeliers, hostesses and bakers who excel in their profession and who happen to be women. In our opinion, they receive far too little attention. That is why Culy will put a number of heroines from the food world in the spotlight in the coming period. Like Karin Gaasterland: chef and author of the stunning Cuisine Carine and involved in the recently opened Café Beurre .
The latter is also the location of the interview, which is run by her cousin Kim. During our conversation, Karin quickly rolls a bowl of dolmas: stuffed vine leaves with an atypical filling à la Cuisine Carine. Karin: "Kim, is this an expensive wine that we drink or can I drip a little over the dolmas?" Kim: "A very expensive wine".
First and foremost: who is Karin?
Karin: "As the child of a Maltese mother – born and raised in Egypt – and a Dutch father, I grew up with food. Especially with my mother's Maltese side, the pans always went up and down in the kitchen, the women smoking cigars behind the stove. Yet there was always a lot of room for hospitality with my Dutch father. So you can say that the love for food was instilled in me from an early age.
In 1995 I started in Balthazar's Kitchen . I ran the kitchen there for 23 years, coming up with a different menu every week. I kept inventing new combinations all the time and kept evolving as a self-taught chef. The only bad thing about the case? I did not write down the recipe for any of those dishes."
So you have already created a lot of different dishes, but what is the binding agent between them?
Karin: "Alcohol and butter! (laughs) But above all honest flavors and products and no fuss. You will hardly ever see me dressing dots or foam sauces on a plate: I prefer pure, honest ingredients to slick plates.
I also like to combine dishes from different cuisines. I once made a sabayon – a classic from the Italian kitchen – with sea urchin and sake. Just because it seemed nice to me. And that's how it goes with all my dishes.
In your cookbook you can read through the rules that you have a lot of international experience. Can you tell us more about that?
Karin: "After 23 years at Balthazar, I did indeed look abroad, as a traveling chef. That started in Mallorca, where I spent two months in a friend's restaurant. Afterwards I also started organizing pop-ups, which was super fun.
Then my journey continued to Morocco, where I was allowed to work as a chef in residence at a beautiful riad in Marrakech . The idea was that as a foreign chef I could provide fresh ideas for their Moroccan kitchen team, a great experience.
As icing on the cake, I also went to cook for two days in Paris at Refettorio, an international restaurant concept by Massimo Bottura , intended for the less fortunate. These restaurants run entirely on volunteers. Together with my daughter I cooked a menu for two days with food surpluses and donations: unforgettable."
What was it like to cook as a woman in Morocco?
Karin: "When I went there I was a bit hesitant: what would it be like to be the only woman in a kitchen team of Islamic men? That seemed a bit of a problem to me, but the opposite was true. They were very sweet and very eager to learn about my culinary input. What was a problem was that they didn't drink alcohol there (laughs), and you know how much I like to cook with alcohol…"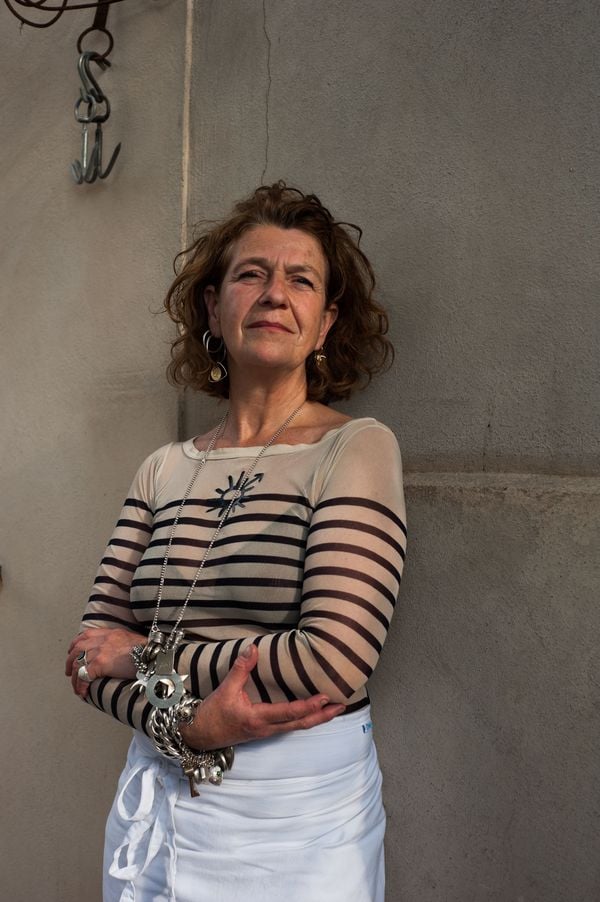 At other times in your 
career
 , have you ever felt like you had to compete with men?
Karin: "Actually not, although I often hear it from others in my environment. Not that I would let myself be messed with, by the way, but I've just been doing my own thing all my life and drawing my plan.
Maybe that's why I'm a bit of a stranger, but if you choose who you work with, those people are just cool and fun."
Who inspires you and why?
Karin: "My original inspiration comes from my upbringing. And further? The ingredients. When I walk through a market and I see a nice big fish, my brain automatically starts thinking about great flavor combinations. And so the dishes develop as they go along.
Of course there are also chefs or restaurants that inspire me, such as Paul Bocuse or St. John in London. And I love Persian cuisine, which chefs like Ottolenghi rely on. But most ideas really come from within myself, usually triggered by certain products, drinks or spices."
You seem like someone with an inexhaustible pool of ideas and plans that you still want to realize. What else is in the pipeline?
Karin: "Through my cookbook I discovered how much I like to write. Originally I hoped that a novelist friend would write the lyrics for Cuisine Carine, but she was too busy and thought I should do it myself. In the end I found that it was super fun. Since then I have had a secret dream of one day having a culinary column."
And finally: what is the best thing about your job?
Karin: "I simply love what I do, it makes me so happy that it seems to come naturally. I love to cook and if that makes people happy, so do I. It's that simple."
---
Source: Culy by culy.nl
*The article has been translated based on the content of Culy by culy.nl If there is any problem regarding the content, copyright, please leave a report below the article. We will try to process it as quickly as possible to protect the rights of the author.
Thank you very much!
*We just want readers to access information more quickly and easily with other multilingual content, instead of only having information available in a certain language.
---