Even before chefs started packing their dishes in trays because of the restaurant lockdown, there was already Cook Like a Chef. Their concept revolves around luxurious, fully catered menus from (star) restaurants, which you finish at home. New is their box with a vegetarian five-course menu from no fewer than four star restaurants (hold on tight): De Librije, Aan de Poel, Parkheuvel and the Kromme Watergang. Culy tried it out.
If you order a box at Cook Like a Chef, you clear the agenda, roll up your sleeves and preheat the plates. Because you don't come closer to home playing a (star) restaurant.
Fortunately, you don't have to be a gifted home cook: the instructions are very clear and not too complicated (there are both enclosed recipe cards and an online instruction video available).
The vegetarian menu of Cook Like a Chef
For the first time, Cook Like a Chef now also offers a vegetarian menu (a vegan menu has also just been launched, entirely cooked by Parkheuvel**). Very interesting for those who are also curious about the way in which star restaurants deal with the increasing demand for vegan dishes), with five dishes from four well-known star restaurants.
All ingredients for our star meal are delivered super neat in one box. There are even compartments in the box and all the ingredients of a dish/restaurant are sorted per compartment. Very clear. Also on all trays a sticker of which restaurant – with its own color – and what is in it. So no complicated baking puzzle (as we sometimes encountered during the lockdown).
Yes, maybe afterwards: if you have about 101 small, empty plastic containers left over. The company explains that this was chosen in order to be able to transport the ingredients as best as possible and to keep them fresh, but also encourages them to actively reuse them instead of throwing them away immediately. The mono-plastics are in any case also 100% recyclable.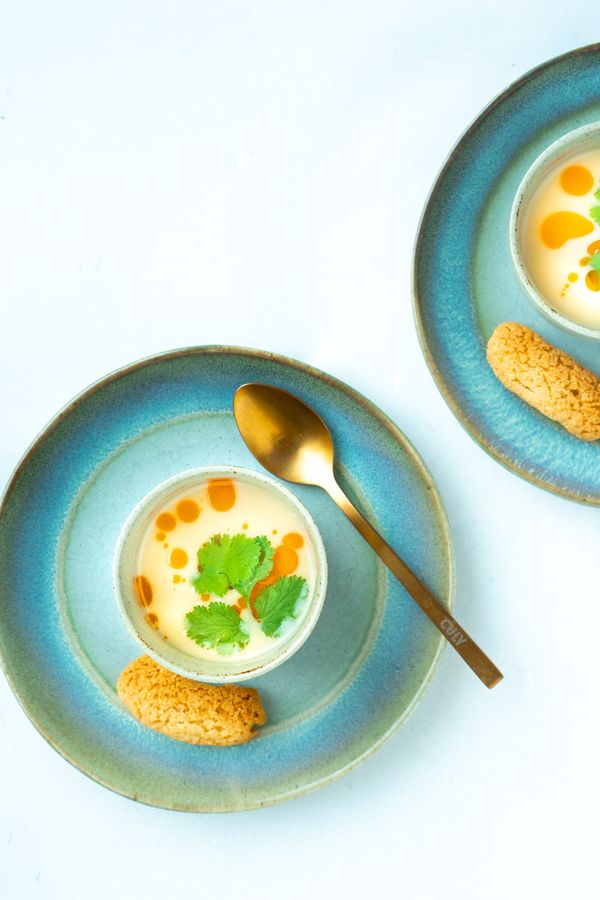 We want ten
We start with an appetizer from restaurant Aan de Poel **. And what a nice dish that is. We want ten of the éclair with porcini mushroom cream. The éclair is sugared, which gives a crispy and nice contrast to the savory, earthy umami of the filling.
The parsnip soup with pepper oil winks at the well-known tom kha kai soup, but lighter, fresher and more refined. The drops of pepper oil do give the kick, but without the burning that chili peppers can have. In short: we realize once again that we are dealing here with dishes at the highest level.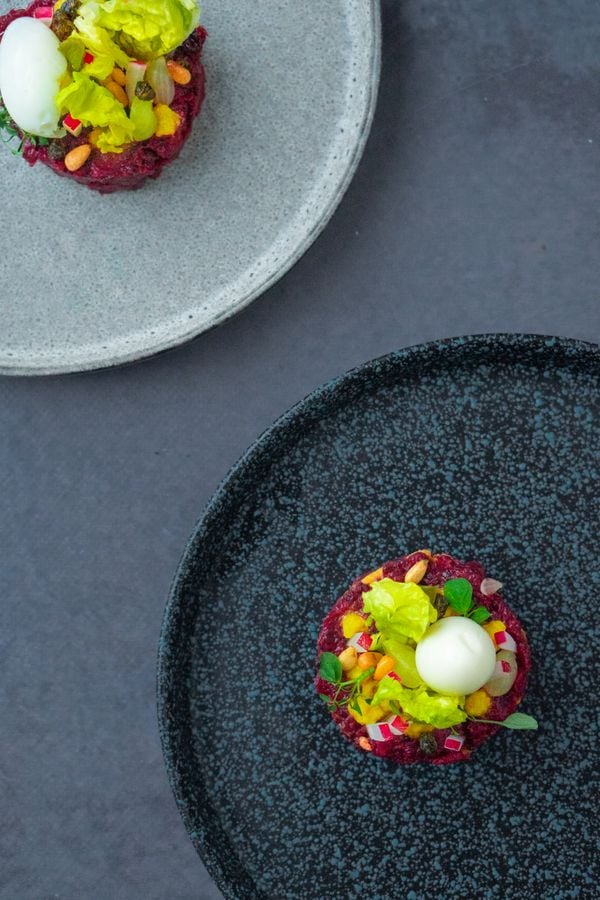 Iconic classic in a modern vegan version
Of course this tastes like crazy for more, so we will soon continue with the vegetarian dish from Parkheuvel** . The chefs made a tartare of dry aged beetroot with quail egg, little gem, radish, pine nuts and fried capers.
The dish is bursting with beautiful acids and textures. With its almost iron-like taste, the beet appears to be a suitable substitute for beef. Dry-aging has even given the vegetables a similar structure. It's a great example of how you can bring an iconic classic into a contemporary vegetarian version that ticks all the boxes.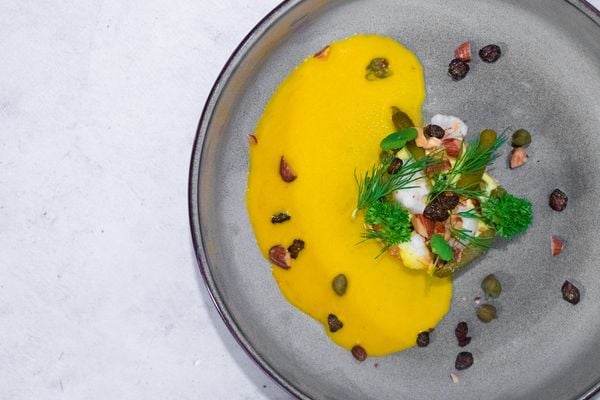 Cauliflower from De Librije
It is then up to De Librije*** to wrap us up with a dish of fried cauliflower, curry madras and smoked almonds.
The accompanying (almost neon yellow) sauce has a wonderful viscosity. You will never get that done at home, of course. The dish also has daring acidity, but we like that. In addition, the buttery curry cream provides a nice counterbalance.
We think the currants with this dish are a very nice find (don't ask us why, but we just hear Jonnie Boer pronounce this: currants ). We would never have thought of adding it to a dish like this (or even adding currants to anything), but it works.
We drink the yellow sauce happily with the bread vanmenno (from baker Menno 't Hoen) that comes with it and that is intended for exactly that purpose.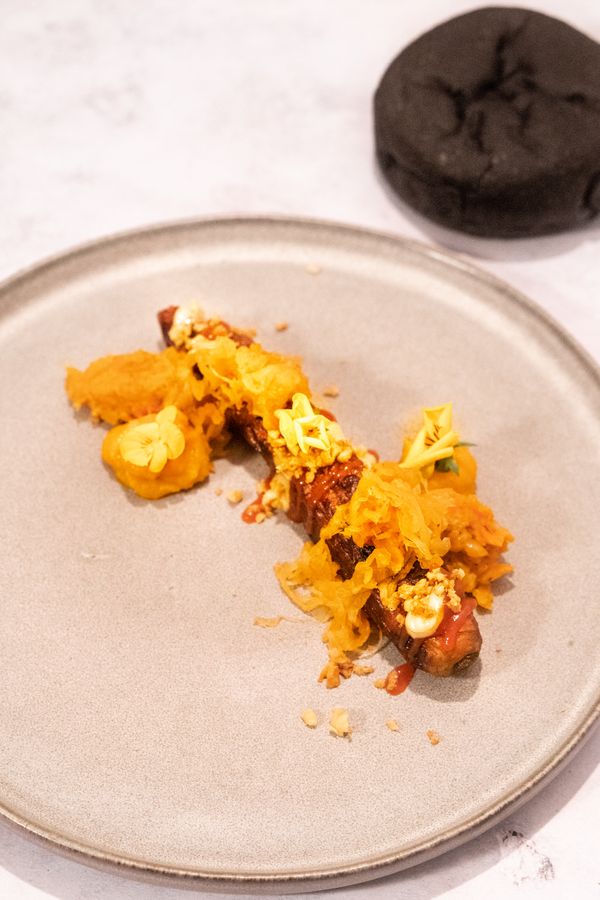 signature dish
The signature dish of restaurant De Kromme Watergang ** plays the leading role in this vegetarian menu: called the Rooted Rebel.
It's a pity that it's dark at that time and we can't photograph this dish in natural light, because the sight of this dish already gets us excited while preparing it. The smoke comes towards you when you open the container of the carrot and the vegetable has a good, strong smoke flavor. Just bake it all around in the pan, where it immediately gets a good sear .
We drape some tufts of kimchi and scoops of carrot stew around it, following the chefs' instructions, followed by carrot puree. Mayonnaise and spicy ketchup are allowed over the carrot. That gives us the idea of ​​a special frikandel, but then the culinary top chef version (and also vegetarian). Incredibly tasty.
The only thing that is not entirely clear to us is what exactly the black brioche is for (perhaps this culinary frikandel should be served on bread?), but it is absolutely delicious.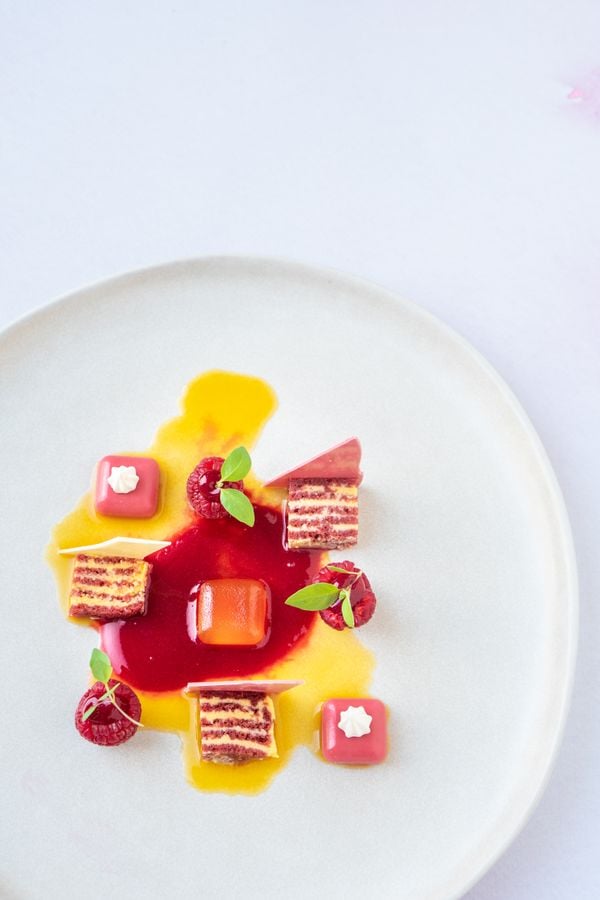 Raspberry on steroids
Aan de Poel was responsible for dessert. That looks like a work of art – yes, even if we dress it up on the plate in our own home kitchen. So the satisfaction is great and we haven't even tasted it yet.
It's a raspberry and passion fruit dessert (with ruby ​​chocolate) that hits the palate loud and clear. Fresh raspberries are filled with raspberry coulis, which gives the effect of a raspberry on steroids. The buttery marbré is very nice with it.
Four top chefs, one vegetarian menu
Where can you taste the cooking skills of four Dutch top chefs in one evening, from the same menu? We think it's amazing that the dishes from four different restaurants fit together so nicely and still form one vegetarian menu. They are nice portions, it never gets too much or too heavy for us. With Cook Like a Chef you know what you are getting and that it is of top level.
More info and ordering: cooklikeachef.nl