It has probably happened to you: somewhere in the back of a drawer you will find half a bag of potatoes. They look a lot less appetizing than when they came fresh from the ground, so the doubt sets in: am I eating potatoes with offshoots? Spoiler alert: of course you eat them.
Foothills
Offshoots arise when you leave potatoes for a little longer and/or store them in an environment that is too warm. It is better not to eat these offshoots, but it is a small effort to cut them away. The runners contain solanine , a substance that protects the potato against fungi and insects.
Solanine can be toxic, although that only applies if you eat kilos of it per day. And you can't even achieve that with a family bag of fries on your own. Fancy an experiment? Plant the whole potato in the ground and maybe next time you will eat your own grown potatoes!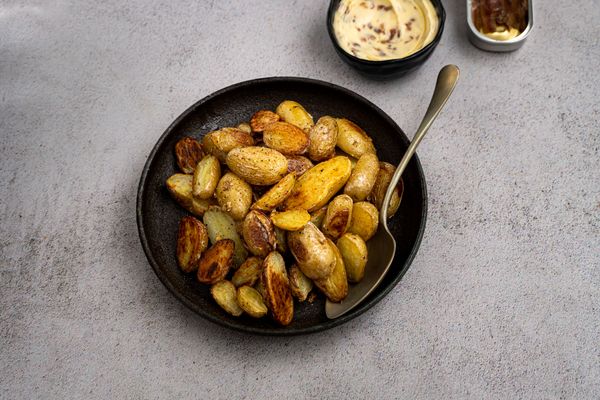 Green
When a potato looks green, it is not out of jealousy, but because you have stored them in a place that is too bright. Peel away the green spots and make homemade chips , bake them in the oven and serve with anchovy butter , or use them for these roasted potatoes with spinach à la creme from Nigel Slater.
Storing potatoes
The chance of foothills remains smallest when you take into account the three terms cool, dry and dark. A basement or storage room, for example, ensures that you will not have any offshoots in your home for the time being.
Are you wondering how best to store other products, such as wine, rice or your potatoes after they have been cooked? You can read here how this can best be done. Also nice: the Nutrition Center has a very handy storage tool , which will really answer all your other storage questions.