We have all already been introduced to Italian gnocchi. Small, feather-soft potato dough pads, on which your tongue can rest for a while before you take the next bite. But did you know that there are three (!) different types? Including gnocchi Parisienne.
What is gnocchi Parisienne?
This is the French version of the rustic Italian gnocchi, and – big difference! – it is made without potato. In this preparation, the dough pads are made from pâte à choux . With a piping bag, squeeze the choux pastry directly into boiling water. When the gnocchi floats to the top, the dough is cooked and you can scoop the gnocchi out of the pan.
The texture of gnocchi Parisienne is much lighter and fluffier than potato gnocchi. Usually the gnocchi is briefly fried in butter after cooking (delicious with sage and a little nutmeg), giving the pads a browned and crunchy exterior. This forms a nice contrast with the airy interior.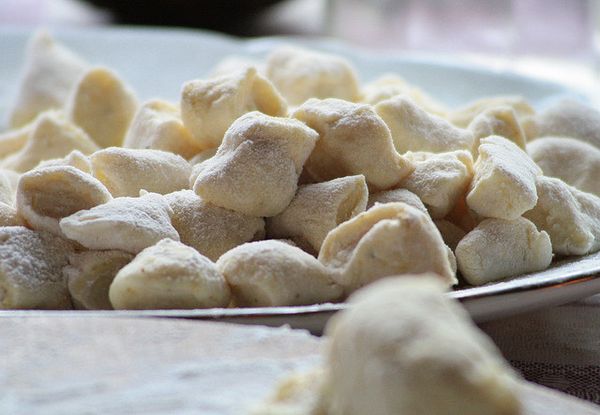 How is it different from 'regular' gnocchi
Gnocchi di patate, or the classic Italian gnocchi , is quite different from the Parisian variety. For the traditional recipe, knead mashed potatoes very briefly with flour and eggs into a kind of pasta dough. This dough is rolled out and cut into small dumplings before it is cooked. Good potato gnocchi has a light texture, so it's not sticky, or gummy. 
Gnocchi Parisienne is not kneaded, but beaten, there is no potato in it and the dough is prepared with warm water before cooking the dumplings. The result is super light!
How do you make it yourself?
Although the proportions of the ingredients differ, the process of making gnocchi Parisienne is always the same. It doesn't matter who you ask, according to culinary writer J. Kenji López-Alt of Serious Eats , all recipes are identical.
First bring water and butter to a boil in a pan, then add the flour all at once and stir vigorously with a wooden spoon until a smooth ball of dough forms.
After the dough has come together into a ball and begin to steam gently (an indication that the flour is fully hydrated and cooked), finish by beating the eggs one at a time through the dough as if your life depended on it. This will prevent the egg from curdling.
A sticky, paste-like dough is formed that is just firm enough to be piped from a piping bag (or a freezer bag with the corner cut off). Now you have a pâte à choux dough and you can bake, roast or, in the case of the gnocchi Parisienne, poach the dough in boiling water.
Okay, then what?
You pipe the gnocchi from the piping bag and cut (cutting with scissors is also possible) the dough in small portions in the water. Then let them poach. When they float to the surface, they are cooked and you can fish them out.
Now the gnocchi is ready to eat. But – and this is much tastier – you can also fry them (even in the airfryer), roast or bake them in butter so that the outside becomes crispy. And no matter how you finish them afterwards: they remain wonderfully soft and as light as a feather…