Thinking about what to eat every week can be quite a challenge. To ensure that you do not put the same dishes on the table every week, we are happy to inspire you with handy weekly menus. This week we dive into la dolce vita with Italian recipes that are just a little bit different. After all, we are only allowed a dish with a P once a week, right?
Need more inspiration? View all weekly menus! 
Monday
We start the week in Sicily with this vegan caponata: a sweet and sour aubergine salad. This time we kept the caponata vegan. If you still long for something extra and you don't feel like vegan for a while, combine the caponata with stewed cod , a ball of burrata or serve it with creamy polenta .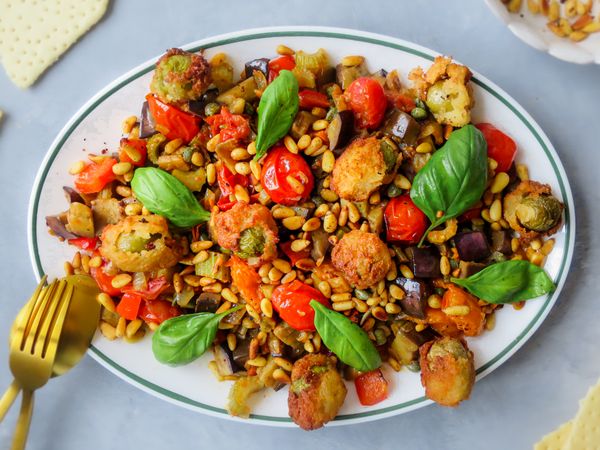 > To the recipe: caponata with cherry tomatoes and fried olives
Tuesday
Hurrah! Spring is in full swing and that means that wild asparagus is shooting up in Italy. We should celebrate. Unfortunately, in the Netherlands we still have to make do with green asparagus from the store (unless you are blessed with a well-functioning vegetable garden), but that doesn't make the taste any less. If you are not a fan of tarragon, you can replace it with fennel seed or chervil. Or take a completely different route to Rome by using "regular" basil.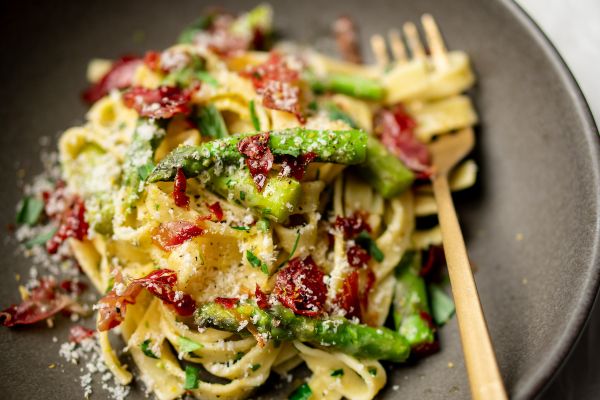 >To the recipe: simple pasta with green asparagus, prosciutto and tarragon
Wednesday
In addition to the caprese , Italian cuisine has another 'trinity' in the spring. Namely broad beans , artichoke hearts and parmesan. They are combined in this insalata , resulting in a salad that tastes like an angel is pissing on your tongue. Not enough salad? Eat it with some fresh bread drizzled with a good olive oil . Filling and you have material for the scaretta afterwards; "lick your plate clean" with a sandwich.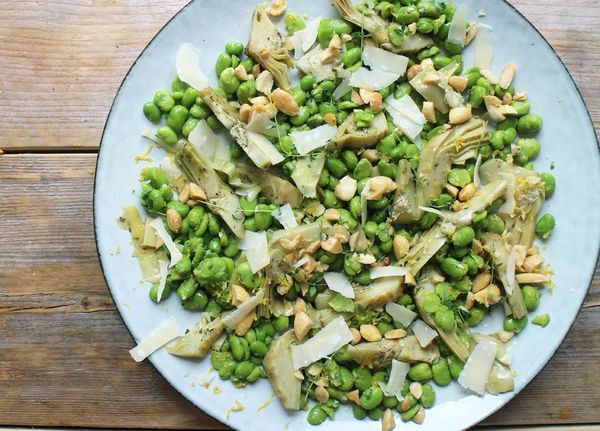 > To the recipe: broad bean salad with artichoke hearts and Parmesan
Thursday
An Italian classic like this should of course not be missing in an Italian weekly menu: melanzane alla parmigiana. You can even wake us up at night for it. Unless we have to fry (or grill) the aubergines, because that is not our biggest hobby. Luckily , Alison Roman came up with a recipe that doesn't require you to fry or grill the aubergine. We are eternally grateful to her! Do you want something fresh' besides the melanzane? Then this easy salad with burrata, tomato and peach might be something for you.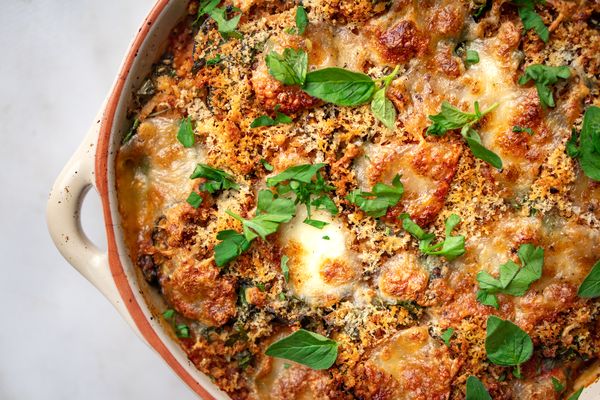 > To the recipe: easy melanzane alla parmigiana 
Friday
In addition to pastas and pizzas, Italian cuisine is also known for its fish specialities. How could it be otherwise with a coastline of about 7,600 kilometers. In the heel of the boot, in Puglia (Apulia), fish is an indispensable part of the daily meals. Take this orecchiette – the well-known ear paste from that region – with sardines . The sweetness of the tomatoes combined with the saltiness of the sardines: that's here to stay. Also a nice bonus: this pasta is on the table faster than you have ordered a meal online. If that's not a win-win situation.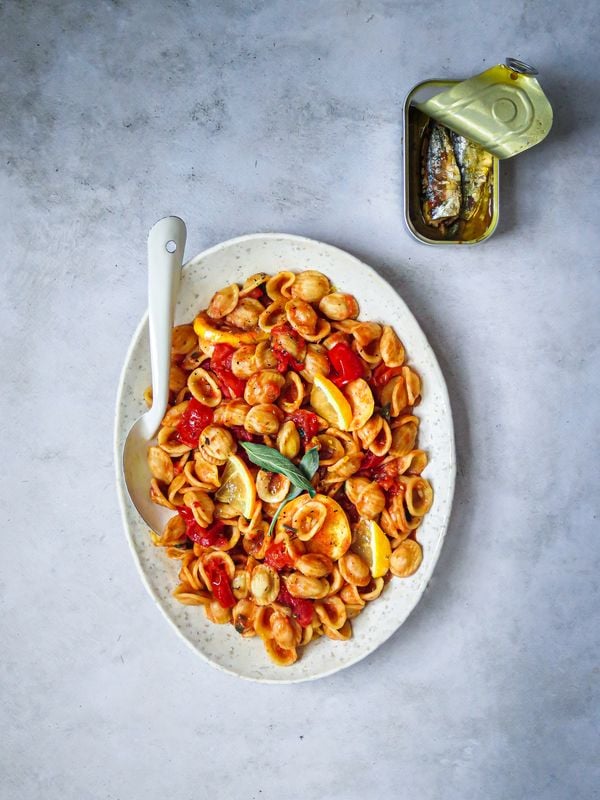 > To the recipe: orecchiette with sardines, sage and lemon 
Saturday
Weekend! And that means: unpacking. Although the Italian weekend really only consists of one day – yes, in Italy the children go to school on Saturdays – we just enjoy our two days off. And so we dive into the kitchen. To start with this mocha hazelnut biscotti from the new cookbook, That Sounds So Good, by Carla Lalli Music. As soon as you have the cookies in the oven, your house will start to smell like that of a real Italian nonna. Time to get on with it some more? How about this delicious, bright yellow saffron risotto with cockles and poppy seeds. With this recipe you immediately get the  summer holiday in Italy feeling at home!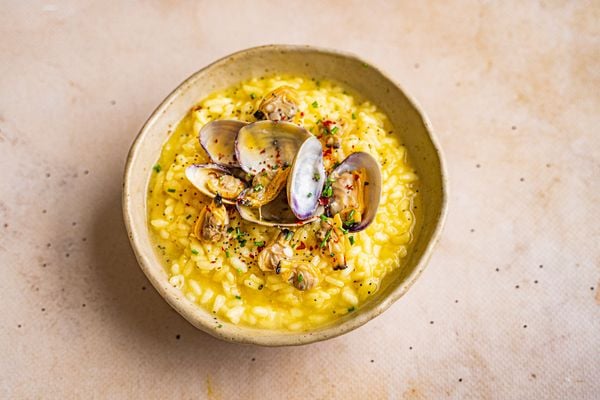 > To the recipe: saffron risotto with cockles and poppy seeds
Sunday
The party is on Sunday. All of Italy comes together for the elaborate pranzo della domenica, the Sunday lunch. Often as you see in the movies: all of us sitting at long tables enjoying the delicious food served up by a mother. We're doing things differently this Sunday and transforming ourselves into real pizzaioli. This pizza with the hot 'spread sausage' ' nduja , fennel and crispy breadcrumbs is our favorite at the moment. Still room for dessert? Then we can only conclude with the all time classic zabaglione . Super simple and delicious. 
> To the recipe: pizza with 'nduja, fennel and crispy breadcrumbs