Thinking about what to eat every week can be quite a challenge. To ensure that you do not put the same dishes on the table every week, we are happy to inspire you with handy weekly menus. This week we focus on dishes you make with canned tomatoes.
Why exactly? Because you can count on canned tomatoes, they are always ready for you somewhere in your kitchen cupboard. Because canned tomatoes are (often) better than fresh tomatoes out of season. And because they are so super versatile! From Indian lentil soup  to torta di pasta: this is how you fill seven days with seven cans full of tomatoes. These are the best canned tomatoes by the way. 
Monday
As seasoned Culys, we like to brag about our love of food, but we'd be lying if we didn't enjoy a quick one-pan. This one is really fast, only 5 minutes of work! Yes, you see that right. And no, the taste is not affected. This is just a really easy recipe that will give you a very tasty meal in no time. Ravioli lasagna in a frying pan it is .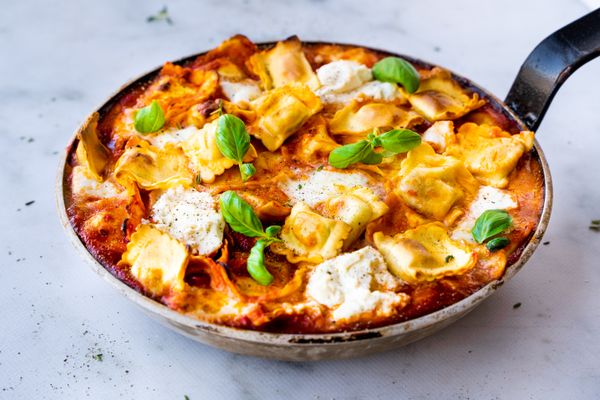 > To the recipe: Culy Homemade: ravioli lasagna in a frying pan (ready in 10 minutes)
Tuesday
Shakshuka: Will We Ever Get Enough? We suspect not, because this delicious tomato and egg dish is so comforting that you can eat it all day long. To add an extra dose of comfort, we baked the shakshuka in this recipe on homemade bread dough. Shakshuka buns so, it's something different! Serve with a spicy salad with coriander, mint and dill. And some feta on the side can't hurt.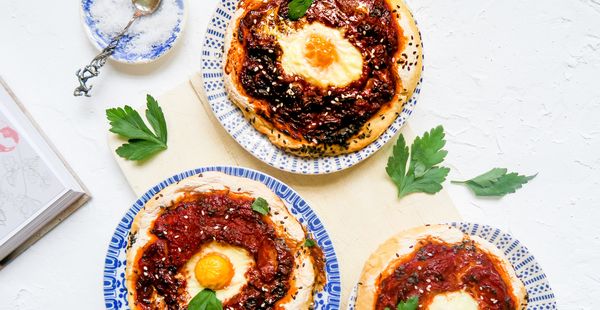 > To the recipe: Culy Homemade: shakshuka bread with tomato and egg
Wednesday
Make this curry from Giphart, because the best man can write and cook, together with his wife Mascha Lammes. What they say about it: "During the photo shoot of our book 'De Wereld Thuis', it took little effort to finish all the meals that were shot. With a family full of gourmets and a greedy crew (we won't name names), the distribution of the portions was mostly in harmony. Except for this curry: the fun was gone. With a lot of pushing and pulling he was on within a few minutes…"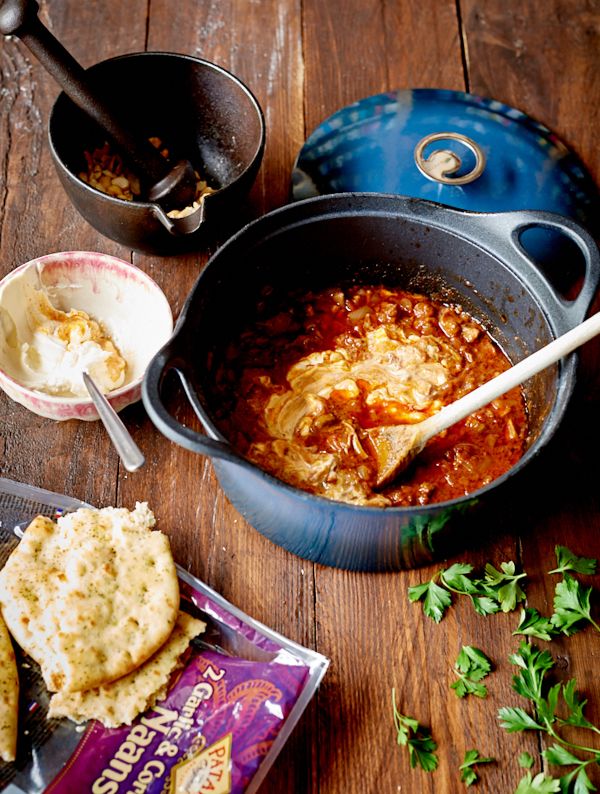 > To the recipe: Indian butter chicken curry by Ronald Giphart and Mascha Lammes
Thursday
This gnocchi with sausage and spring vegetables (and lots of cheese) is easy, quick and super delicious. You make it completely in one pan, so there is also little to wash off afterwards. Sometimes cooking can be so relaxed, perfect for  the sermon  (have you seen Succession ?). And yes, the sermon starts at Culy on Thursday afternoon.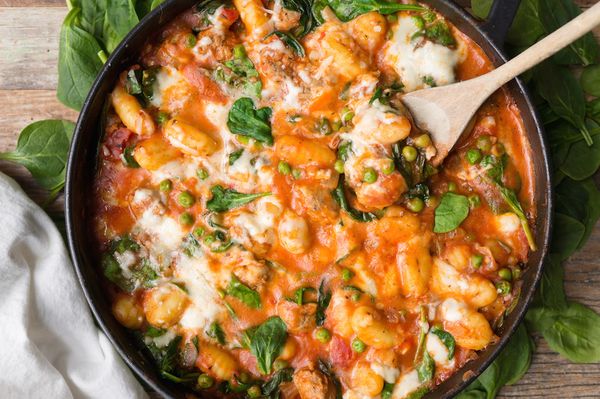 > To the recipe: Culy Homemade: gnocchi with sausage, spring vegetables and cheese in one pan
Friday
We were in doubt, pizza or pasta, so it was a compromise: pasta pie (you didn't think we were going to say pasta pizza did you). This torta di pasta with ' nduja , sun-dried tomato and pecorino may be a bit decadent, but we would make it again in a heartbeat. It's not typically Italian, but sometimes (not to say: always) things are supposed to be tasty in the first place. And that certainly applies to this pasta pie.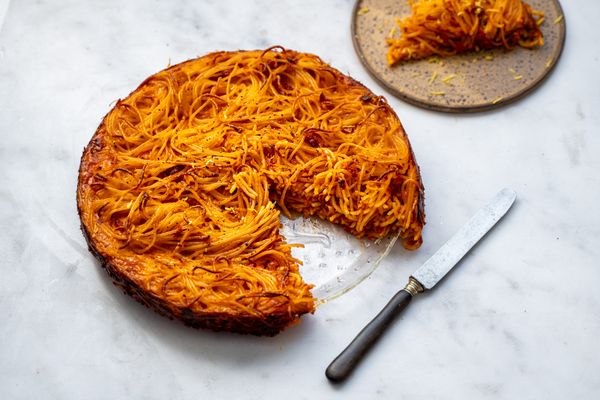 > To the recipe: Culy Homemade: torta di pasta with 'nduja, tomato and pecorino
Saturday
Tired of the classic tomato soup? Give it a twist and make this spicy Indian tomato soup with coconut milk. Wonderfully creamy and spicy. As a bonus, we add a quick chaunk (also called chhonk) : an easy Indian spice oil that is a real flavor bomb. Slide some naan into the oven or bake your own parathas . Yum!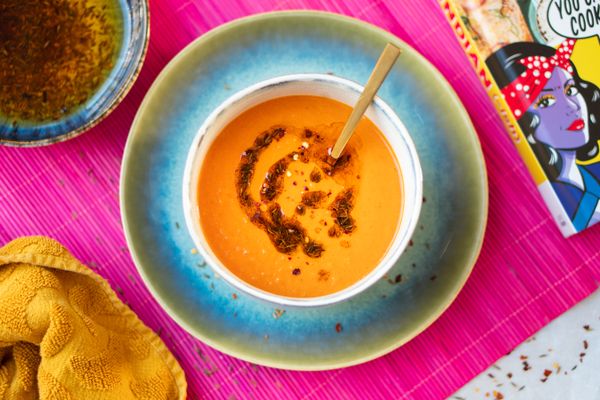 > To the recipe: Culy Homemade: spicy Indian tomato soup with coconut milk
Sunday
This simple one-pot dish contains everything that will make your taste buds happy. This smoky casserole with halloumi, white beans and tomato is really a very nice easy weekend recipe.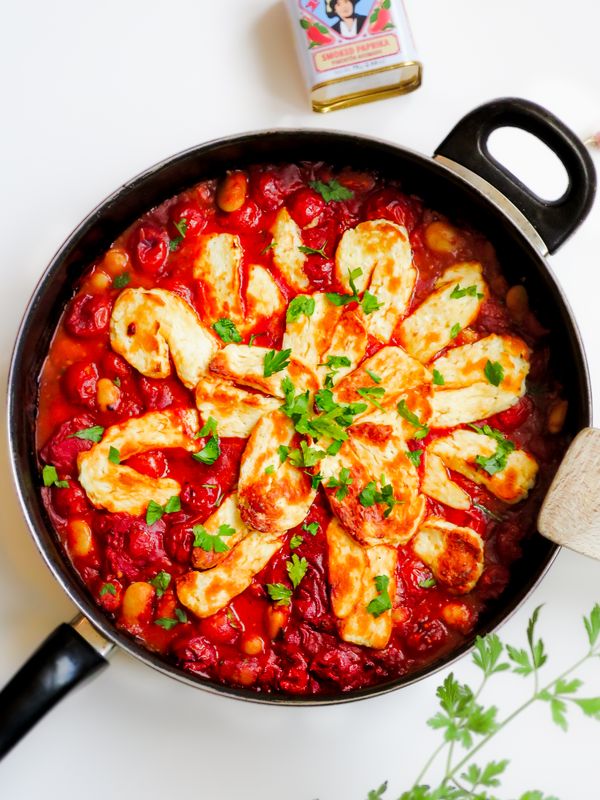 > To the recipe: Culy Homemade: smoky oven dish with halloumi and cherry tomatoes