Thinking about what to eat every week can be quite a challenge. To ensure that you do not put the same dishes on the table every week, we are happy to inspire you with handy weekly menus. This week we're going for the rainbow on your plate. That is not only a visual spectacle, many health scientists also swear that it is the key to a healthy lifestyle. And of course the Culy editors make sure that the dishes are also mouth-watering.
Monday
We already wrote about it in our article about the  food trends of 2022  : Korean cuisine will gain even more popularity in the coming year. No wonder: dishes such as  kimchi jjigae ,  bulgogi  or  japchae  are pure comfort food and we love them too. That's why we came up with a plant-based version of one of the most iconic Korean dishes. Vegan bibimbap it is!
> To the recipe:  Culy Homemade: vegan bibimbap full of vegetables
Tuesday
Inspired by chef  Gizzi Erskine , this Indian dhal is a real feast. And that's not just because of the colors of this dish…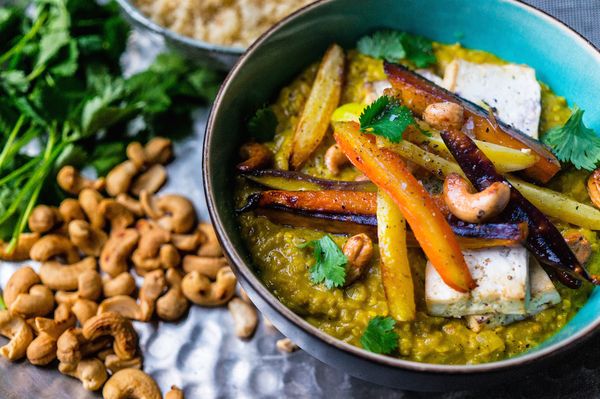 > To the recipe:  Culy Homemade: Indian dhal with colorful carrots and tofu
Wednesday
Stuffed tomatoes are classically often made with a minced meat filling, but we bring this classic dish to the Arab atmosphere for once. We exchange the minced meat mixture for a filling of couscous, crumbled halloumi, pomegranate seeds and fresh herbs. Delicious.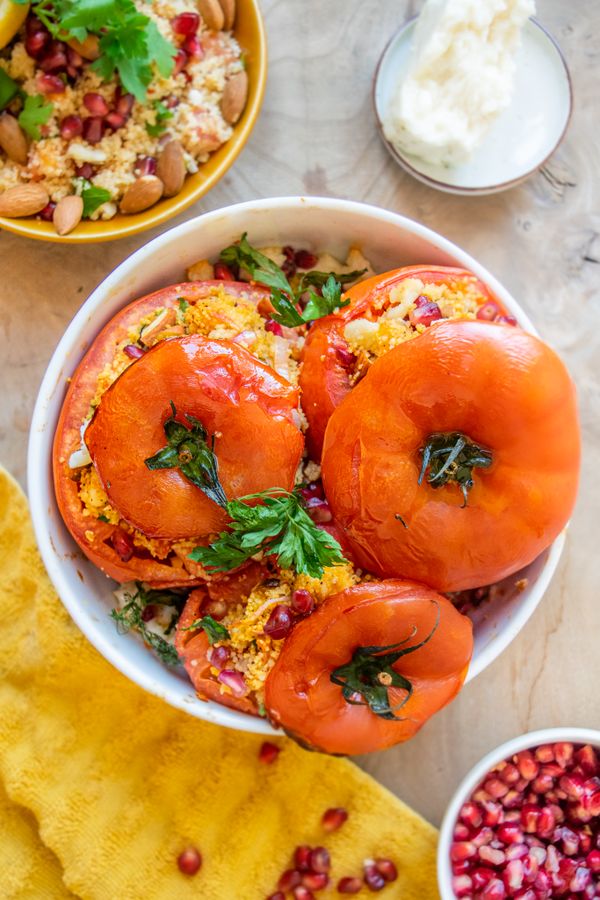 Thursday
You can wake us up for crispy tempeh anyway, but especially for this tempeh in gochujang. This Korean chili paste gives this beloved (vegan) meat substitute a super nice kick. Delicious in a rice bowl with vegetables, coriander and peanuts.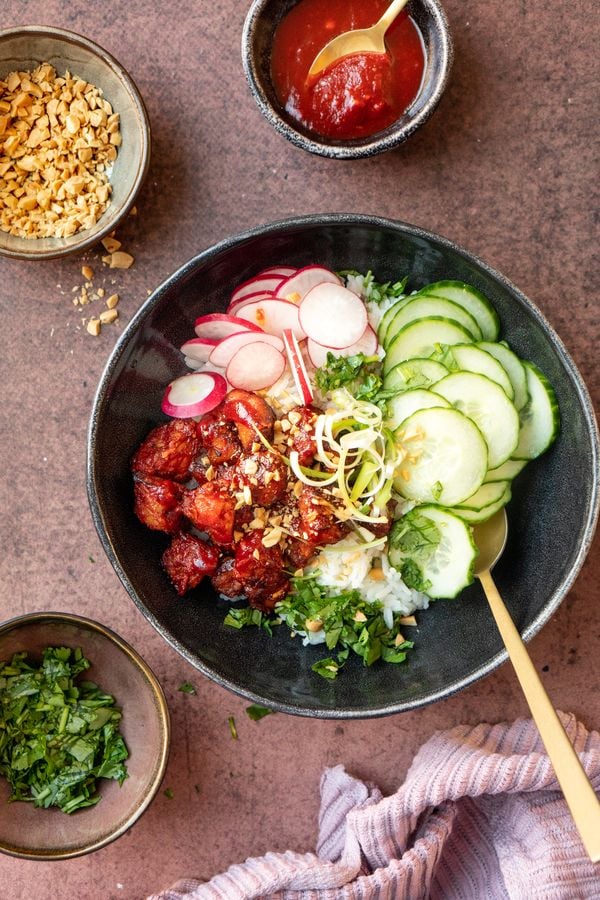 > To the recipe:  Culy Homemade: rice bowl with crispy tempeh in gochujang
Friday
We find this Asian curry with duck warming and refreshing at the same time. The kick of the spices, the fresh lemongrass, the aromatic fresh herbs (if you can get Thai basil, that's really an added value) and the baked duck: a feast. We make this curry with sweet potato, but you can of course also make it with other vegetables, such as pumpkin, red pepper, onion and/or carrot. Remember that rainbow huh?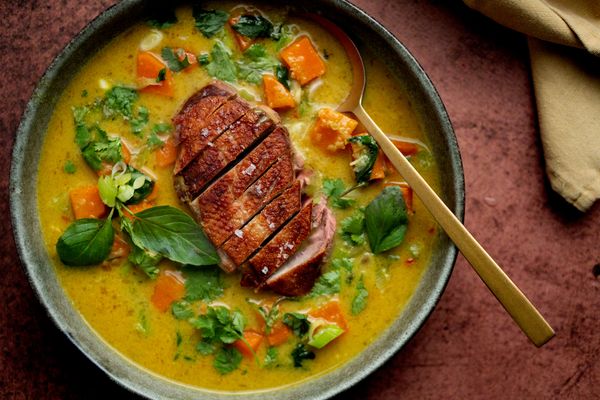 > To the recipe:  Culy Homemade: fresh Asian curry with duck
Saturday
We also sometimes find it a challenge to come up with a quick healthy lunch. This quick peanut dip with vegetables is ideal. So ready and ideal to use up your leftovers from the week.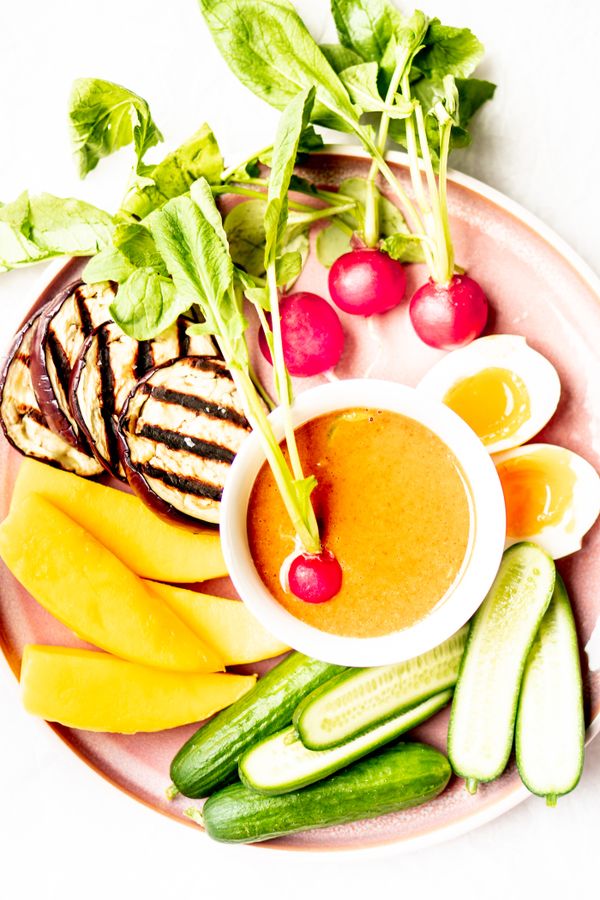 > To the recipe:  Culy Homemade: quick peanut dip with vegetables (great for lunch)
Sunday
Traditionally, yakisoba is a Japanese wok dish with  buckwheat noodles , but we use those tasty thick udon noodles. In any case, you can use a lot of vegetables in this dish!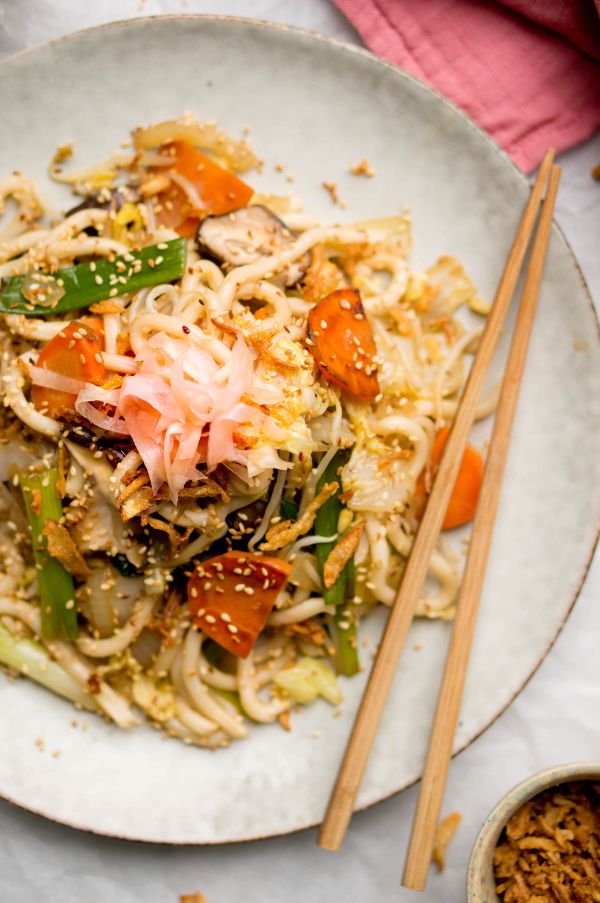 > To the recipe:  Culy Homemade: yakisoba (Japanese udon noodles with lots of vegetables)