Bubble tea, K-pop, squid game, Chun Café's beef bulgogi sandwich… The popularity of Korean (food) culture is omnipresent. We especially like to use this phenomenon to delve further into Korean cuisine. This time: 3 x well-known Korean seasonings – which should not be missing from the knowledge package for a contemporary foodie.
3 x Korean seasonings
gochujang
The most famous from this list is undoubtedly gochujang. This Korean chili paste is increasingly finding its way into our daily lives (we only miss it in the supermarket, who will change that?). In the red tub in which gochujang is usually sold, you will find a wine red pepper paste, similar in texture to miso.
The chili peppers from which gochujang is made (in addition to glutinous rice, fermented soybeans and salt) certainly offer heat and sharpness, but gochujang is also known for a typical sweet and sour taste. Gochujang often plays a role in iconic Korean dishes. It is indispensable on bibimbap , in the sauce at tteokbokki it plays the leading role and also at kimchi jjigae it should not be missing.
Less traditionally Korean – but horribly tasty – is the mayonnaise that we like to make with it ourselves, for example for chicken burgers . Watch out: this ingredient could well become the new miso.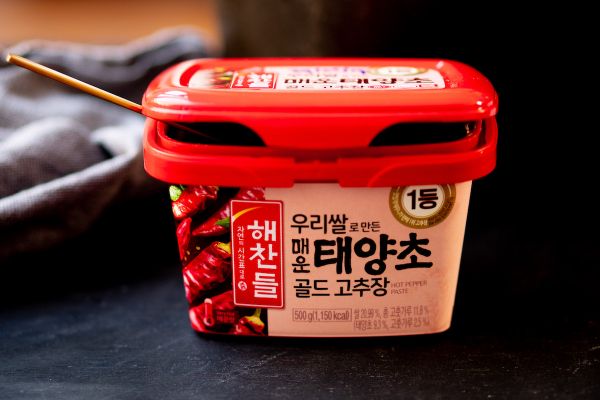 Doenjang
Speaking of miso, the closest thing we can get in Korean cuisine is undeniably doenjang. This Korean pasta can be found in a beige tub and, just like miso, it is made from fermented soybeans. The texture, on the other hand, can be a bit coarser (with the occasional soybean hidden in it), so it is less spreadable.
In any case, in Korea, Doenjang often forms the basis for soups and dips, but unlike gochujang, it is not spicy. David Chang uses it as a pick-me-up for the mussels , culinary gem that he is. And if the miso is sold out, you can open this beige dojang cup with peace of mind.
ssamjang
Ssamjang is also a thick, spicy paste that is used as a dipping sauce with Korean – with BBQ meat filled – lettuce wraps. In fact, ssamjang is actually a combination of the aforementioned gochujang, doenjang and seasonings such as garlic, onion, spring onion and sesame oil.
You see: ssamjang is a giant flavor bomb, made from other flavor bombs. You can easily make ssamjang yourself – as Culy's Auke described here before – but it is also sold ready-made in a (this time) green tub.