When you think of a culinary European summer holiday, you often think of Italy or France. Not surprising, given the continuous popularity of both cuisines. But did you know that the Greek island of Crete – in addition to sun, azure blue sea and a mountain of hospitality – has a fantastic kitchen? And to lift a tip of the veil (because: go there!): the tastiest Greek dishes from Crete in a row.
Of course, for enthusiasts there are also plenty of pita gyros, Greek salad and other Greek classics available. But for the following dishes you must and will be in Crete.
Food from Crete
In addition to being important, sustainable cooking has recently become a big hype. But did you know that for so long Cretan cuisine has almost exclusively used local ingredients – everything that grows on and around the island – and that it cooks with the seasons? There are also plenty of fruit trees, vegetables and herbs in the wild on the island. So don't be surprised if you see your neighbors picking a kilo of dill along the road.
Dakos
Why bruschetta has been infesting many a restaurant and amateur kitchen for years, but hardly anyone has heard of Dakos , is a mystery to us. This Greek appetizer is just as easy to make, provided you use good quality ingredients. The hard stale bread absorbs all the juices from grated tomato and the generous amount of olive oil. Ideally you top it off with young soft Cretan sheep's cheese, but feta is also fine.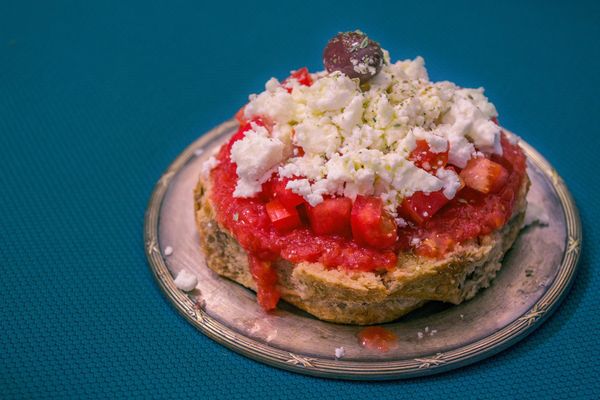 Kalitsounia
You will find them in the many traditional bakeries in Crete or among the mezzes on the menu: single fried dough parcels filled with soft sheep's cheese, sometimes in combination with fresh herbs or spinach. A snack you would want to eat any time of the day.
Horta
A dish that can be found on almost every menu and is as old as the road to ehhh.. Athens. Horta are cooked wild green vegetables (picked themselves), served with olive oil and lemon juice.
Marathopita
Perhaps the ultimate example of a typical Cretan dish is the marathopita: made with few ingredients – cheap too – that every farmer has been able to find in the pantry and on the land since time immemorial. The greasy flatbread is filled with spinach, fennel leaves, fresh herbs and sometimes some feta. Easy to make in the pan , delicious as a snack, lunch, appetizer or as part of various mezze.
Bougatsa
The ultimate comfort food in Greece: bougatsa . And when the late Anthony Bourdain says the best can be found in Crete , we take it right away. This sweet-salty but above all delicious calorie bomb is mainly consumed for breakfast. Made from countless wafer-thin and homemade layers of filo dough, filled with velvety soft mizithra cheese, topped with sugar and cinnamon. Note: There is also an all-sweet version filled with custard. A little less surprising, but also tasty.
Portokalopita
The Greek dessert if you ask us and can be found at almost every establishment in Crete. Did we mention earlier that the hospitality is unprecedented; the proof of this is that at many tavernas you get the dessert (and a carafe of homemade raki…) on the house. Sometimes this is the super juicy and sweet portokalopita: a syrup-soaked orange cake based on yogurt and filo dough, processed in a way you've never tasted before. You can find the recipe here .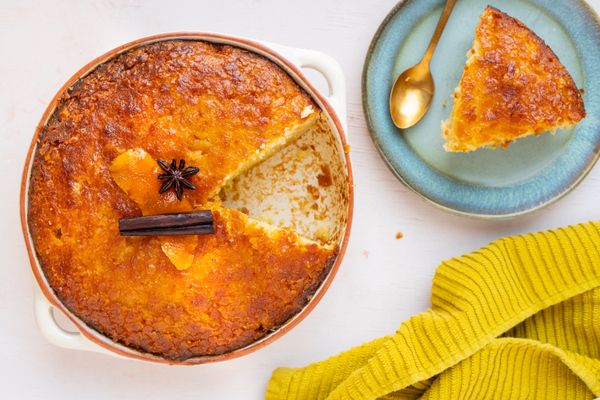 Ktapódi Krasato
It takes some practice on the pronunciation, but then you have something. Octopus stewed in red wine with fennel, to be exact. We already knew that octopus is delicious (and easy!) to stew . But you wouldn't want anything else with this combination.
Chochlioi Boumpouristoic
A mouthful, but in Dutch it's just snails stewed in wine. Or well, just? This super tasty typical Cretan dish is incredibly rich in taste and also looks impressive. So plenty to choose from, on your next trip to Crete.