Thinking about what to eat every week can be quite a challenge. To ensure that you do not put the same dishes on the table every week, we are happy to inspire you with handy weekly menus. The sun is breaking through, we may even move our dinner outside. That's why the best recipes for this week (with hopefully a lot of sun!).
> Need more inspiration? View all weekly menus!
And let's not forget the drinks. The tastiest summer copies can be found here .
Monday
We start the weekly menu full of tasty recipes in an easy and summery way, completely in a holiday atmosphere. And with a burger. Not just one, but with a vegetarian version with aubergine and all time favorite tzatziki. So fresh and ready before you know it.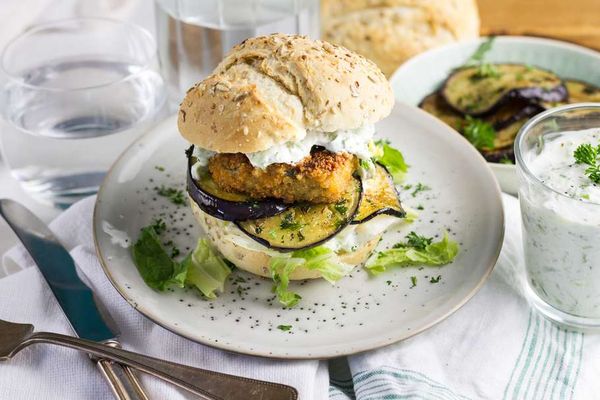 > To the recipe: Vegetarian burgers with aubergine and tzatziki
Tuesday
What we would like to forget is that warm soups are not only a great combination during cold winters. In countries such as Vietnam, it is not for nothing that they eat soup during the hottest days. Also try it during this week's menu with this quick version of the Vietnamese pho; make sure you don't want anything else.
> To the recipe: Culy Homemade: quick pho (Vietnamese noodle soup)
Wednesday
You can really make everyone happy with a summery flammkuchen. And that's exactly what we're going to do this Wednesday. Because the variations are endless (we'll give you some extra ideas here ), we've picked one for you this week.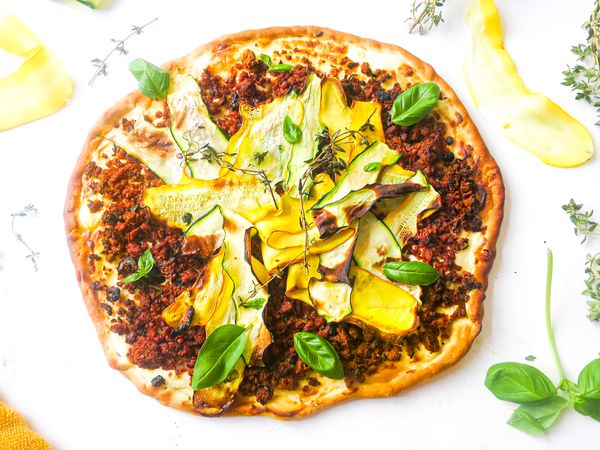 > To the recipe: Culy Homemade: summery flammkuchen with zucchini & spicy minced meat
Thursday
On to the next summer favourite: paella. Now we prefer to eat it on the coast in Spain, where, according to a family recipe , a large paella pan has been simmering for hours. But because that thought is not very realistic for this weekly menu with recipes from our own kitchen, we have worked out a quick version.
> To the recipe: Ultimate summer: quick paella with shrimps, peas and lemon
Friday
A fresh curry is a good idea during any day of the week. We are therefore starting the weekend with a surprising variant including two types of maize, a lot of cherry tomatoes and a pleasant sour taste. Thanks to the tamarind.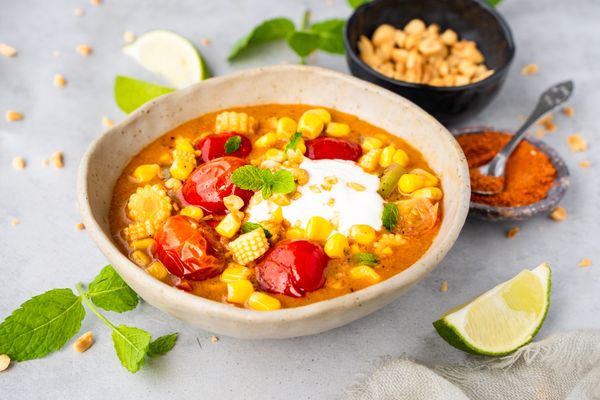 > To the recipe: Culy Homemade: summer curry with corn, tomato and tamarind
Saturday
Comfort food is also fine on a summer day. How about a pasta with lemon, chicken and basil? The nice amount of Parmesan cheese provides a creamy whole with a dangerously high level of eating.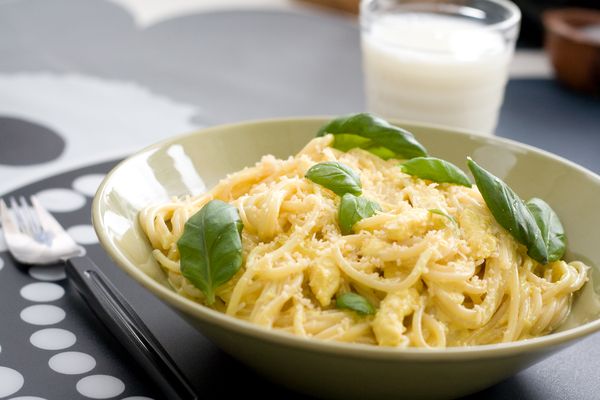 > To the recipe: Pasta with lemon, chicken and basil
Sunday
Time for salad ! A well-stocked one that is low in carbohydrates: we replace the noodles in this recipe with sweet potato. One of the lightest recipes to end the weekly menu. Also tasty: add some fried chicken thighs for some extra protein.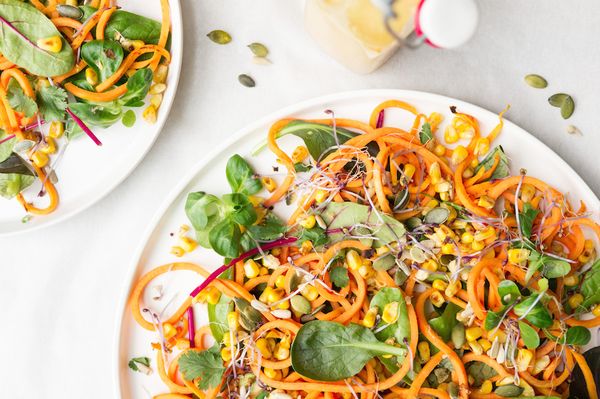 > To the recipe: Culy Homemade: sweet potato noodle salad with corn