You've just finished your plate of al dente pasta and there's still a load of sauce on the bottom. Shame to throw away! The Italians came up with something for that:  fare la scarpetta. Um, what about a little shoe? Culy researched for you what the expression means, where it comes from, but especially with which dishes you can best perform the scaretta  .
Italian always sounds immediately beautiful, whether you get it or not. Because  fare la scarpetta  or sopping with bread, that is quite a difference. Yet the meaning is the same.
Fare la scarpetta
It has probably happened to you in a restaurant in Italy: even before you have ordered your drink, there is already a basket of bread on the table. While we Dutch prefer to attack it directly and spread it with herb butter, tapenade or other spreads, the Italians turn out to be a patient people.
You save the bread with the Italian meal until last. You don't put on the scarpetta (meaning: the shoe) until after the meal. So literally,  fare la scarpetta  means 'to do the shoe.' Where do the Italians get the shoe from in this expression? Some say that the movement you make with the bread is like putting on a shoe.
Where does the scarpetta come from?
As with any Italian tradition, there are ancient tales of where in the country the ' scarpetta'  was first invented. The Venetians say it was them. Which is slightly unlikely, because Northern Italy is – among the Italians – not known for its bread with the large plates of pasta with a lot of sauce. No, you only find that bread in the south.
In Puglia it is therefore said that the saying does indeed come from the southern dialect. As we are used to from the southern, theatrical Italians, there is a semi-romantic story attached to their meaning. The Pugliesi believe that fare la scarpetta  owes its meaning to the  cucina povera  (poor kitchen).
The Italian poor man's kitchen
There was a time in Italy when people were so hungry that they would even eat the soles of their shoes. Fare la scarpetta in southern Italy means something like really scraping every last bit from your plate, because you never know when you will eat again. Although that will never last long in today's Italy…
How do you perform the perfect scaretta?
You should see the scarpetta as a great compliment to the cook. The plate of bucatini all'amatriciana or rigatoni alla vodk a has tasted so good that you want to experience all the flavors for a few more bites on a piece of bread. You tear off a piece of the old bread and wipe it through the leftover sauce on your plate. Child can do the (dis)washing.
Please note: you really only serve the scarpetta with the leftover sauce on your plate. Whether it's meatballs, lasagna or pasta, it doesn't matter to  il cuoco  (the cook). If you dip your bread in another full plate or in a soup, you call it  fare la zuppetta. Also important: you only perform la scarpetta  around intimates. On official occasions, emptying your plate with a sandwich is really a no-go. Kind of like cream through the carbonara.
And last but not least:  you never carry out la scarpetta  with fresh bread. The bread is actually always a few days old. That is why bread in Italian restaurants can never be eaten, we hear you think, it is only used for dipping.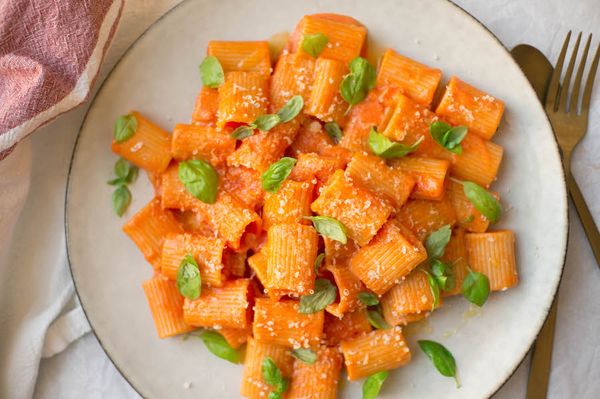 Excellent recipes for scarpetta
We can imagine that you are eager to spoon up the leftovers from your plate with an old, dry, sandwich. There is almost nothing tastier than that. Yet with some pastas you have more sauce to spoon than with others. For example, this tagliatelle with tomato anchovy sauce from Pasta Grannies is perfect for performing the scarpetta. Or take this rigatoni al forno : a pasta dish where you might be able to spoon out the entire dish.
Also suitable for the scarpetta is the well-known "Tiktok pasta" with tomatoes and feta , this summery pasta al limone and of course a ragú bolognese with fresh pappardelle.