We hereby declare the Dutch New season open! Last weekend it was Flag Day and so from now on we can all grab a  herring  at the fish stall again. But what else can you actually do with herring? And how does the Hollandse Nieuwe taste this year? Culy figured it out for you.
Fat, fatter, fattest
According to fishmongers, the Hollandse Nieuwe is once again fuller and fatter than other years. You'd almost think it's going to be a sales pitch. Because a fish that gets fuller and fatter every year… apparently it's possible.
The herring that is normally caught and eaten at this time of year has an average fat percentage of between eighteen and twenty percent. This year the first catch had a fat percentage of about 21%. So nice and fat! By the way, did you know that herrings of 25% used to be offered to the queen? Hence the name queen herring.
Fat tasty
Such a real fat Dutch Nieuwe, is that really tasty? Yes. Because fat makes the fish oilier, of course, but it also makes it easier to eat. When you chew, the food in your mouth becomes a kind of wad. Because fatty food is creamier, this is easier and the dining experience is more  pleasant.
In addition, a fat Dutch Nieuwe has a stronger taste. The fatter the herring, the stronger the fish taste. And we don't mean a bad fishy taste from the fish auction late at night. Besides that: fat is simply delicious. A potato with a thick dot of mayo is simply better than without. Or how about butter. In any case, we are already swooning at the thought of this cool Dutch Nieuwe…
5 x recipes with herring
1. Herring deluxe sandwich with smoked mayo and potato
With this recipe we give our own twist to a classic herring sandwich. In fact, we immediately turn it into a deluxe herring sandwich. The result is a generous sandwich with smoked mayo, apple, radish, potato slices, herring, spring onions and fried onions. So good.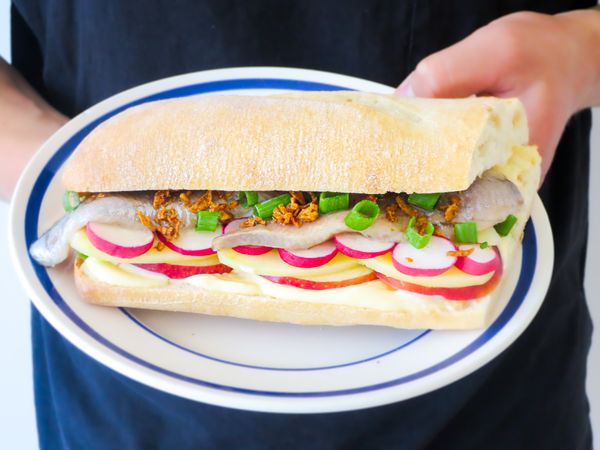 > according to recipe: herring deluxe sandwich with smoked mayo and potato
2. Herring ceviche sandwich (from Sjefietshe)
A herring sandwich is perhaps the easiest meal on the "Dutch heritage" list. Fancy something different? This ceviche-like dish contains all the parts of a herring sandwich, but looks a lot more chic.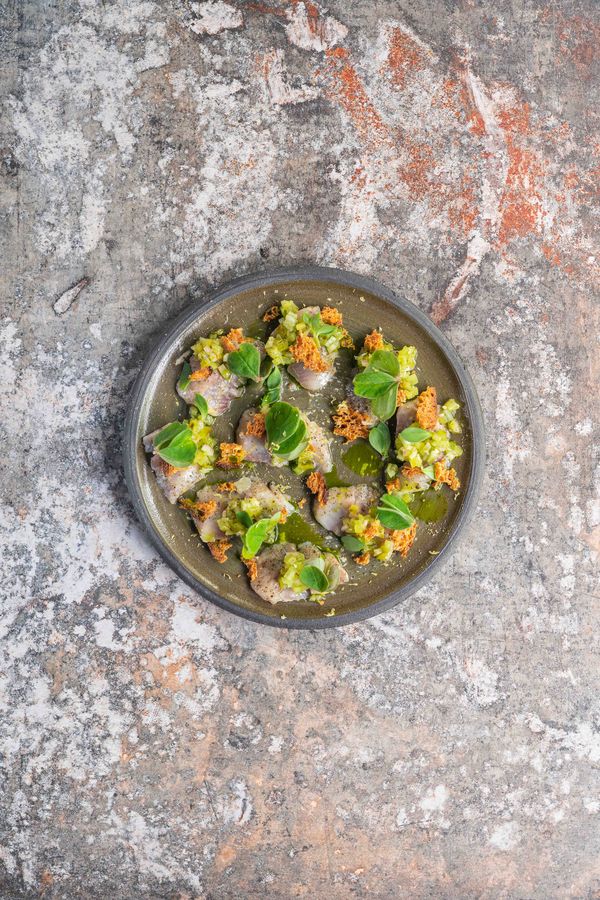 > according to the recipe: herring ceviche sandwich (from Sjefietshe!)
3. Fresh bulgur salad with herring, beetroot and apple
Your Dutch Nieuwe in a salad? Why not! The combination with beet and apple makes this salad – despite the oily fish – wonderfully fresh. Serve it as an appetizer or eat the whole bowl as a meal salad for lunch. Do brush your teeth afterwards. Because even though the salad is wonderfully fresh, a colleague who eats fish for lunch is slightly less so.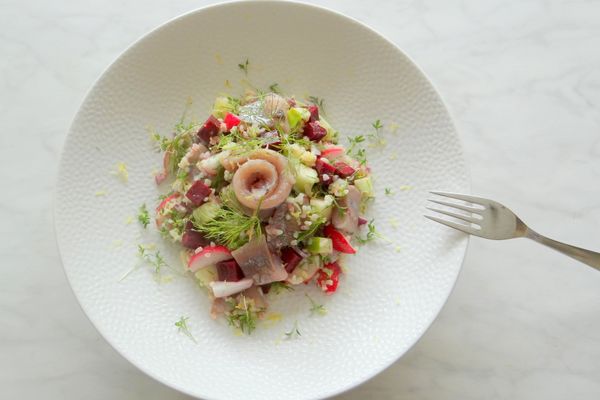 > to the recipe: fresh bulgur salad with herring, beet and apple
4. Hollandse Nieuwe with spring onion juice and roasted onions
A  harinkie,  but then a little different. This recipe from Estée Stroker makes it possible! Serve the herrings in a deep plate or, after you've marinated the fish for a while, bite them right off the bat. It's your herring party!
> to the recipe: Dutch new with spring onion juice and roasted onions
5. Potato salad with watercress and herring
Potato salad boring? Leave that to us! Pimp your potatoes with herring and fresh watercress and you won't know what you will taste. Pro tip: replace the horseradish with ginger and add a small dash of your favorite soy sauce for an Asian twist.
> to the recipe: potato salad with watercress and herring