With the warm summer ahead, it's time to pull out our summer repertoire. Tasty – and especially easy – snacks that do well in warm weather. Think of bruschettas, olives, patatas bravas and so on. Get your garden chairs ready, grab your most beautiful serving board from the cupboard with cozy bowls on it and your evening is already a success.
Keep it simple
There's one basic rule when it comes to a well-stocked hot-weather snack platter: keep it simple. Don't go for oysters, ceviche or other raw fish (because: sun), don't go for raw, red meat such as steak tartare (however tasty it is) and also omit cheese cubes. Because: heat does not only cause sweat in humans. And we don't think anyone has ever liked that.
And so: go for olives, but marinated yourself. Swap your cubes of young mature cheese for patatas bravas and make cozy dips. Maybe you'll fry a few more zucchini fritters or cut up a Spanish tortilla and top it off with bruschettas. Snacks for warm weather should be easy, but nobody said that there should therefore be few.
Patatas Bravas
If there is one thing that thrives in a Dutch summer, it is patatas bravas. Piepers in a cool jacket with a tasty sauce: a combination that you will definitely like. You can make them from sweet potato or go for the classic version. Add a sauce, for example a spicy sriracha mayo or a fresh lime mayo and the first bowl on the serving board is filled.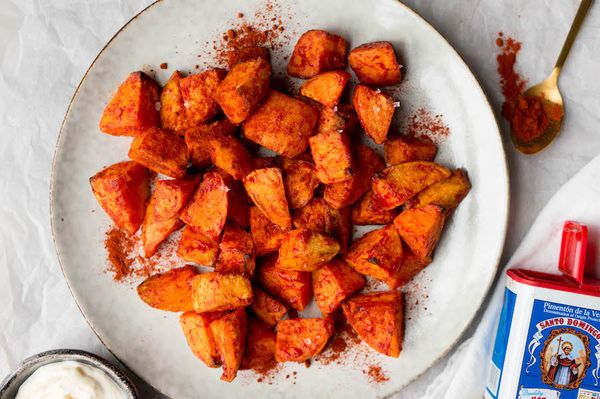 bruschettas
Of course it cannot be missing from this list: the bruschetta. In other words: the crispy, yet soft bun with tomatoes and basil marinated in olive oil. Simplicity at its best. And so easy!
In the morning, cut your tomatoes into small pieces, put them in a large bowl with basil and lots of (!) olive oil and leave it on your counter. The latter is very important. Cold tomatoes have no taste, room temperature tomatoes in olive oil are outright flavor bombs.
Dakos
Another excellent snack for warm weather is dakos. Dakos is often compared to the Italian bruschetta, but that is actually the same as comparing a roti plate with a Dutch pancake: something completely different. If you want to compare it with something Italian, you should do that with the (still somewhat) unknown friselle .
The hard barley bread for dakos is also 'softened' with a little water, after which it is rubbed with tomato. Then top the Dakos with crumbled feta or another crumbly sheep's cheese, oregano, pepper, salt and an optional olive.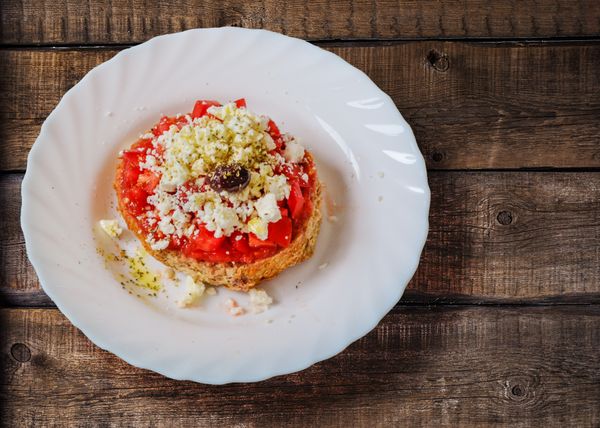 Dip, dip and dip again
We admit: despite the fact that we love high-quality culinary masterpieces at the Culy editors, we still often succumb to a baguette with spreads. Because that remains our guilty pleasure. Nowadays we no longer get our dips (as much as possible) from the supermarket, but we make ourselves, because it is the ideal snack for warm weather. How about a fresh fetadip that you can dip generously in with baguette or vegetables of your choice?
The same goes for a muhamarra , aioli or the classic or fancy herb butter . Make them in the morning, put them in the fridge and take them out when you're preparing your serving board!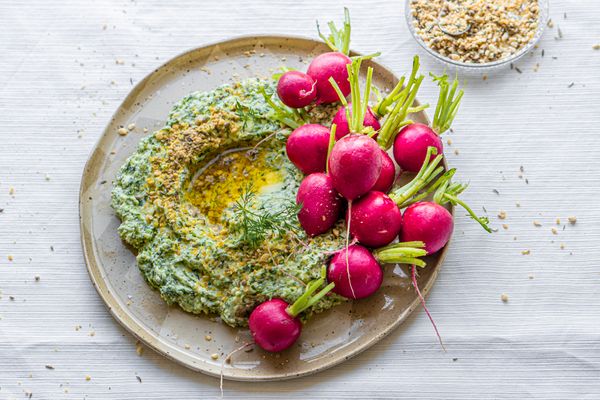 Zucchini fritters
A responsible snack board with vegetables? It's possible. But because life doesn't always have to be about healthy and conscious choices, we do put these vegetables in chickpea flour. This will make the zucchini fritter crispy, but it will still be fine to eat the whole dish. A great snack for warm weather. Also tasty: spread the zucchini fritter with some of the above fetadip and radish. Blown to enjoy!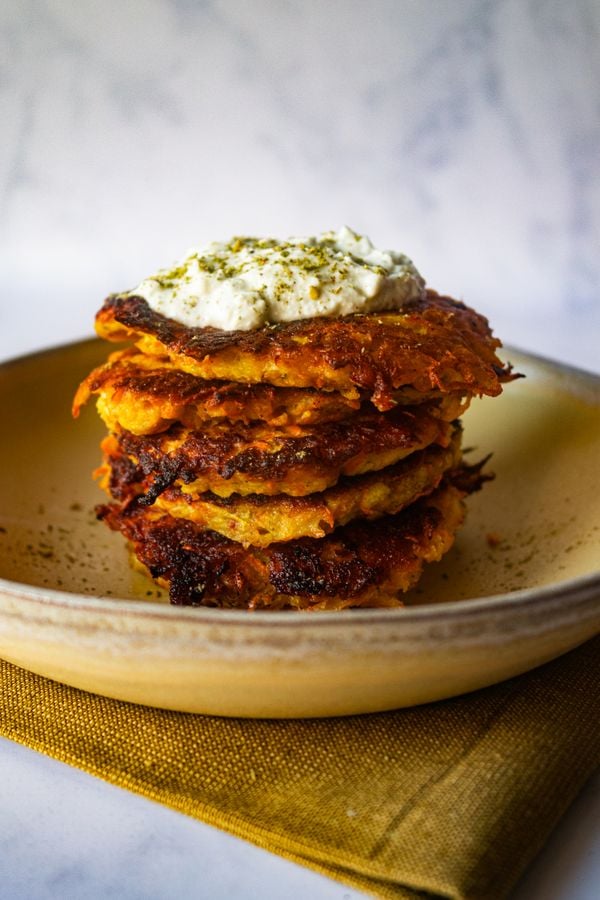 Marinate olives and sun-dried tomatoes yourself
Olives? Yes! These green or black flavor bombs should not be missing on a serving board. They are cool, small and you can snack them away. You don't need more! Pro tip: marinate your olives yourself . That may sound like a hassle, but it's anything but. And it is – of course – tastier than that bowl of marinated olives from the supermarket where every olive tastes the same. Go wild with your spice stash, fruit zests and your summery olive mix will be a hit with your friends this summer.
You can also do the same with sun-dried tomatoes. Then buy dried tomatoes (without oil) from your local Italian delicatessen and soak them in your homemade marinade. The jars of self-marinated olives or sun-dried tomatoes are also great gifts for your foodie friends and to take to a barbecue, picnic or other summer dinner.