Most desserts are really the most convenient to manufacture in large quantities. Nothing tastes better than a slice of an (ice cream) cake, a scoop from a large bowl of tiramisu or a – preferably large – piece of a pavlova. But let's be honest: the need for a satisfying dessert when you are alone is a lot more common with us than cooking for a large group. Hence this essential list of desserts that are tasty and easy to make for 1 person.
The tastiest and easiest desserts for 1 person
Because even if only you have an acute need for dessert, it must of course be fulfilled. And since we are not the most difficult, we have listed the guaranteed success numbers.
1. Crumble
Little effort, great result: we love it. And you will certainly succeed with this crumble from Sarah Fennel from Broma Bakery. No blueberries at home? Frozen strawberries, raspberries and blackberries are just as tasty.
2. Chocolate mousse
Because we really don't know anyone who doesn't like it: chocolate mousse for one. There is a good chance that you eat for two in this case, but hey: that's exactly the same amount of effort.
Lazy evening on the couch? Try this version with just two ingredients. Cookies in the house and the energy to grab a mixer? This chocolate mousse recipe also works great for one person.
3. Eton mess
Sweet, sour and a lot of structure: an eton mess fulfills all your dessert needs. A nice side effect: this recipe for a super-quick eton mess doesn't call for dazzling looks, so you can start eating faster.
4. Creme brûlée
It's not for nothing that we recognize it by that cozy one-person bowl. The crème brûlée is therefore ideal to be eaten only by you. Also nice: there is a good chance that you already have all the ingredients of this classic recipe at home.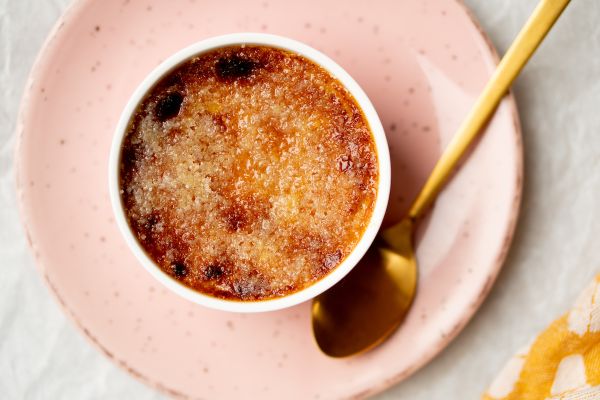 5. Speckkoek milkshake
Movie night on the couch and craving something other than sweet popcorn? This gingerbread milkshake is everything you've been looking for. Spicy, creamy, sweet and a very easy dessert to make for one person.
6. Tiramisu affogato
You'll find the best of both worlds in this tiramisu affogato recipe . The tiramisu? Hopefully it needs no introduction. And affogato is that super simple but oh-so delicious Italian dessert of vanilla ice cream with espresso.
And that combination, it now exists. The recipe is officially for two people and you can of course halve that. But there is a good chance that you will have to go back into the kitchen for a second round; that's how it works.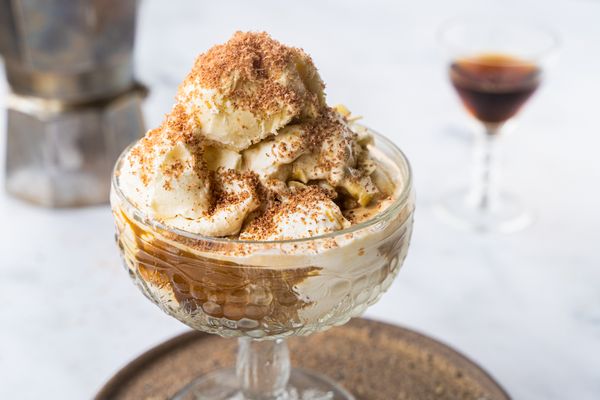 7. Apple Puff Pastry Pie
We can't remember a time when we didn't feel like apple pie. But to make a 10-person copy every time? That's a different story. Good news: with this 1-person puff pastry pie, all your apple pie dreams will become reality in no time.
It will take you a maximum of ten minutes of preparation plus some oven time, but afterwards there is a crackling fresh apple pie waiting for you, all for you alone. Also tasty: fill your puff pastry with your favorite chocolate instead of apple.