The temperatures are rising, the days are getting longer and slowly we can no longer resist the begging barbecue. That's right: the barbecue season is open! You probably have your own coal classics, but there's nothing more fun than trying something new every grilling session. How about fish on the barbecue, but not the well-known classics such as salmon and more salmon? Scallops, lobster, oysters, squid and razor clams: fish on the barbecue will be your new favorite this season!
5 x delicious fish on the barbecue
1. Scallops
Pearls are no longer only found in oysters, the scallop shell can also be used. Grilled scallops are the delicacy on your barbecue this season. The special piece of fish has – of course – a salty, almost nutty taste and is very soft. This is because the scallop consists of the force muscle with which the scallop shell opens and closes. Enough about Jacob. Because how can you best prepare this imitation pearl on your barbecue?
Make sure your barbecue is hot enough at all times. Go for a temperature of about 250℃. If your temperature is too low, the scallop will cook too slowly and become stiff. Grilling scallops is a job you can't walk away from. Therefore make sure that you appoint a Chef Barbecue who is and remains a real barbecue chef and does not find it more fun at the drinks table. You can serve the grilled scallops with some samphire and a nice fresh lime mayo or how about a smoky sriracha sauce ?
Tip: in addition to the scallops, you can also add perfectly large shrimp to the skewers. These take the same time to cook. Two birds with one stone.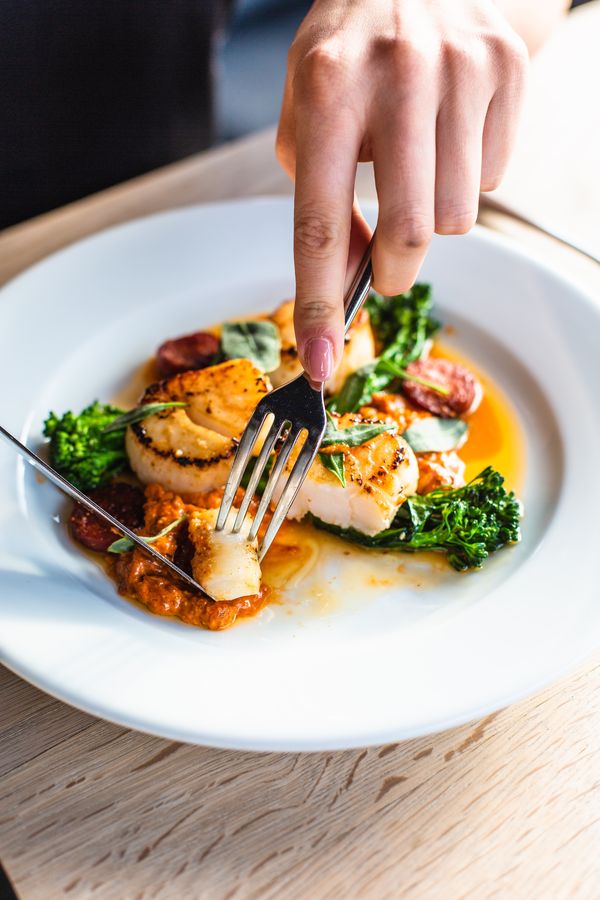 2. Razors
We stay with the shellfish, because we can share razor clams among the oysters avant la lettre. The elongated shells – which you often find already open and eaten on the beach – do great on your barbecue.
We hear you thinking, razors 'how do I get that again?' Ask your local fishmonger for it. Usually they can just order a net for you. They often go by the kilo and that seems like a lot, but that's behind the times because this fish on the barbecue can provide a real taste explosion.
For example, make a delicious vinaigrette with a pickled red onion (that makes them such a nice bright pink), cut open the razor blades and pat them dry. This is important, because if you don't, they will cook instead of grill. Here too, Chef Barbecue has to be alert again, because grilling razor clams is super easy and only takes a very short time. Then serve them with some tasty olive oil, salt and pepper and it will be a feast for your grill party.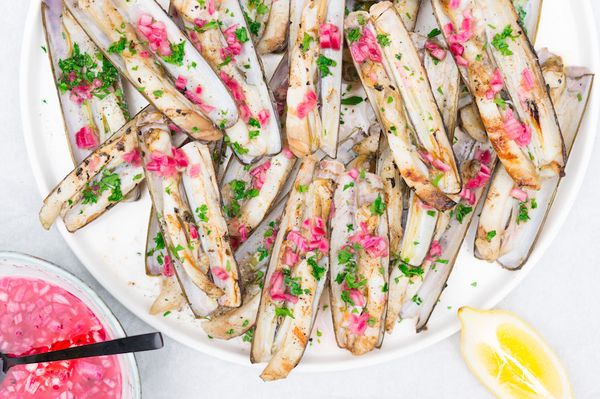 3. Lobster
If there's anything summery, it's lobster as far as we're concerned. We immediately go  on  holiday when we see this special sea creature. Did you know that you can also grill this fish on the barbecue?
However, the preparation of lobster often seems difficult and also scary. After all, if you have bought a living red rascal, you will have to kill him as humanely as possible: in an ice bath or by piercing his head with a knife. Sounds very crude, so find out what is the best way for you. Clear information about lobster slaughter can be found on Cooking with knowledge . If you don't feel like a fish in water when killing lobster, see if you can buy an already dead lobster. This makes no difference for the preparation (grilling).
When the lobster is ready to be grilled, pat the meat dry well, sprinkle it with a (herb) oil or tasty marinade, some salt and any other spices. Grill the lobster briefly, about 3 minutes, over high heat (250℃). If you have a still live, uncooked lobster, the cooking time on the grill is slightly longer, namely 5 to 7 minutes. The lobster goes well with sweet and sour marinades with notes of lime and coriander, but also lends itself well to be eaten after grilling with a nice smoky chipotle mayo .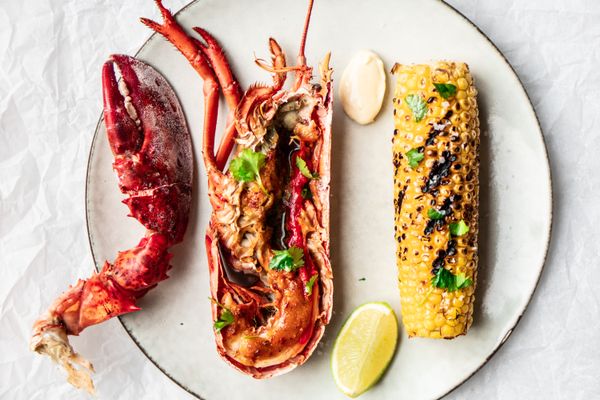 4. Squid
Ah squid , another strange duck on the barbecue. Have you ever even thought of putting this king of the sea among the coals? He finds it very good to be there.
With a well grilled squid you always imagine yourself in a Mediterranean place. Provided you grill it properly, of course. The following also applies to squid: dep. good. dry. Wet fish causes flames, which cause soot. Because although those stripes you get from it look nice on your piece of meat, they don't make a good combination with fish.
Make sure your barbecue is 220℃ so that the squid only needs to flame for a short time. Too long makes it tough. After grilling, you can cut the squid tubes into rings and put them through a tasty marinade or simply sprinkle with some oil, pepper and salt. By the way, don't just do this after grilling, but also marinate the squid tubes in oil with spices for a while before grilling. This gives the fish a nice taste, but it also benefits the tenderness.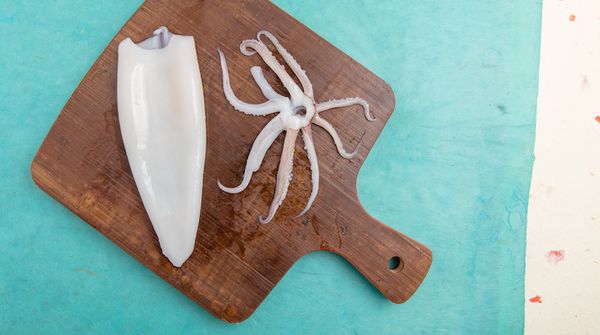 5. Oysters
Oysters from the barbecue? It's possible! It's actually very easy, you just need to know how to do it. First of all, make sure you have real fresh oysters that are also nice and large, think of number 0 or 1. The larger the oyster, the more meat it contains and the more there is to enjoy.
If you are going to grill oysters on the barbecue for the first time, try it with one oyster first. It is a waste of the oysters and your money if the whole dozen fails. In addition, always provide a red-hot barbecue from 250 to 300℃ with white hot coals without flames.
Place the oysters closed (!) on the barbecue. One minute and then flip them over. At a certain point the oyster bursts open and that is the sign that it is ready. If you don't hear a snap  , there will be some hissing because of the fluid that runs out of the oyster. This is your cue to take the oyster off the grill. Open the oyster (careful, hot) and, if it hasn't come loose, loosen it. Serve with a tasty dressing .
Did we mention that grilling fish is actually really easy? Fancy even more extravagance ? Then consider grilled oysters.