Thinking about what to eat every week can be quite a challenge. To ensure that you do not put the same dishes on the table every week, we are happy to inspire you with handy weekly menus. It's July, summer is – at least on paper – in our country and so we better bring the sun inside (even if it's not out there)!
Monday
Speed ​​is  key  on Monday, because after the first day of your work week, the motivation to cook is usually hard to find. Set your kitchen timer to 5 minutes and make sure that when the bell rings, you also sprinkle the last spring onion over this bowl of happiness. How is that possible? Ready-made steamed rice. Is that lazy? No, smart.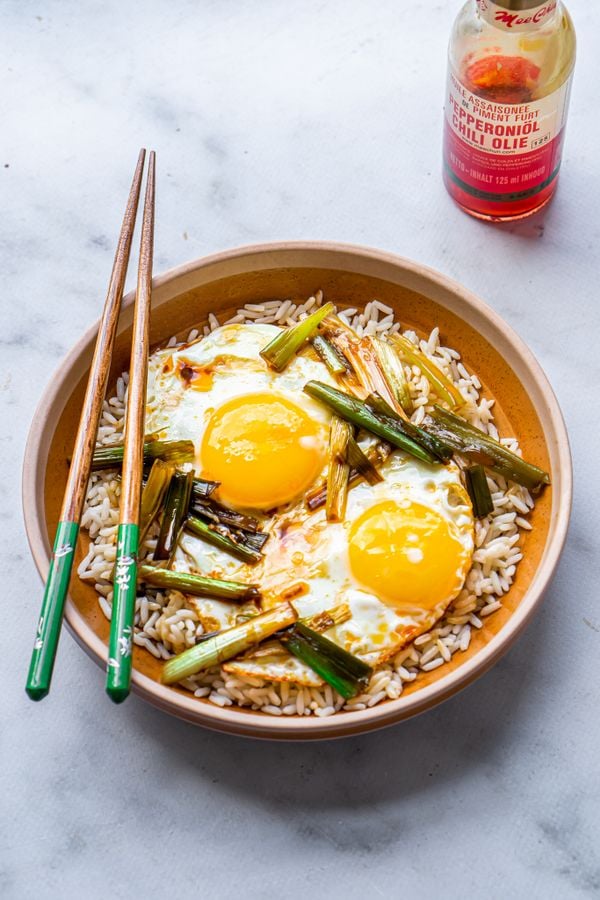 Tuesday
The Dalgona coffee and the TikTok pasta showed that TikTok is no longer just a platform for crazy dances and idiotic videos . Now there are the TikTok balls. Not yet such a phenomenon as IKEA's, but tasty. They should not be missing from this weekly menu and are delicious for lunch or as a lighter evening meal. Don't forget that glass of wine and the bread for the scarpetta , eh?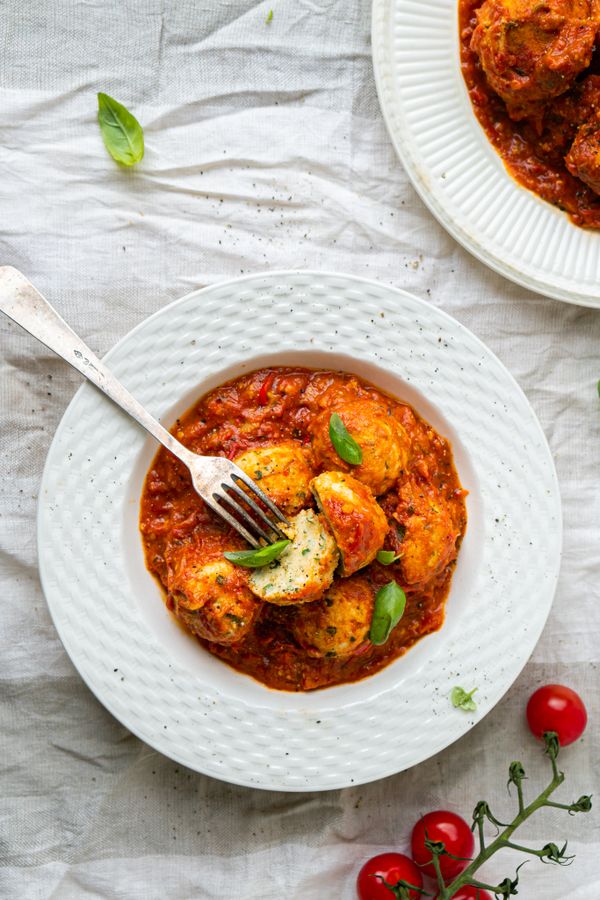 Wednesday
A light meal should not be missing from this weekly menu. How about a meal salad? For example, this one with radicchio, nectarines, burrata and mint. Super easy, healthy  and ready in no time. Also a nice bonus: if you have something left over, you can take it to work or school tomorrow for lunch. Two meals at once!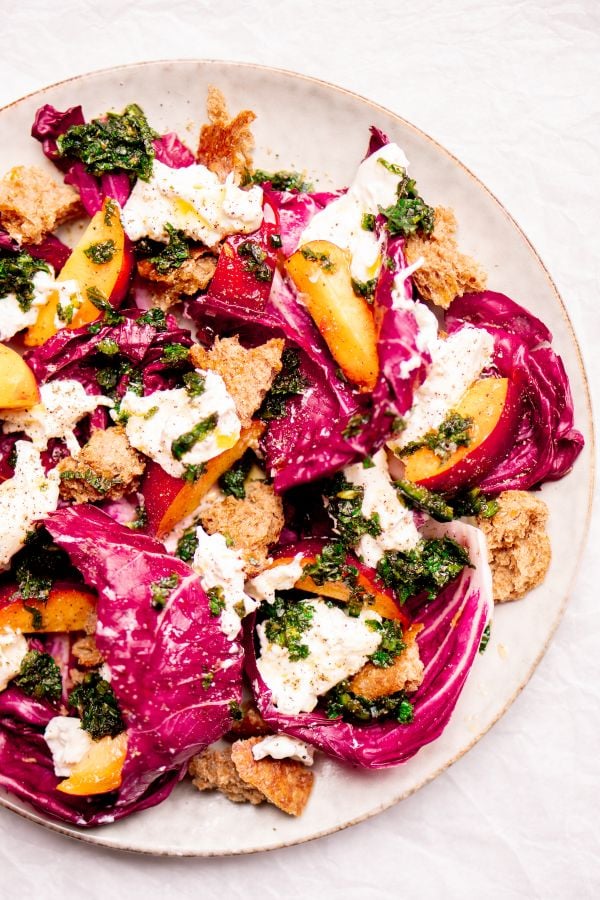 Thursday
One of those days of the week that makes or breaks the party. Or you unpack in the kitchen "because almost weekend." Or you're sitting on the couch with your favorite ordering app in front of you "because it's the weekend after tomorrow." In both cases you can only eat what you really like. This resulted in a plate full of goodies in this weekly menu. In our case it was sweet potato, steak, bacon and lettuce, but that can of course be anything you like. It's your party!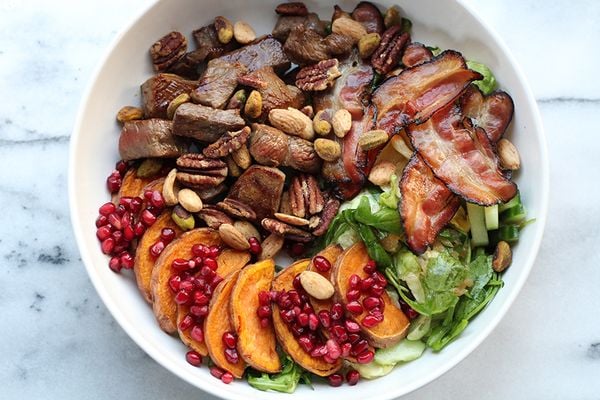 > To recipe: a plate full of goodies
Friday
Fish Friday today! And that's why on the weekly menu: kibbeling with a Japanese twist. That makes our hearts beat faster. In this recipe we make the traditional Dutch snack with a sticky Japanese sauce based on soy sauce, sake and – how could it be otherwise – furikake  on top.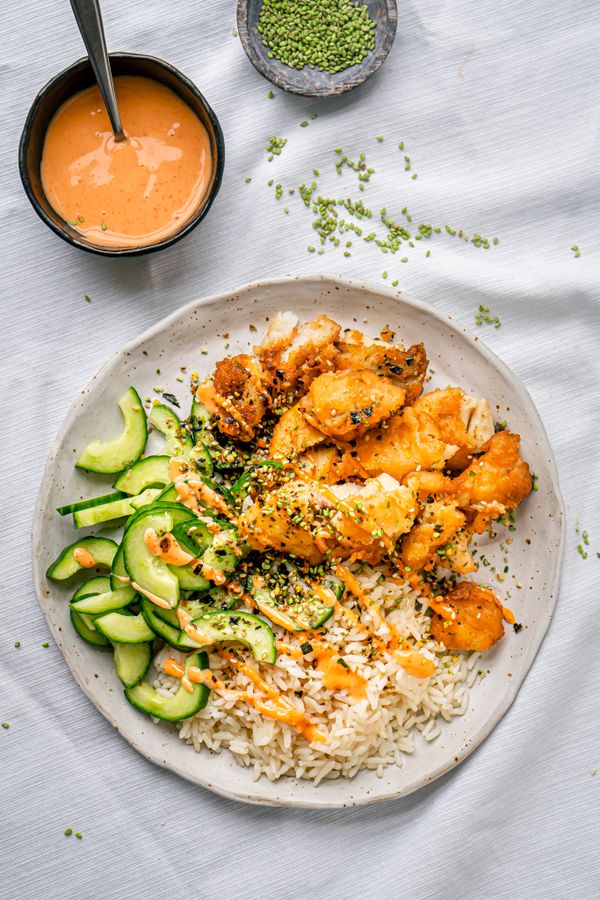 Saturday
Saturday is a day to unpack and snack. This chicken burger with vodka sauce is the star player of this week's menu. Derived from the pasta alla vodka , but in a different way. A brilliant recipe, if we do say so ourselves. Although you can of course extend the principle of that tasty sauce much further than that. And that's exactly what we're doing here, with this chicken burger with vodka sauce. Or is that comfort food? Absolutely. Don't forget to serve fries with it.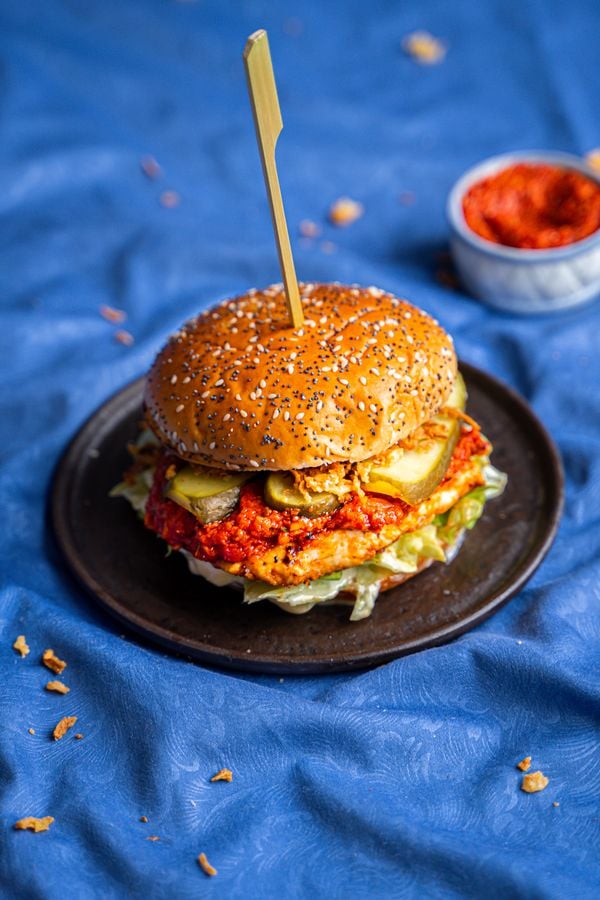 > To the recipe: chicken burger with vodka sauce
Sunday
Don't feel like cooking just before the hustle and bustle of the week starts again? we get it. Fortunately, there aren't many easier, tastier ways to cook. This traybake with chicken with hoisin , bimi and red onion is the quick end of this week's menu. You cook all the ingredients in the oven and attack! Serve with thin noodles and the party is complete.