Is the culinary world a man's world? Not if it's up to the women who work hard every day in gastronomy. And there are many! Chefs, sommeliers, hostesses and bakers who excel in their profession and who happen to be women. In our opinion, they receive far too little attention. That is why Culy will put a number of heroines from the food world in the spotlight in the coming period. Such as Noni Kooiman, who made the brand new book 'Switi Sranan: the rich Surinamese kitchen'.
Who is Noni Kooiman?
When you think of a chef, chances are you think of a white man with a large chef's knife in his hand, tattoos and possibly a dead animal over his shoulder. If you think of a sommelier, you probably also see a white man in a smart suit. And there are even more roles in the culinary world where we automatically think of men.
Time for a more diverse picture than that! Culy therefore shines a spotlight on the women in the food world. Who are they and what moves them to do what they do?
Today on the podium: Noni Kooiman. This chef and cookbook author lived in Suriname as a child and for the past ten years worked in restaurants such as Rose Bakery in Paris and the Amsterdam restaurants Toscanini , Vuurtoreneiland and Coba . Her book ' Switi Sranan ' about Surinamese cuisine has just been published. She previously made the book 'Inmaken', together with Jonah Freud .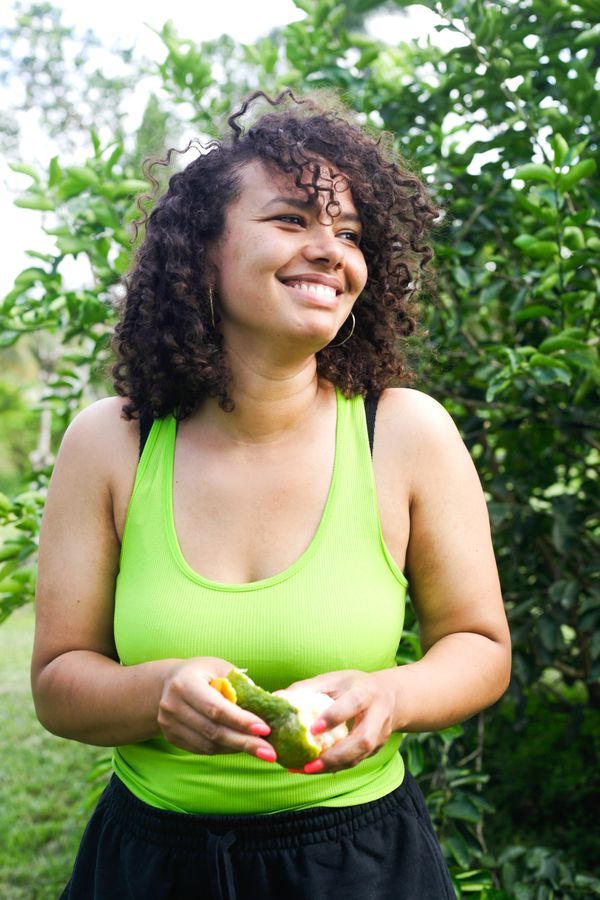 In conversation with Noni
Culy spoke to Noni about the impressive journey she made for her book, Surinamese vegetables and the most overrated ingredient.
Noni, what does food mean to you?
A lot. I am always busy with food. Private life and work are very intertwined and I really like that. I'm all the time thinking about what I'm going to eat next and what I'm in the mood for.
It's always kind of been like that. I used to be very interested in food. My best friend's father was a chef. I always went to eat it at their house because I found it very exciting and interesting. Surinamese family parties always revolve around food. What is there to eat, have you eaten and is there enough – that has been the common thread through my life .
What is your best memory of food?
That may have been from last November, when I went to Suriname for my book. I visited all kinds of people there, from different ethnic groups. For example, I visited a great-aunt by marriage whom I had never met, that was already very special. I cooked with her all day, she only spoke Surinamese, she found it very exciting that there was also a photographer.
Together we made dawet – a coconut drink -, saoto soup and peanut sambal; the base of peanut sauce. En santen: a kind of soup based on fresh coconut milk. We also made kemplan , a biscuit made from glutinous rice with a grainy caramel.
There was already a lot of food ready when we arrived. Because of course we had to eat before we would start cooking! I was happy to be in Suriname anyway – of course it was corona time and it was all difficult and I was finally allowed to go there. It was special that she liked it so much and wanted to share her dishes so much. And all very tasty of course!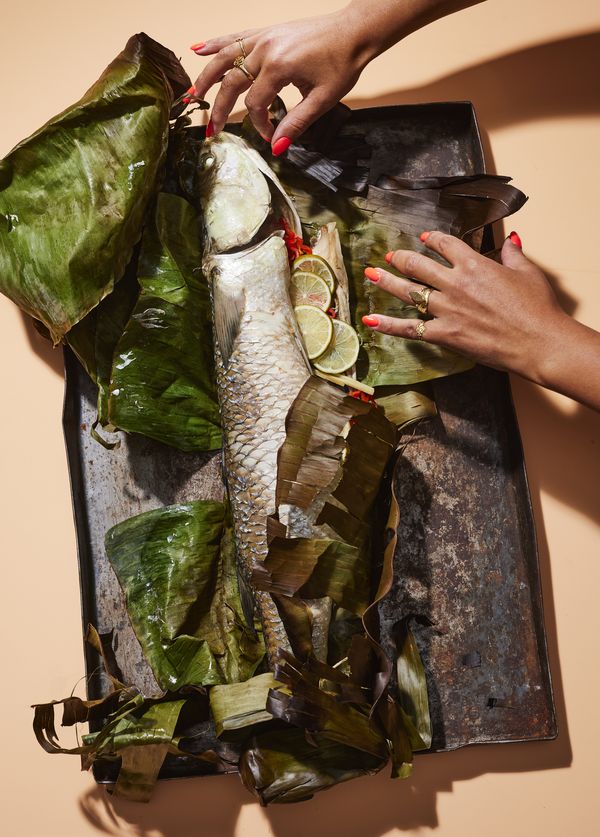 In Switi Sranan you will tell about the food culture of Suriname based on the history of the different population groups. You could also 'just' have made a collection of recipes. Why did you choose this shape?
For me it is very self-evident that there are people living in Suriname from Indonesia, India and China. That there are also European and African influences and of course also those of the original population. I have the idea that many people in the Netherlands don't really know who lives there and why. Not because they don't want to, but because they don't learn it in school.
I find that very strange, isn't it Dutch history? After all, it was the Dutch who brought all those people to Suriname. Strange that this is still such an unknown story.
I think it's important to tell that story. And I happen to be a cook and writer, so I'll tell you through the food.
There are many books about Indonesian cuisine, for example, but not many about Surinamese…
It's a very recent history. I think that's a big reason, that people weren't really ready for that yet… If you first live in slavery, then as an indentured worker and then in a free country, you have something else on your mind than writing a cookbook. If I had to make a book about Suriname, this had to be in it.
The subtitle of the book is 'The rich Surinamese kitchen'. What do you think makes that kitchen so rich?
Because so many different people live with different cultures and backgrounds: that makes Suriname very diverse and exciting. As if you are traveling all over the world in that small country, that makes it a very special kitchen. Everyone is busy eating food all day long. When you enter a place, the first question that is asked is: have you eaten yet? If that doesn't happen, people find that very embarrassing too.
How do you think that attention has been paid to Surinamese cuisine in the Netherlands so far?
That will be a bit more and that is nice, but it is a bit much of the same. You see a bit of shops with the same range everywhere. I also understand, that's what people know and what sells. But I think people nowadays also want to try some new things. There is a lot more than that noodles and that roti and that bara that you can get. It's the same story in the hospitality industry in Suriname, you don't see much innovation there, but you do see it in people's homes.
Which Surinamese dishes do you think people should discover?
When we think of Surinamese dishes we often think of heavy and a bit greasy, with a lot of meat and such. But there are also many Surinamese vegetables and a lot of soups. Surinamese vegetables are very tasty and versatile and nowadays there are also many growers who grow them in Dutch greenhouses. The offer is growing. It's fun to delve into, because there are very special vegetables that are very healthy.
Can you name a few examples?
Tayer leaf for example: a very large leaf, which tastes soft and buttery when you stir-fry it. It is sometimes compared to spinach, but I think it is very different. It stays a bit firmer.
There are also many bitter vegetables, such as sopropo : a type of bitter cucumber. That may be a bit intense for the beginners, but for example delicious in combination with intense flavors such as salty fish.
Bitawiri is also such a bitter leaf. And dagoe leaf (water spinach): a vegetable that you can stir-fry very well. I want everyone to eat a delicious daily newspaper very soon!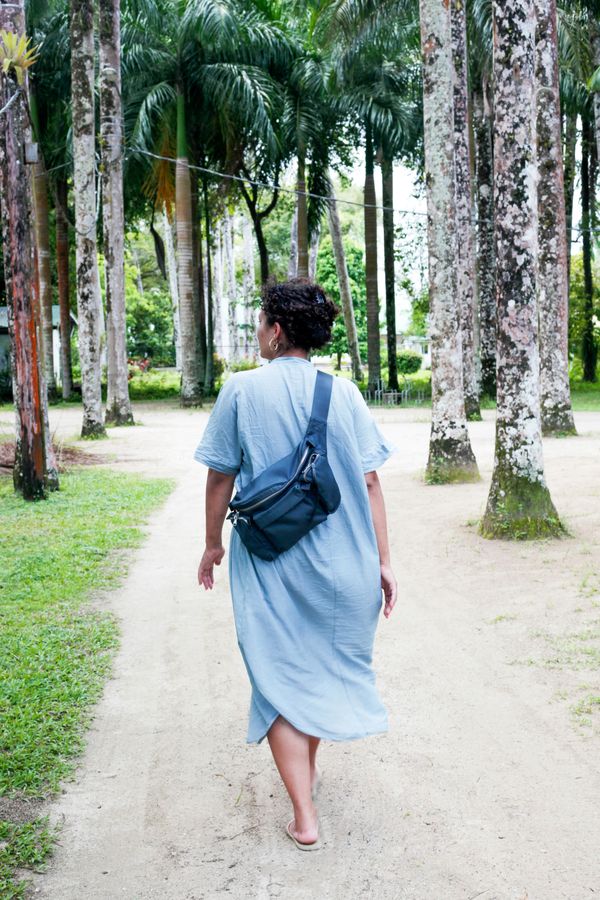 In the foreword you describe something that I recognize from the Indian culture: everyone thinks that their grandmother cooks the best. As a result, it is sometimes difficult to get people excited about new interpretations of dishes they know. Do you notice that too?
Correct. I am very excited to publish this book because of the reaction of the Surinamese community. Indeed, because everyone knows many of these dishes. I have adapted a lot to my own taste: after all, it is my book, so I do it my way. But I think there will be some opinions on that. While I think dishes can be changeable, especially in Surinamese cuisine. People come to another country and have to make do with different ingredients than they are used to: this is how dishes are created that are reminiscent of their home country. I like to see that ingenuity.
Do you think we could soon see hyped up warungs 2.0 in the culinary landscape?
Yes, I think so, that's what happens to everything. Sometimes things don't go well if the origin of things is not treated with respect. That is also difficult, because there is a fine line between what you can and cannot do.
If you know where a dish comes from and are open about it and then adapt it to your own taste, I think it should be possible. You also have to stay a little creative and do things the way you like. As long as you treat the stories and the origins with respect – whatever the cuisine.
Which dish from the book should we make first?
That may not be something everyone likes, but I really like chicken liver. There is a recipe for liver sambal in my book, which I think is about the best there is . You eat it as sambal with rice with vegetables, but I just think it is delicious with a bowl of rice! Chicken liver is scary for some people, but there are many other flavors with it. Perhaps this is a good recipe to start with if you find it exciting, because the dish does not have such a strong liver taste.
There is also a salad with bananas in it – that is also a good one for the summer. Baking banana from the oven with a little dressing with pepper and palm sugar and all kinds of leafy vegetables through it. I think that's a nice summer meal.
You have worked in several restaurants in Paris and Amsterdam; what attracted you to the culinary world?
I was 18 when I finished high school and I wasn't sure what to do with my life. On spec I went to Paris, where I could stay at a friend's house. Then I ended up at Rose Bakery. I liked it so much that I continued working in restaurant kitchens afterwards.
Perhaps that showed that I really enjoy working with food. I no longer work in the kitchen. What I do miss about it: working very hard together, going to a peak moment, and then getting it done together. That gives a kind of energy. Apart from the fact that it's all about good food, that's what I miss the most: that pleasant energy.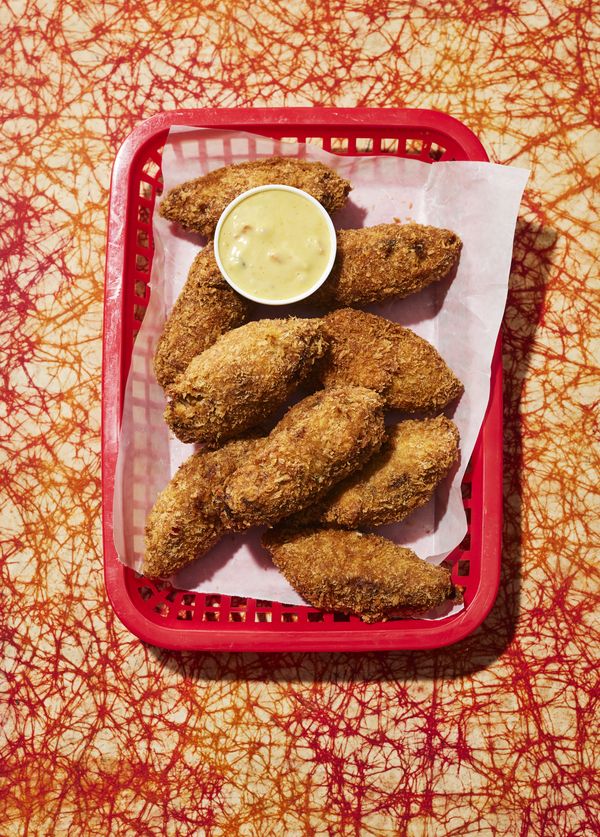 Would you recommend working in the hospitality industry?
It's a lot of fun, but I stopped when I was pregnant, because I found it very difficult to combine with the rest of my life. I would definitely recommend it if you want to go for it, but it is hard work. You work long days, maybe you can't be at Christmas dinner anymore, you always have to work on weekends, that's part of it. But perhaps the situation is different now (due to the large staff shortage in the catering industry, ed.) and you can now make more demands.
The culinary world is often dominated by men. Is there a bit of feminism in the food world?
More and more women are working in restaurants or with food. It's less of an exception I think. That seems positive to me.
Are there times when you have felt clear differences between men and women in your profession?
When I was in restaurant kitchens, there were very few women in the kitchen, so the overall picture is very accurate. I also often found it pleasant with those men, they also have a kind of rude humor. I had a lot of fun, but I also liked it when a woman was there. That gives me a different energy. That is why it is good if restaurant kitchens are more mixed, although that is of course the case with everything.
What would you say to women who aspire to a position similar to yours?
Just do it. I did it too: I just went to work in a kitchen. There is always work in restaurant kitchens – especially now – so it works. I found it difficult to get out of that kitchen and do other things with food. Then you have to enter a world where you know people. But I've discovered that asking if you can help people always works. I think that everyone can use some kind of assistance or help, so that you can soon walk a bit in that world.
Is it true that you think avocado is the most overrated ingredient out there?
I don't like that at all. Everyone looks really crazy when I say it. Then they ask: don't you like butter or something? But that can't be compared to an avocado, because I really like creamy textures and flavors, but avocado doesn't do much for me. It doesn't really add anything. At the same time, everything is in everything and it makes everything a bit grubby.
What's next for Noni?
I do n't really have an idea yet, although I do feel like new projects and to make a new book. I like doing all kinds of things and then working on a book in the background .  _
What did your father actually think of your book?
My father was so proud, very sweet . He said: " Oh, it's a really thick book , isn't it ?" He had n't expected that at all . Sure Dad, I 've been working on it for two years , what do you think ? They all like it very much in my area . So far I have only had positive reactions …!
Recipes from Noni:
The sun in a glass: mango kulfi from Switi Sranan

The recipe for Javanese Surinamese noodles from Switi Sranan