Thinking about what to eat every week can be quite a challenge. To ensure that you do not put the same dishes on the table every week, we are happy to inspire you with handy weekly menus. With rising temperatures, our need for fresh dishes increases again. Fruit often comes around the corner as a surprising winner, because: fresh, sweet and colorful. Therefore, 7 x hearty recipes with fruit.
> Need more inspiration? View all weekly menus!
Monday
Colourful, super tasty and summery fresh. This nectarine main course salad is also a rewarding one to freestyle with . Difficult to find radicchio, for example? Arugula also works very well in this salad. The spicy note of the jalapeño can also be replaced by red pepper .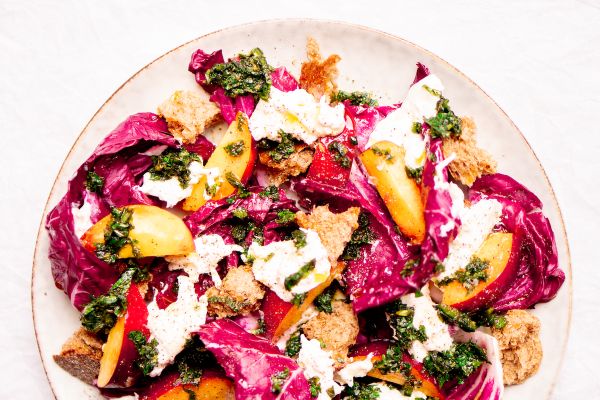 > To the recipe: Culy Homemade: simple meal salad with nectarines, Burrata and mint
Tuesday
Looking for a recipe for summer comfort food? This Thai fried rice with pineapple is everything you want on a summer evening: fruity, slightly spicy and easier to make than you might think. Are you in for a tropical presentation 2.0, then serve the rice in the empty pineapple.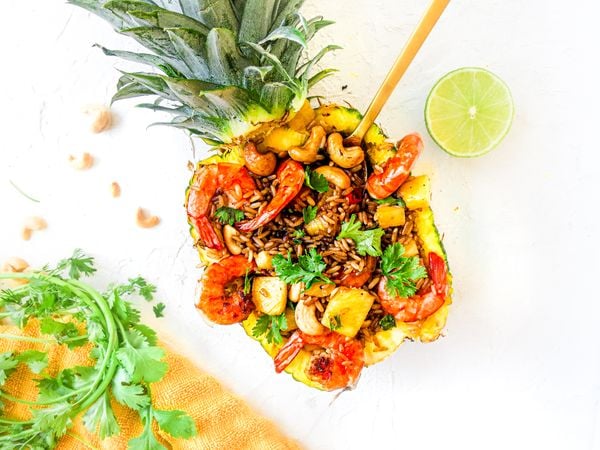 > To the recipe: Culy Homemade: Thai fried rice with pineapple, shrimp and cashew nuts
Wednesday
We don't know anyone who doesn't like it: the plate pizza. It is 100% fun for both the cook and the eater, because it is easy to make and a joy to eat. The combination of goat cheese, pear and bacon is also a very nice one.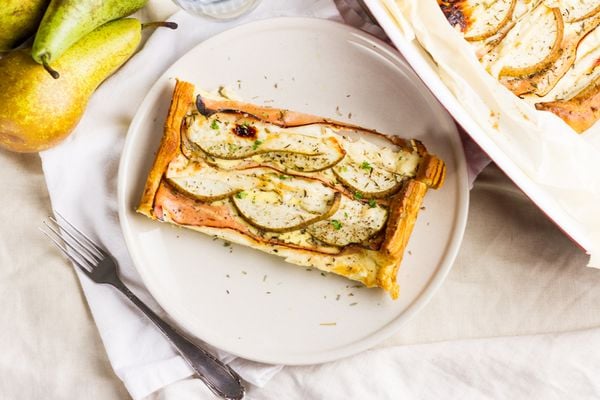 > To the recipe: Plate pizza with goat cheese, pear and bacon
Thursday
If we are talking about a week of rising temperatures, then the barbecue should be on for at least one evening. And with this plantain, it will certainly be a successful dinner. Sweet, salty, sour and a little spicy: this is one of those recipes with fruit that is worth repeating anyway. If the barbecue is still on, make one of these recipes right away.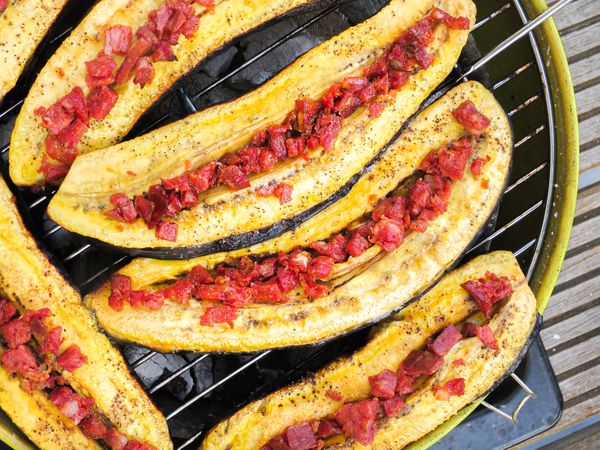 > To the recipe: Culy Homemade: plantain from the barbecue with chorizo ​​and lime
Friday
Summer fruit? Then of course we can't ignore the strawberry. And did you know that these summer kings are also very tasty in a salad? Paired with burrata and almond, this is your new salad favorite. Serve it with some focaccia or make your own easy bread .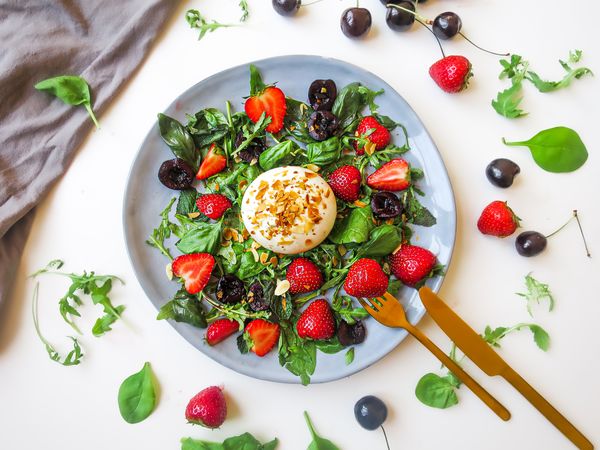 > To the recipe: Culy Homemade: salad with strawberry, Burrata and toasted almond
Saturday
In the easy, fruity and tasty category, we have selected a couscous salad with peach and goat cheese for you. Because on this Saturday with nice weather you don't feel like spending hours inside the kitchen. Super fast and super tasty.
> To the recipe: Super fast couscous salad with arugula, feta and peach
Sunday
We close the week with a feast for the eyes and a taste bomb for the papillae. This poké bowl with watermelon is one of the tastiest recipes with fruit for a warm evening – or afternoon. By marinating the watermelon it is useful to start a little in advance, otherwise it is really a case of a child can do the laundry.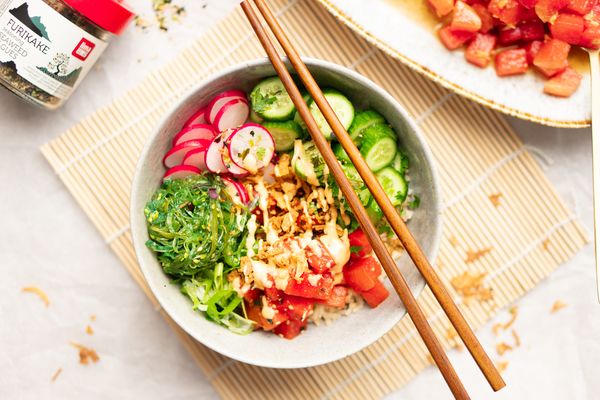 > To the recipe: Culy Homemade: summery poké bowl with watermelon