Tropical weather, fantastic cities and a wonderful food culture: Spain is one of the most popular holiday destinations for a reason. And are you there right now or are you going there soon? Then don't forget to take one of these culinary souvenirs from Spain with you.
7 x culinary souvenirs from Spain
1. Manchego
Sure: you can always go to the supermarket for Manchego; After all, the cheese is also readily available with us. Yet you will find the tastiest specimens – as always – close to the source.
And that's in Spain! Especially in the La Mancha region, where the cheese comes from. Once at home it is very tasty with quince jelly, or use it in cordon bleu, cheese biscuits or croquettes.
2. Canned Fish
Whether you go for mejillones (mussels), sardinas (sardines) or pulpo ajillo (octopus with garlic): Spaniards know very well how to put fish in a can – with something very tasty as a result.
So take a number of those cans home with you; they are the ideal pantry ingredient for unexpected get-togethers. Tip: look for the specimens in spicy oil or olive oil with lemon, we think they are the best.
3. Fuet
As a tapa, as a snack or as an ingredient in (Spanish) dishes: fuet is a great sausage that lends itself to many preparations. In terms of taste, you can describe fuet as sweet with light pepper tones. Pepper, cloves, coriander and/or fennel are often used to spice up the pork sausage, although each region or producer uses its own spice mix.
By the way, how do you recognize a good fuet in the store? A good fuet has a nice white jacket and smells a bit like popcorn (although you will sometimes find ones with a pepper jacket – nice too). The following also applies here: although available in the Netherlands, you really have to be in Spain for the tastiest ones.
4. Jamon Iberico
Quality slices of jamón Iberico? Very little can match that. Not only delicious with a drink, but also on a simple sandwich with some extra virgin olive oil.
Tip: have a Spanish butcher cut the jamón Iberico fresh for you and then have those ham slices vacuum-packed so that they survive that drive back (and long after) without difficulty.
5. Padrones
Pimientos de Padrón (abbreviated: padrones ) are those green, pepper-like peppers that you can find on almost every menu as tapa. Do you want to make it yourself? It is not difficult: just fry on high heat in a dash of oil and finish with coarse sea salt.
Where the availability here in the Netherlands is sometimes disappointing (you have the best chance at Crisp or at greengrocers), you will find the peppers in Spain on every corner of the street. Therefore, on your next visit to Spain, make sure to bring a supply for home; the peppers are also very easy to freeze.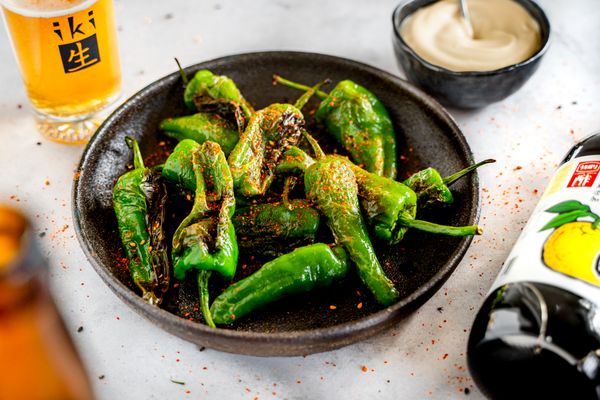 6. Paprika Powder
Smoked paprika ( pimentón ) is indispensable as a seasoning in Spanish cuisine. Such a box is therefore the ideal culinary souvenir from Spain, the taste often even more intense than the ones we know here. You also often get the cool packaging for free.
7. Cider
Did you happen to travel the Basque Country? Then you can't possibly have missed the local cider culture there. The region is bursting with sídrerias where you can get the best cider, often for a bargain.
Very interesting if you are by car, or bring an extra suitcase to fill it with a stash for home.