Holiday in the country! Wherever you go, most holiday destinations are perfect for taking back a suitcase full of culinary souvenirs. Whether you are a supreme foodie yourself, or a loved one at home. These are the 10 best culinary souvenirs from Italy. For in your own kitchen cupboard or that of the babysitter of the plants.
10 x culinary souvenirs from Italy
Make room in that suitcase.
Ceramics from Grottaglie (Puglia)
We admit: we don't immediately start with treats. At least: the plates and cups from Grottaglie are delicious and your food is automatically tastier from a cozy plate.
Grottaglie is a town in Puglia, the heel of the Boot, known for its ceramics and spotted pottery. If you go on holiday to Puglia, be sure to visit the city and the ceramics section. Keep your hand on your wallet, because before you know it you'll be leaving one of the studios with a fully-fledged new trousseau (we speak from experience). You will find the most beautiful ceramics at Nicola Fasano Ceramiche.
Olive oil in a can or carafe
Italy is of course the country of pasta, but also of olive oil. If you are on holiday, look for a local  olearia  (olive farmer) where they process the olives into olive oil themselves. Here you can often do an olive oil tasting, but you can also buy very tasty olive oil to take home. Fresher than fresh, almost straight from the plant. You taste that.
If you are not near a local olive processor, you can look in the supermarket. But it is better to look at a local grocer. Here they often have very nice ceramic carafes with special pouring spouts (which you can refill) or colorful tins with olive oil from a local olive farmer. Ideal to take home, but pay attention (especially if you are by plane) on the size and quantity. Would be a shame if your culinary souvenir from Italy was taken from customs.
00 flour and semolina
Attention pasta makers and pizza bakers! The search for good 00 flour or tasty semolina ends in Italy. As soon as you walk into a supermarket here, you are overwhelmed by the endless shelves with oo flour and semolina. In the Netherlands this is sometimes a quest or you pay a lot for it.
Also nice: go to the local bakery. Here they often still make their own flour and flour. You pay a little more in comparison than in the supermarket, but this will stop with a meager one or two euros. And of course (almost) always with recipes and life lessons from the old nonna in the shop… that's a good culinary souvenir from Italy!
Pure alcohol
Do you like to make your own limoncello or other drink, but have you always done that with vodka until now because pure alcohol is so difficult to obtain in the Netherlands? Say no more. In Italian supermarkets, liter bottles of pure alcohol have not been on the shelves for a while, but if you ask at the service counter, they come from under the counter and you have a bottle of pure alcohol in your hands for less than € 20. .
Pick a few large lemons from the trees in the roadside or get them at the local market for a euro per kilo and your limoncello package is ready!
Italian wine
We stay in the drink, because wine is of course also an ideal souvenir from Italy. Most likely there is a winegrower near your holiday address that you can visit. Always call in advance or send them an email. This way the winegrowers can prepare your visit well (read: prepare the tasting) and you can take a seat and then choose which wines to take home.
Tip: are you not on holiday by car? Many Italian winegrowers also deliver to the Netherlands in one way or another. Ask them which wine trade imports their wines into the Netherlands or whether the winegrower can do shipments themselves. This way you can still "take" your selected wines to the Netherlands and you also have a surprise there.
Pasta and risotto
Yes, it should of course not be missing from the list, because anyone who has ever been to an Italian supermarket will probably know the endless pasta shelves that are filled from top to bottom with dozens of types of pasta. If there is one thing that makes a perfect culinary souvenir from Italy, it is of course pasta or risotto rice.
Choose one of the pasta types that are not (yet) known in the Netherlands or an excellent riso carnaroli for the perfect risotto and you'll feel like you're back in Italy.
Dried mushrooms (funghi porcini)
Are you a fan of a delicious autumnal pasta or risotto with mushrooms? In the Netherlands, dried mushrooms are difficult to obtain or (in comparison) very expensive. So take them with you from Italy. The bags are large, the mushrooms tastier and the taste that your dish gets from dried mushrooms instead of fresh ones is unimaginable. And you can easily put it in your suitcase.
chinotto
We wrote about it before: chinotto is the Italian summer drink, but so hard to find in the Netherlands. So why not take this culinary souvenir from Italy home with you? This way, with every sip you have that memory of that terrace in the sun.
Not a chinotto fan? The supermarket shelves in Italy are full of exotic San Pellegrino flavors (blood orange, persimmon fruit and so on). These flavors are not (yet) available in the Netherlands. So if you become addicted to it, you would do well to take a few cans or bottles home with you.
Aceto balsamic
Another specialty that you should have in your kitchen cupboard as a foodie. Balsamic vinegar, or  aceto balsamic vinegar  , comes in different qualities: white, dark and then also syrupy or as vinegar. One thing is certain: it comes from Italy and especially if it is Aceto Balsamico di Modena, you know you're in the right place.
Do not necessarily expect this culinary souvenir from Italy to be cheaper than in the Netherlands. After all, you pay for quality. Sure, it makes a difference (especially if you buy it at the supermarket or a grocery), but don't expect any euro bangers.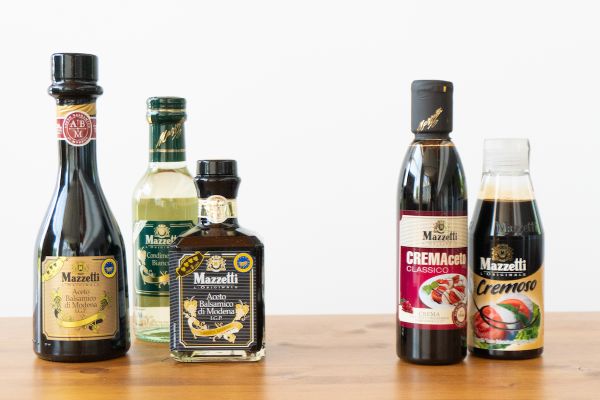 Cheese
How can we end this list of culinary souvenirs from Italy without putting the spotlight on Italian cheeses? We understand that not every cheese is suitable for traveling to the Netherlands. For example, a burrata is too precarious and you certainly don't want it to snap or open in your luggage.
What is ideal to take with you are large pieces (vacuum packed) Grana Padano, Parmigiano Reggiano or Gorgonzola. But Pecorino, Cacioricotta or Caciocavallo are also ideal to take home.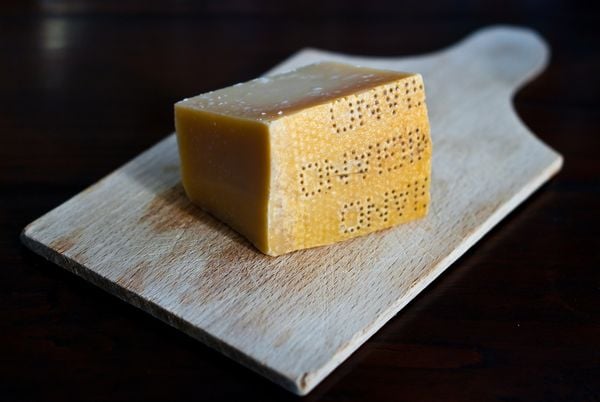 Also in the suitcase
There are of course many more culinary souvenirs from Italy to take home. For example, how about:
' 

Nduja

 : Italian spicy ' sausage ' in a jar

Peeled San Marzano canned tomatoes

A pannetone: Italian party bread with raisins and candied fruit

Taralli from Puglia: round snacks often with fennel seed

pestos

Pickled Artichoke Hearts

Good coffee

Limoncello

Giardinera: pickled vegetables for dinner

Mostarda: kind of chutney made from candied fruit and mustard-flavoured syrup

pine nuts