She is tough, outspoken and determined to present us a new way of eating. Sara Shawkat takes you through the Iraqi kitchen in her book NOOMI (pronounced nomie ). With dishes such as kubbeh, delicious stews and her own drink noomi basra, she certainly already has Culy behind her. Now you.
Sarah of NOMIA
Sara named her cookbook after noomi: dried black lime (also called loomi ). That's the ingredient for noomi basra: a kind of non-alcoholic, fruity iced tea that tastes like whiskey. Ever heard of it? We didn't either. Do we want this? Absolutely!
And so Sara shakes up many more exciting Iraqi dishes from her (beautiful) sleeve that we all want to make. Because it is high time that we discovered more delicacies from the hitherto unexplored Iraqi cuisine in the Netherlands!
Culy speaks with Sara Shawkat
Culy talked to Sara about what she likes to eat when she's in Iraq, about turning your locker into a pantry, beet hummus ("I just think that's gross") and her love of food. And it goes deep:
ou ask me what time it is, the conversation ends with: 'Have you ever had sheep's head? Come eat it next week!'
And then there was Noomi, your own book! How did this come about?
Sara: Iraqi cuisine is sooo delicious, but I never dared to let non-Arab people taste it because I thought: that's too ethnic or something. As a child, for example, I went to school completely happy with my sandwich filled with kubbeh and everyone reacted very strongly to it, like: 'OMG Saar what have you got there?!'. And then they sat down to their soggy sandwiches.
That never really encouraged me to do anything with it. In addition: I did not think that making an entire table with Iraqi dishes suited the atmosphere and the effort that goes into it. I never dared to try it myself.
Why was that?
It is very much a housewife's kitchen – while: Iraqi street food is prepared more by men. The association with many Iraqi dishes is that only a good housewife can cook them well. And I didn't label myself a housewife. So I thought for a long time: who am I to do this kitchen? You can't, just leave that to my mother.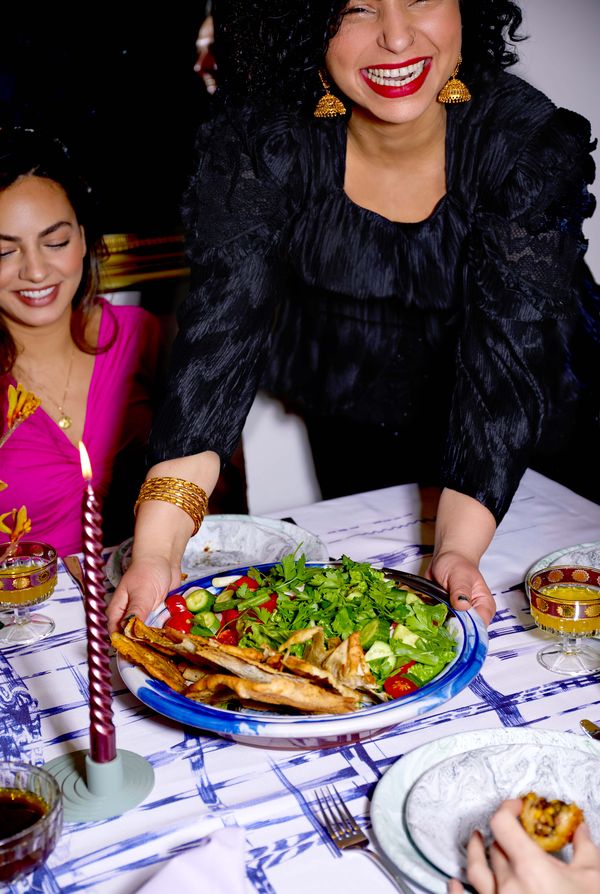 You then took your first steps in the culinary world with your own drink: Noomi Basra…
My mother is just Iraqi cuisine to me. What I could make and really liked is my drink: noomi basra. Drinking Noomi is like the mirage on a hot Ramadan day. Such a large pitcher with condensation drops on it, covered with aluminum foil until you are allowed to drink and eat… With noomi basra I was like: how is it that not everyone knows this? Everyone should taste this! It felt to me like an Iraqi product that is very easy on the palate .
Tell me: how does that taste?
The flavors are very layered. You taste bitter, sour, earthy, sweet, floral, but at the same time it also has similarities with whiskey and tea. So with that drink I was like: I just have to go do that.
How did you come to market your own Noomi Basra?
One day during the lockdown I was bored, everything was closed, it was hot. The idea came about as a joke, together with my sister Noor: let's go sell noomi in the park, then we'll be one of those cute girls with a lemonade stand.
We then stocked up on sixty bags of noomi (dried black lime) . We shopped at a friend for a logo, bought a lot of bio-plastic cups, borrowed a cargo bike from Esther Erwteman and I was allowed to cool everything with her. It was hilarious. I had never made so much noomi basra before. I stocked up on plastic buckets—which I think were actually for diapers—to make noomi.
And that was a great success: we can say that you went viral.
You can't just sell anything, so that didn't go very well. But it kind of became a bubble online – everyone said, 'Who's that cute girl?' Well, so I'm Saar from Noomi Basra. I remember feeling so happy that I could let other people taste a piece of Iraq. That was the beginning of myself as the face of Iraqi cuisine. My noomi basra became the symbol for such an unknown but so delicious product – and cuisine.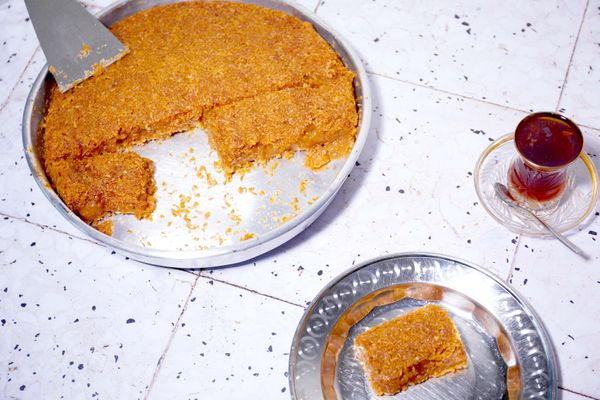 Back then you were still studying psychology, but barely one month after graduating you made the switch to the culinary world. How was that?
During my studies I felt unhappy for a long time in a world in which I did not fit. Stiff people, strict rules. When I entered the culinary world, I suddenly found that my ADHD, how I work, and my initiatives to do crazy things could work in my favor. It fits with how I function as a person: the creative, the social. I mean: everyone is waiting for an authentic person to chat with you and say: shall I cook for you?
My parents used to organize parties regularly with many people who came together to taste each other's food. And of course my mother's food was eaten the most. In a world where things are limited and there is a lot of war and shit, that type of happiness is still very much available. That's in us.
Iraqi cuisine therefore sounds very hospitable…
If you ask me what time it is, the conversation ends with, 'Have you ever had sheep's head? Come eat it next week!' That's my ADHD and that generosity. You may be very culinary, but for me, love for food is all about sharing it with others.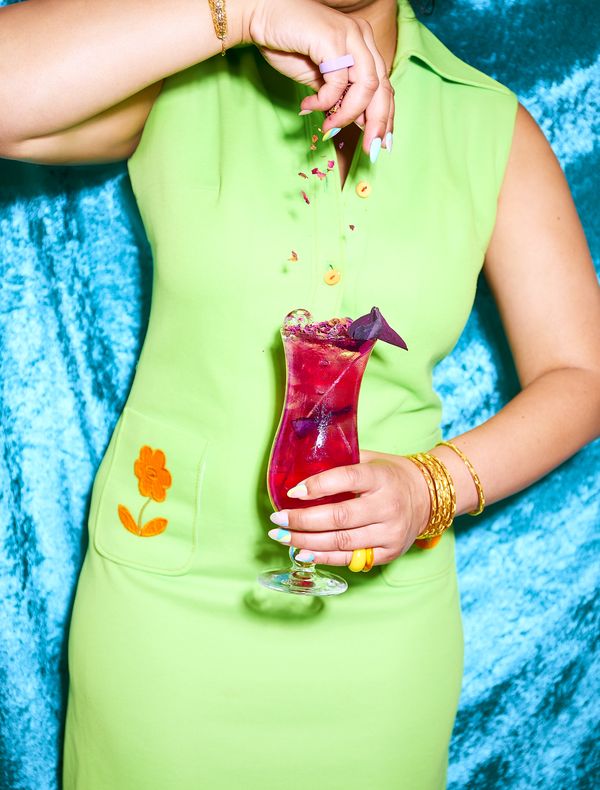 You write in your book that during college you had a locker in the university library that you used as a pantry and that you kept cashews, black sesame seeds and hoisin sauce. That indicates that the love for food runs very deep in you.
Haha, oh yes, that locker! I still have the key, I never returned it. Well, because of the lockdown they didn't give me my graduation ceremony either, so f*ck them! (laughs).
I think food for me is the moment of happiness that gives you the freedom to decide what you are going to do today. When I was in college, most of it was clear: plodding through a lot of articles. I already felt so happy in food then, because it is a moment when I have a choice in what I will put in my body. And that I can deal with that creatively.
In that respect, the Netherlands is a fantastic country, you can get so much. Maybe it's not all organic, but it's not normal that if I decide today that I want to cook Korean, I can. That's why I don't understand why many people cook so badly, but good.
That's why I like food so much. In my head it is very chaotic but with food and cooking there is order and relaxation. I don't always make the most healthy choices, but with food I give myself a lot of love.
Something you don't have much love for is beetroot hummus. Your Insta bio says, "Beet hummus isn't the flex you think it is" – can you explain what this statement stands for?
Beet hummus: It's really not that great. I was recently in Berlin and an American chick said to me: ' OMG you're gonna cook Middle Eastern food – I love pumpkin hummus, it's my favorite thing. I love Iraqi food it's sooo vegan. ' I looked at her and thought, 'There is such a big misunderstanding about what Middle Eastern cuisine is all about. Very often, a bit of whitewashing is done and the authenticity of certain dishes is not maintained in order to appeal to the masses.
I sometimes think – and I may also be a purist Randstad bitch – you don't have to make such a light version of everything. Just be interested in the culture! Also, approach the Middle East as Italian cuisine: they are proud of figuring out how to make a really good cacio e pepe , for example.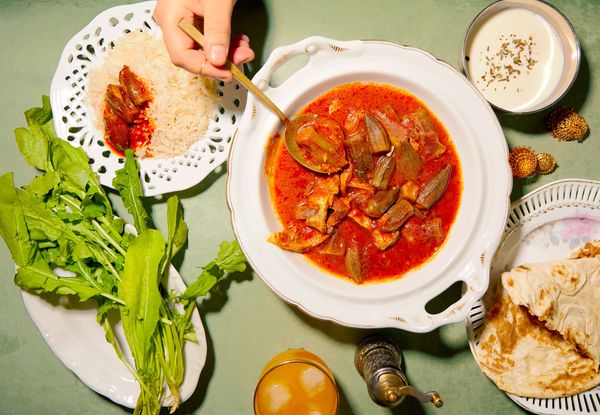 Why is that so close to your heart?
To me it symbolizes how people look at people. If you can't even respect hummus, people will soon be lumped together. While there is so much difference in people in Iraq.
And I just think beet hummus is really gross. I mean: great that it exists, but also learn how to make good hummus. It's not all-encompassing either: there's also stew, there are crispy things, leftover beans that we fry up with egg the next day.
What would it take to wake up the world?
First of all, we can stop saying things like 'Arabic cuisine', that's really stupid. And I think more people like me should come, more different shades of Middle East. That there isn't always one great man presenting it to us all the time. That's the beet hummus problem I have. I think it's fine, but in the meantime there is also a Zayneb or Achmed or whatever who would like to make a living that way.
What characterizes your recipes and your cooking style?
My recipes are not all traditional though. I have also made a lot of vegan recipes or recipes with simple steps. For months I honestly sat in the kitchen until 4 a.m. with mountains of dishes. At one point there was even washing up at a friend's house.
But I did the work before I changed anything about a kitchen, which gives it added value. It's about authenticity.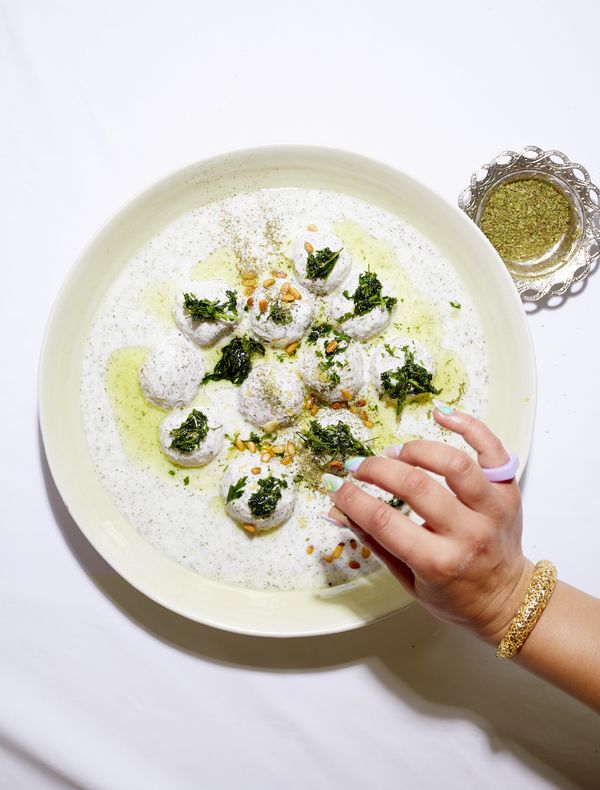 What does your mother – who is such a good cook – think of NOOMI?
My mother never allowed me to cook at all , she could only do that . Then she said: 'Your chicken is dry , your rice tastes wet'. I was always allowed to make the salad , because it did n't require a recipe . For example , I learned to make salads very creatively . My mother is really a diva with food, but now she sings a little lower though, haha. Sometimes she thinks my kubbeh is a brick . And she thinks it's very bizarre to see how I've been transformed .
Making this book made me love Iraq even more , I really embraced it . _ Sometimes my mother thinks I only fish out the part that I like . Then I say: if I do it exactly like in your time , this kitchen won't survive . It 's always looking for that line _ _ that what I do is consistent with what I proclaim .  
Which dish should we make first, as the ultimate introduction to NOOMI?
Ooh, that's very difficult. The kubbeh is really my baby. I think it's really cool that I was able to make a vegan kubbeh with a delicious crust that doesn't fall apart. And the amba (fenugreek sauce), I'm very proud of that. With my own spice blend, so tasty and easy to make. I think that could be very innovative. That amba is also very tasty on a peanut butter sandwich. It is such a tasty sauce, you eat it with kubbeh, among other things. At my book presentation I serve it with dolma like a kind of croquette with mustard, but with a lot more labour .
What do you hope people take away from your book?
I hope that after this book people will have an idea of ​​how shopping works in the Iraqi kitchen. That it is not a random jungle of individual recipes, but that you see: okay, there are always onions, parsley, passata, dried legumes, cumin, lemon juice, a lot of dried lime… When you want to prepare dinner during the week, you make a stew , for which you usually soak legumes the night before.
I hope that I can become very influential and that something will change in the world view. That I can inspire people to bring large bunches of herbs into their homes and enjoy all the wealth that can be found in MENA supermarkets. That people become familiar with those stores. And that they not only cook a dish once, but that something starts to move in people.
The nice thing about the stews you eat in Iraq around 4 pm – but with us it will just be for dinner – is that they are actually very economical. It's all in the right way you prepare the legumes. How to get the lamb flavor in the stock. How to get the perfect grain of rice. And in the raw food assortment that you serve with it.
Yes, tell us a bit more about that: in Iraqi cuisine it is customary to eat raw vegetables with stews?
You serve it with a basket of raw vegetables. That can be chives, cucumber, Romaine lettuce, radishes -in various varieties-, basil… You eat something different with every bite. Such a stew is cooked through, so you want something fresh with it. Adding a salad is weird, so you get that green stuff. So refreshing, every bite tastes different. I think that this way of eating is very innovative for many people. And that's very Iraqi. Once you master that, a new way of eating will open up to you.
Do you have a tip for other women who are also working on the culinary field?
My tip is: tell your own story – laughs . It's very cliché, but you really have to tell your own story . I say that because for a long time I just did something and nothing worked . But the moment you tell your own story , you become so enthusiastic that nothing can stop you . You just get people along like   you believe in your own story . It's a cliché thing , but really – it's a cliché for a reason. 
Finally, what is your most memorable food memory?
Whenever I first arrive in Iraq – which is not very often – I am treated like a queen. I could cry if I say so. I get there in the evening and the next morning I come down in my pajamas and go to my aunt's patio where I'm staying and she went to get kaymak : a kind of clotted cream with a bit of a Burrata flavor with fresh bread. I sit there like a queen on that patio under the date trees, and my aunt serves a whole bowl just for me.
I was last there in 2017. I can't wait to travel to Iraq again next year and go on endless food tours with my aunts. There is so much more to discover and I am happy to take everyone on that journey.
---
Source: Culy by culy.nl
*The article has been translated based on the content of Culy by culy.nl If there is any problem regarding the content, copyright, please leave a report below the article. We will try to process it as quickly as possible to protect the rights of the author.
Thank you very much!
*We just want readers to access information more quickly and easily with other multilingual content, instead of only having information available in a certain language.
---